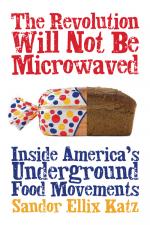 Like this book? Digg it!

Book Data
ISBN: 9781933392110
Year Added to Catalog: 2006
Book Format: Paperback
Number of Pages: 6 x 9, 400 pages
Book Publisher: Chelsea Green Publishing
Old ISBN: 1933392118
Release Date: October 31, 2006
Web Product ID: 99
The Revolution Will Not Be Microwaved
Inside America's Underground Food Movements
Praise
The Revolution Will Not Be Microwaved is a deeply nutritious book. It is a must for anyone who has sensed that the food world is not only tied to politics and big business, but is also larger and more complex than most of us have been led to believe.

—Deborah Madison, author of Local Flavors: Cooking and Eating from America's Farmers' Markets
Sandor Katz has given us a refreshing, wholesome, wise book on something that affects all our lives. It points us not only to eating in a new way, but thinking in a new way. I hope it will be widely read.

—Howard Zinn, author of A People's History of the United States
What's for dinner? Zesty politics, delicious democracy, and satisfying grassroots action. Devour this book.

—Jim Hightower
Sandor Katz provides an in-depth look at the new food revolution and aptly describes a political climate in which "eating well has become an act of civil disobedience." From bread clubs to the raw milk underground, consumers are voting against commercial food with their taste buds and their pocket books. Don't miss this remarkable manifesto.

—Sally Fallon, president of the Weston A. Price Foundation and author of Nourishing Traditions

US Orders Only.
International Orders: Click here.
Additional Information
Sandor Ellix Katz's Upcoming Events
Sandor Katz at the Sequatchie Valley Institute


, Whitwell TN

May 31, 2013, 12:00 am

Sandor Katz at Homestead Restoration and Fermentation Residency


, Woodbury TN

June 11, 2013, 12:00 pm

Sandor Katz at Vermont Food Systems Summit


, Burlington VT

June 27, 2013, 12:00 pm

Sandor Katz at Oregon Country Fair


, Eugene OR

July 12, 2013, 12:00 pm

Sandor Ellix Katz at The Farm


, Summertown TN

July 27, 2013, 12:00 pm