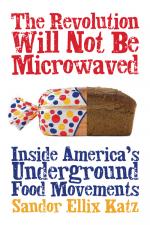 Like this book? Digg it!

Book Data
ISBN: 9781933392110
Year Added to Catalog: 2006
Book Format: Paperback
Number of Pages: 6 x 9, 400 pages
Book Publisher: Chelsea Green Publishing
Old ISBN: 1933392118
Release Date: October 31, 2006
Web Product ID: 99
The Revolution Will Not Be Microwaved
Inside America's Underground Food Movements
Upcoming Author Events
WHITWELL, TN

May 31, 2013, 12:00 am

Sandor Katz at the Sequatchie Valley Institute

, Whitwell TN

Sandor Katz will keynote the Sequatchie Valley Institute's annual "Food for Life" event at Moonshadow (in Whitwell, TN). Sandor Katz, the well loved southeastern author of "The Art of Fermentation" and "Wild Fermentation." This underground fermentation superhero will be sharing his enthusiasm for & wisdom about various aspects of health and vitality through fermentation.

WOODBURY, TN

June 11, 2013, 12:00 pm

Sandor Katz at Homestead Restoration and Fermentation Residency

, Woodbury TN

Homestead Restoration and Fermentation: A Four-week Residency Program June 11-July 8, 2013 Woodbury, TN In 2011, the Foundation for Fermentation Fervor, Sandor's fermentation school, purchased an old homestead—Walnut Ridge—with an 1820's log cabin, in need of much overhaul and rehabilitation. In June and July 2012, an amazing group of volunteers came together to begin the process of restoring it. The momentum that began with that big push has continued since, and the project continues, slowly but steadily. We are looking for a group of volunteers to work with Sandor and friends on it this coming summer. The bulk of our time will be spent working on the house and land. Projects may include: Tending gardens, harvesting, and planting; Building masonry foundation walls; Building decks; Installing windows; "Re-chinking" (filling in between logs); Electrical wiring; Insulating; Finishing walls and/or floors; Installing new water systems. We will also do a variety of fermentation projects, including: Fermenting vegetables, Alcoholic beverages from seasonal berries, Sour tonic beverages, Sourdough & porridges, Tempeh, Koji and Miso--And any others, based upon the interests of participants. Though we will spend the bulk of our time on the restoration projects, participants will have a unique opportunity to begin fermentation projects as a group and see them through to completion, with the benefit of seeing, tasting, and discussing them as they progress over several weeks. In addition, participants will have access to Sandor's extensive library of fermentation-related books. For more information and to register, visit: http://www.wildfermentation.com/events/homestead-restoration-and-fermentation/

BURLINGTON, VT

EUGENE, OR

July 12, 2013, 12:00 pm

Sandor Katz at Oregon Country Fair

, Eugene OR

Details to come.

SUMMERTOWN, TN

July 27, 2013, 12:00 pmSandor Ellix Katz at The Farm

, Summertown TN

Sandor Katz will teach a "Fermaculture" workshop at The Farm in Summertown, Tennessee with Albert Bates on July 27, 2013. Learn the basics of fermentation: make bread, pickles, cheeses, kim chi, miso, saurkraut, tempeh and more. Learn how to home-brew beer or make your own biofuels. and at the same time ... Learn the 12 Principles of Permaculture and how preserving your garden produce can give you, health, happiness, and 12 month food security. $200 includes food and lodging.

August 25, 2013, 12:00 pmSandor Katz at MAD Symposium

, Copenhagen, Denmark

Sandor will speak at MAD3, which will be held on Sunday 25 and Monday 26 August 2013 in Refshaleøen in Copenhagen, Denmark. Symposium theme: Chefs have a new opportunity – and perhaps even an obligation – to inform the public about what is good to eat, and why. But we ourselves need to learn much more about issues that are critical to our world: culinary history, native flora, the relationship between food and food supply systems, sustainability and the social significance of how we eat. For more information: http://madfood.co/

YOUNTVILLE, CA

October 17, 2013, 6:00 pm

Sandor Katz at Jessup Tastemaker Speaker Series

6740 Washington St. , Yountville CA 94599

Sandor Katz will speak as part of the Jessup Tastemaker Speaker Series on October 17 at 6:00 PM. More details to come...

SAN RAFAEL, CA

October 18, 2013, 12:00 pm

Sandor Katz at 2013 Bioneers Conference

Bioneers Conference, San Rafael CA

Sandor Katz will speak at the 2013 Bioneers Conference in San Rafael, California on October 18, 19 and 20. More details to come.

CHARLESTON, SC

November 3, 2013, 12:00 pm

Sandor Katz at Chefs Collaborative Summit

Chefs Collaborative Summit, Charleston SC

Sandor Katz will speak at the 2013 Chefs Collaborative Summit in South Carolina on November 3-5. More details to come...

WOODBURY, TN

November 8, 2013, 12:00 pm

Sandor Ellix Katz at Little Short Mountain Farm

Little Short Mountain Farm, Woodbury TN

Join cultural revivalist Sandor Ellix Katz for an intensive, hands-on fermentation experience (Friday, November 8 – Monday, November 11, 2013). Learn how to ferment (and sample) many different types of ferments, including vegetables, dairy products, alcoholic beverages and soft drinks, tempeh, and more. The focus on vegetables will include a field trip to Long Hungry Creek Farm in Red Boiling Springs, Tennessee, where we will harvest 500 lbs. of radishes, then turn it into a barrel full of radish kraut. Be ready to scrub and shred radishes! The workshop will be held at Little Short Mountain Farm in Woodbury, TN. Sandor is an experienced fermentation educator who shares these skills with great enthusiasm and passion. Students have access to Sandor's extensive library of fermentation-related books during their stay. Partial work-trade and barter options available; also local discounts for residents of middle Tennessee; please inquire. Workshop fee includes all food and camping. November weather can be cold and/or wet. Be prepared, and rest assured that there is space for impromptu indoor camping and couch-surfing. As an alternative to camping, we offer two primitive, rustic cabins for an additional fee of $100. Please note that the cabins are not heated and have no electricity or running water. We can also recommend other local lodgings. These workshops are hands-on and participatory. Students share in food preparation and clean-up, and our meals are typically some combination of planned ferments and spontaneous collaborations.

DICKSON, TN

November 12, 2013, 7:00 pmSandor Ellix Katz at Gardening Partners of Dickson County

, Dickson TN

Sandor Katz, the well known and prolific speaker, author, and food fermentation guru, will speak at the Gardening Partners of Dickson County monthly meeting Tuesday, Nov. 12 at 7 p.m. at the Tennessee Technology Center at Dickson.

US Orders Only.
International Orders: Click here.
Additional Information
Sandor Ellix Katz's Upcoming Events
Sandor Katz at the Sequatchie Valley Institute


, Whitwell TN

May 31, 2013, 12:00 am

Sandor Katz at Homestead Restoration and Fermentation Residency


, Woodbury TN

June 11, 2013, 12:00 pm

Sandor Katz at Vermont Food Systems Summit


, Burlington VT

June 27, 2013, 12:00 pm

Sandor Katz at Oregon Country Fair


, Eugene OR

July 12, 2013, 12:00 pm

Sandor Ellix Katz at The Farm


, Summertown TN

July 27, 2013, 12:00 pm