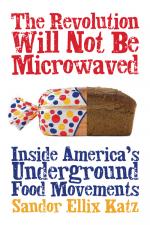 Like this book? Digg it!

Book Data
ISBN: 9781933392110
Year Added to Catalog: 2006
Book Format: Paperback
Number of Pages: 6 x 9, 400 pages
Book Publisher: Chelsea Green Publishing
Old ISBN: 1933392118
Release Date: October 31, 2006
Web Product ID: 99
The Revolution Will Not Be Microwaved
Inside America's Underground Food Movements
Sandor Katz provides an in-depth look at the new food revolution and aptly describes a political climate in which "eating well has become an act of civil disobedience." From bread clubs to the raw milk underground, consumers are voting against commercial food with their taste buds and their pocket books. Don't miss this remarkable manifesto.

—Sally Fallon, president of the Weston A. Price Foundation and author of Nourishing Traditions
An instant classic for a new generation of monkey-wrenching food activists.
Food in America is cheap and abundant, yet the vast majority of it is diminished in terms of flavor and nutrition, anonymous and mysterious after being shipped thousands of miles and passing through inscrutable supply chains, and controlled by multinational corporations. In our system of globalized food commodities, convenience replaces quality and a connection to the source of our food. Most of us know almost nothing about how our food is grown or produced, where it comes from, and what health value it really has. It is food as pure corporate commodity. We all deserve much better than that.
In The Revolution Will Not Be Microwaved, author Sandor Ellix Katz (Wild Fermentation, Chelsea Green 2003) profiles grassroots activists who are taking on Big Food, creating meaningful alternatives, and challenging the way many Americans think about food. From community-supported local farmers, community gardeners, and seed saving activists, to underground distribution networks of contraband foods and food resources rescued from the waste stream, this book shows how ordinary people can resist the dominant system, revive community-based food production, and take direct responsibility for their own health and nutrition.
Chapter Topics Include:
Local and Seasonal Food versus Constant Convenience Consumerism
Seed Saving as a Political Act
Holding Our Ground: Land and Labor Struggles
Slow Food for Cultural Survival
The Raw Underground
Beware the Nutraceutical: Food and Healing
Plant Prohibitions: Laws Against Nature
Vegetarian Ethics and Humane Meat
Feral Foragers: Scavenging and Recycling Food Resources
Water: The Source of All Life
"This revolution will not be genetically engineered, pumped up with hormones, covered in pesticides, individually wrapped, or microwaved.... This revolution is wholesome, nurturing, and sensual. This revolution reinvigorates local economies. This revolution rescues traditional foods that are in danger of extinction and revives skills that will enable people to survive the inevitable collapse of the unsustainable, globalized, industrial food system."
—The Revolution Will Not Be Microwaved