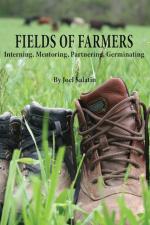 Like this book? Digg it!

Book Data
ISBN: 9780963810977
Year Added to Catalog: 2013
Book Format: Paperback
Dimensions: 6 x 9
Number of Pages: 304
Book Publisher: Polyface, Inc.
Release Date: September 16, 2013
Web Product ID: 765
Fields of Farmers
Interning, Mentoring, Partnering, Germinating
America's average farmer is sixty years old. When young people can't get in, old people can't get out. Approaching a watershed moment, our culture desperately needs a generational transfer of millions of farm acres facing abandonment, development, or amalgamation into ever-larger holdings.
Based on his decades of experience with interns and multigenerational partnerships at Polyface Farm, farmer and author Joel Salatin digs deep into the problems and solutions surrounding this land- and knowledge-transfer crisis. This book empowers aspiring young farmers, midlife farmers, and nonfarming landlords to build regenerative, profitable agricultural enterprises.
Have you registered for
Polyface Farm Field Day yet
(July 19th)? You won't want to miss this awesome event! It only comes around once every 3 years. More information here:
http://www.acresusa.com/events/
"This is not a conference — you won't see charts and graphs nor hear academic theories. This is a family day to see, handle and taste what works, what is true, and what is real. It's a celebration of opportunities. Our goal is to encourage you to catch a vision for agricultural enterprises that are emotionally, economically and environmentally enhancing."- Joel Salatin

Online for US Orders Only
International orders can be placed by phone (802-295-6300) or email
Additional Information
Joel Salatin's Upcoming Events
Joel Salatin at Maine State Legislature


111 Sewall Street , Augusta ME 04330

April 30, 2015, 1:00 pm

Joel Salatin at the BLUE Conference


11451 Braddock Road , Fairfax VA 22030

May 1, 2015, 9:00 am

Joel Salatin at Oregon Mother Earth News Fair


3700 Knox Butte Rd E, Albany OR 97322

June 7, 2015, 9:30 am

Joel Salatin at Oregon Mother Earth News Fair


3700 Knox Butte Rd , Albany OR 97322

June 7, 2015, 4:00 pm

Joel Salatin at Independent Natural Food Retailers Association


, Saint Paul MN

June 21, 2015, 12:00 pm