Featured Release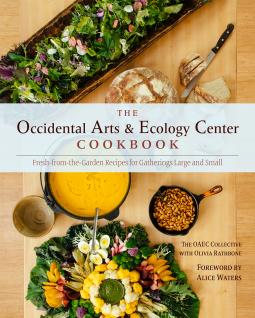 Fresh-from-the-Garden Recipes for Gatherings Large and Small
by
The Occidental Arts and Ecology Center
,
Olivia Rathbone
More than anything, food brings us together—as families and as communities. So there is no better place to begin creating a healthier and sustainable community than around a shared table.
The Occidental Arts and Ecology Center Cookbook is a beautifully illustrated collection of 200 unique and delicious vegetarian recipes from the renowned California-based farm, educational retreat center, and eco-thinktank.
This informative cookbook will help gardeners find new ways to cook with their vegetables, farmers' market shoppers looking to expand their repertoire, home cooks who want to cook healthy for their family or host a big dinner party, chefs looking for inspired recipes using weeds and perennial fruits and vegetables, and community-based organizations who cook for crowds on a regular basis.
"If feeding a hungry crowd a healthy, delicious non-hippie stir-fry is your quandary, The Occidental Arts & Ecology Center Cookbook offers many a charming solution. These inventive, scrumptious recipes show you how to weave a rich tapestry of varietals and flavors in your garden--and onto your table--with playful presentation techniques that crack open a new paradigm for eating and building community."