Fall is in full swing!
There's a chill in the air, the leaves are starting to turn, and it's nearly impossible to resist working pumpkin into every meal.
While autumn favorites like pumpkin pancakes and warm apple cider are sure to please, take advantage of the season's harvest and try out some new dishes as well. Our food and drink books are excellent sources for finding tasty recipes made from locally-grown, organic ingredients – and our authors' culinary creativity is sure to inspire. We've pulled together a list of easy to make, unique dishes that put a new spin on your favorite fall flavors.   
Cornmeal and rye make a great fall pancake, hearty and sweet. The combo also reflects English colonists' adaptations, and incorporation of Native American foods. Rye is not as fussy to grow as wheat – it can take colder temperatures, and soils that are not stunning, so it was a common grain in coastal New England.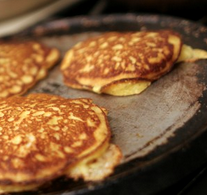 Look for whole grain stone ground cornmeal and rye flour to make the best cakes.
1/2 cup stone ground cornmeal
1/2 cup rye flour
1 teaspoon baking powder
1/4 teaspoon baking soda
1/2 teaspoon salt
2 eggs
3/4 cup milk
1 tablespoon yogurt
Whisk together dry ingredients and liquids in separate bowls. Pour liquids over dry mix, and stir just until everything is incorporated. Let sit for 10 minutes before cooking on a hot buttered griddle. Flip as bubbles begin to break on the surface.
Comfort food for breakfast, lunch, or dinner. Serve mounded with savory stews or sprinkled with herbs and a tab of butter. Or take it in a sweet direction with a little maple syrup or a Rich Autumn Fruit Compote.
Serves 4–6
4 cups water or stock
Plenty of salt—at least 11⁄2 teaspoons
1 cup polenta
1 cup pumpkin puree (page 180)
1⁄4 teaspoon nutmeg
3 tablespoons butter or olive oil
In a large pot, bring the water or stock and salt to a boil. Keep an additional teakettle boiling with more water nearby. Sprinkle in the polenta slowly by hand while whisking constantly to avoid the formation of lumps. Reduce the heat to low and simmer, whisking often, until fully thickened (when little volcanoes erupt on the surface periodically and the polenta comes away from the pot a little when stirred). This can take as little as 15 minutes for quick polenta or up to an hour for traditional stone-ground polenta.* If the polenta becomes too thick or is still a bit crunchy, whisk in 1⁄4 cup of boiling water and continue cooking, adding more a little at a time if needed.
While the polenta is hot and soft, stir in the pumpkin puree, nutmeg, and as much butter or olive oil as your conscience will allow (2 to 4 tablespoons for a small batch, 1 to 2 sticks for a large one). Keep soft polenta warm in a double boiler to prevent it from solidifying, and serve hot.
Variations
Creamy Polenta Custard: Omit the nutmeg and pumpkin. The simple addition of eggs (2 eggs for a small batch, 8 to 10 for a large one) whisked vigorously into the polenta during the last few minutes of cooking time turns mundane polenta into a velvety custard and is a great way to sneak a little more protein into a vegetarian meal. For real creamy decadence, replace some or all of the water with milk.
Fresh Sweet Corn Polenta: Omit the nutmeg and pumpkin. Cut fresh sweet corn off the cob (2 cobs for a small batch, 8 cobs for a large one). Pulse half of it in a food processor. Add whole and processed corn to the hot, thickening polenta after the lumps have been whisked out, but while there is still some cooking time left to allow the raw corn to cook. Serve with cilantro butter. Biodiversity option: Use red, blue, or green fresh corn for added color!
* For slow-cooking stone-ground polenta, use a double boiler as this relieves some of the pressure to stir continuously.
Makes 6-8 small pancakes
1 cup cooked squash, pureed
3 pastured eggs
1 teaspoon cinnamon
1 teaspoon vanilla extract
Pinch of sea salt
2 tablespoons animal fat, coconut oil, or ghee (for cooking)
Blend the first five ingredients in a bowl. Pour about 1/4 cup of batter for each pancake into a pan with lots of melted fat. Let cook for a minute or two on the first side, then flip. It takes a little bit to get the hang of it since they are small, but just don't flip too soon or they will fall apart.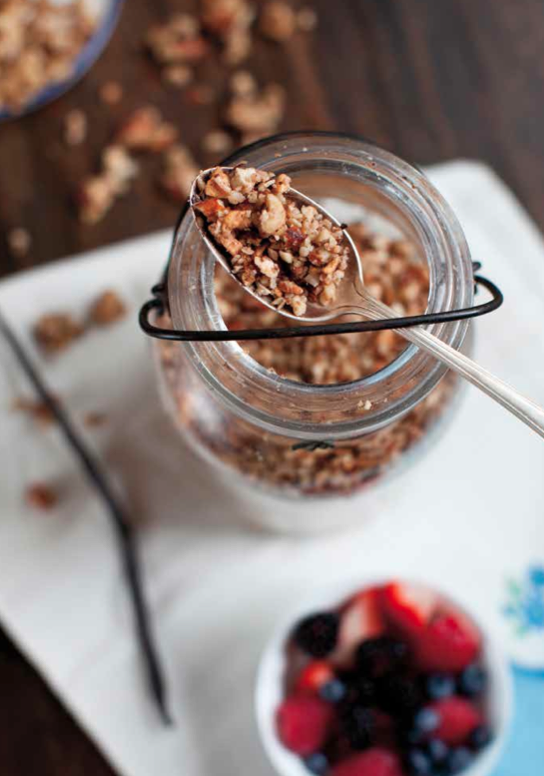 1/2 cup cashews, soaked
1/2 cup pecans, soaked
1/2 cup sunflower seeds, soaked
1/2 cup pumpkin seeds, soaked
2 tablespoons cinnamon
1 teaspoon vanilla extract
1/2 teaspoon nutmeg
1/2 teaspoon sea salt
1/2 cup pumpkin puree
1/2 cup shredded coconut (optional)
1/4 cup coconut oil
Pulse all of the ingredients together in a food processor until a very chunky paste is formed. Spread on your dehydrator's nonstick drying sheet and set at 145 degrees Fahrenheit for 12 to 24 hours, stirring once or twice. (Or spread on a cookie sheet and bake in the oven on its lowest possible setting for 12 to 24 hours, depending on temperature.) Break up the granola; store in an airtight container in the fridge.
MAKE AHEAD: The recipe calls for making cider jelly, which is done by boiling fresh apple cider to the jellying stage. The jelly may be made up to 5 days in advance, then covered and refrigerated. Alternatively, prepared cider jelly may be used.
If you'd like to make more than you need for this recipe, a gallon of fresh apple cider will yield about 2 cups of cider jelly. Store in sterilized canning jars.
Makes one 9-inch pie (8 servings)
For the cider jelly
1/2 gallon fresh apple cider (see headnote; may substitute 1 cup store-bought cider jelly)
For the pie
homemade or store-bought pastry for a two-crust 9-inch pie
2 medium apples, such as Honeycrisp or Granny Smith, peeled, cored, cut in half, then cut into very thin slices
3/4 cup sugar
3 tablespoons cornstarch
Pinch salt
1/2 cup boiling water
1 egg, lightly beaten
1 tablespoon unsalted butter, melted and cooled slightly
Directions:
For the cider jelly: Pour the cider into a medium heavy, nonreactive pot. Bring to a boil over high heat. Use a candy thermometer to measure the temperature, which should come up to 220 degrees (the jellying stage). Boil until the cider has reduced to almost 1 cup, adjusting the heat and stirring as needed to avoid scorching. This can take from 75 to 90 minutes.
When the cider has reduced and thickened, remove it from the heat. Transfer to a heatproof container and cool to room temperature, then cover and refrigerate until ready to use.
For the pie: Preheat the oven to 425 degrees. Use the homemade or store-bought crust to line a 9-inch pie plate, folding under and pinching the edges to form a tidy rim. Arrange the apple slices on the surface of the bottom pie crust dough in flat layers. Have the top round of pie dough ready.
Combine the sugar, cornstarch and salt in a medium mixing bowl. Add the cider jelly and just-boiled water; mix well.
Whisk together the egg and melted butter in a liquid measuring cup, then add the mixture to the sugar-cider jelly mixture, stirring to combine. Pour the mixture carefully over the apples in the pie plate. Place the top crust on the pie; crimp the edges around the rim and use a knife to make several small cuts in the top (to allow steam to escape). Place the pie on a rimmed baking sheet (to catch any drips); bake for 40 minutes or until the top crust is golden.
Transfer the pie to a wire rack to cool for at least 20 minutes before serving.
---