Recipe: Fall Harvest Garden Fries
Got a lot of root veggies in your fall harvest? Garden fries are an easy and delicious way to use them up! Enjoy them sans sauce, with ketchup, or if you're looking to impress dinner guests pair them with a garlicky leek dipping sauce. Bon appetit!
The following recipe is from Cooking Close to Home by Diane Imrie and Richard Jarmusz. It has been adapted for the web.
---
Garden Fries
 with Garlicky Leek Dipping Sauce
Harvest Hint
Root vegetables are a staple in the Northeastern winter, and a large component of any winter farm share. This recipe is very useful when you have a variety of root vegetables, and are looking for something a little different to do with them that the kids will enjoy. This recipe can be served as an appetizer or as part of a main meal. The dipping sauce also makes an excellent topping for fresh baked potatoes.
Serves four
Ingredients
Fries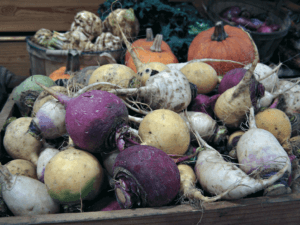 1 pound of fall vegetables
 (may include carrots, parsnips, turnip, potatoes, rutabaga), washed, peeled, and cut 1⁄4-inch by 1⁄4-inch, 3 inches long
1 tablespoon olive oil
1/8 teaspoon ground red pepper
1/8 teaspoon garlic powder
1⁄2 teaspoon Worcestershire sauce
Dipping sauce
1 leek, sliced in half lengthwise and cut into 1-inch pieces
1 tablespoon olive oil
2 garlic cloves, baked
1 teaspoon dried parsley
1 cup low fat sour cream
Procedure
Preheat oven to 450°F
In a large bowl combine the sliced fall vegetables, olive oil, red pepper, garlic powder and Worcestershire and toss to coat well.
Lay the vegetables out on a baking sheet, in a single layer.
Bake for 30 minutes, turning once.
Soak the chopped leek in water for 10 minutes. Drain and rinse.
In a small sauté pan heat the olive oil over medium. Add the leek and cook until softened and slightly browned, approximately 5 minutes. Let the leeks cool completely before proceeding to the next step.
Combine the leek, olive oil, garlic, parsley and sour cream in a food processor, and mix until smoothly blended. Place in a bowl and refrigerate. The leek dipping sauce can be prepared several hours ahead.
Serve the fries hot with dipping sauce on the side.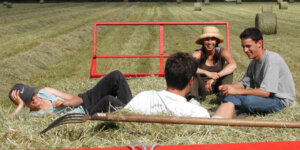 If you haven't been working on a farm since childhood or weren't lucky enough to inherit one from your family, it can be difficult to build one from the ground up.  Farming takes more planning and thinking than meets the eye, but it's not impossible. We've got you covered with how to proceed with your…
Read More