A Feast to Warm Your Soul
As the trees lose their leaves and autumn slowly turns to winter, those first inklings of true cold can be daunting. What better way to stay warm and positive than a festive gathering centered around good food and drink? Here we offer culinary inspiration for the season: Spicebush Duck Legs from Marie Viljoen's Forage, Harvest, Feast, to be coupled with hot, mulled Wassail from Jereme Zimmerman's Brew Beer Like a Yeti.
---
Wassail
Ingredients
to
serve 6–8
6 apples
1 teaspoon each freshly grated nutmeg, cinnamon, cloves, ginger, or any other spices that suit your fancy
½ cup (125 ml) organic cane sugar or brown sugar
1 cup (250 ml) water (or substitute hard cider, ginger beer, red wine, Madeira, port, mead, or what-have-you)
1 small lemon or orange
4 pints low-to-no-hopped ale, preferably British-style ale, spiced dark ale, or bragot
Procedure
Core the apples and place them in a pot or deep baking dish.

Sprinkle the spices and sugar and pour the water or what-have-you over the apples.

Squeeze the juice of the lemon or orange (or both) over everything.

Place a pot on a medium-high burner

, or put a baking dish into the oven at 350°F/180°C.

Cook for about 45 minutes or until the apples are soft and mushy.

Remove from the heat and allow the apples to warm enough to carefully remove

their skins.

Once the skins are removed, take a masher, large fork, or blender and blend everything

(including the ale) into a puree (for the lambswool option; otherwise, remove the

apples and make them into boozy applesauce).

Place the lambswool in a bowl with a serving spoon, or ladle it into individual mugs.

 Add as much additional dark rum, brandy, or other spirits as you desire; I like to keep

this going for several days by continuing to add various drinks and spices to it and

rewarming it.
---
Spicebush Duck Legs with Persimmons and Brandy
Ingredients to serve 4
4 whole duck legs (thigh and drumstick)
¼ teaspoon salt
¹⁄₃ cup (80 ml) Persimmon Brandy
1 teaspoon ground spicebush
2 large onions, quartered
12 bayberry leaves
8 very ripe native persimmons
2 tablespoons honey
1 tablespoon lemon juice
½ cup (125 ml) water
Procedure
Preheat the oven to 350°F (180°C).
Trim any excess fat from the duck legs.
Sprinkle the salt all over the duck and let it sit for 15 minutes.
Heat a large saucepan over medium-high heat. Add the duck legs
to the pan and brown for a few minutes on each side.
Add the brandy and let it bubble for a few seconds.
Add all the other ingredients, place a lid on the saucepan, and
reduce the heat to cook at a gentle simmer for 2 hours.
Scoop off the melted fat.
Taste for seasoning and add salt if necessary.
Preheat the broiler. Place only the duck legs on a tray and roast
them under the broiler for 8 to 10 minutes just to brown them.
Return them to their hot pan and serve at once.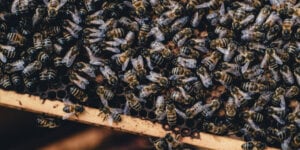 Spring is here and I don't know about you, but I can't wait to get started on all of the projects I mapped out during the cold winter months – including trying my hand at incorporating bees into my homesteading adventure! As a new-bee (get it?!), I need help to get started so I did…
Read More