Diane Wilson to deliver Black Planet Award to BP's Tony Hayward

Shrimper-turned-environmental hero Diane Wilson, whose new book is Diary of an Eco-Outlaw: An Unreasonable Woman Breaks the Law for Mother Earth, will be in London along with other Gulf Coast activists next week to deliver the International "Black Planet Award" to Tony Hayward, CEO of BP. (Some of you may recall that last summer, Diane was arrested during a Senate hearing about BP's oil disaster for pouring fake oil on herself and demanding that Hayward be brought to justice.)
Awarded annually since 2006 by the German grassroots organization ethecon, The Black Planet Award exposes and condemns those responsible for the ruin and destruction of the planet. Hayward is the recipient of the 2010 award, and Diane Wilson is committed to delivering it to him personally at BP's Annual General Meeting (AGM) on Thursday, April 14th.
In a press release about the upcoming action, Diane stated:
I am coming to the AGM to call BP to account for its actions in the Gulf – for the oil spill, the lies, the cover-ups, the skimping on safety, the deaths, the non-existent documents, the 'swinging door' with regulators. The massive nature of the oil catastrophe means it can't be covered up, even by BP. It's everywhere, from 5,000 feet down to miles upon miles across and then spread in the ocean's currents. I am coming to articulate the anger of thousands of Gulf Coast residents whose lives and livelihoods have been destroyed while the BP board continues to prosper.
Additional information on the April 14th day of action and other protests planned next week in London can be found here.
More from Diane, from a speech at the ethecon awards ceremony in November 2010:
I find it very ironic that I am a peaceful shrimper, out of business by the corrupt practices of companies such as Formosa Plastics, Dow Chemical, and BP. Yet these Corporate CEOs who make millions upon millions of dollars are never apprehended or charged with crimes even though it is the worst environmental disaster that America has ever had. And the evidence is so plan. Still these men go free and I'm the one charged with three offenses and could spend over two years in jail for protesting. I spill a half-gallon of syrup on myself and I could get two years in jail. BP spills 5 million barrels of oil and gets charged with nothing. Tony Hayward was sent back to London with a bonus of millions of dollars. I am banned from Washington DC. Where is the justice?…Let me add that I am volunteering to present this year's Black Planet Award to Tony Hayward. I think it is only appropriate.
Read Diane's full, original speech at ethecon.org.
Diane Wilson's new book, Diary of an Eco-Outlaw, is available now.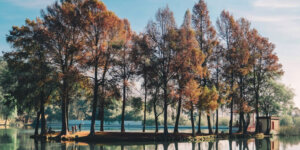 Trees. They are all around us. They come in all sorts of different shapes, sizes, and colors. They each have a unique scent, a unique feel, a unique purpose. But have you ever really thought about what immense life forces they are? How much power they hold and how much they give to us? The…
Read More