Win Free Books! @ChelseaGreen's Weekly Twitter Contest

*UPDATE: The weekly Twitter contest is on hiatus at the moment, although we still periodically hold unannounced Twitter giveaways (follow us on Twitter @chelseagreen).*
Yes, I admit it. I've become addicted to Twitter. It's fun, fast, and free. But it is not the platform that keeps me logging on every day. It's the community of folks that have gravitated toward the green living and sustainability content we send out on Twitter. Nowhere else can you meet and interact with 20+ new people with similar interests every day.
So, to celebrate our Twitter community, we're launching a weekly Twitter contest in which our Twitter followers will win free Chelsea Green books! Here are the details.
When: Every Wednesday at 3pm ET (12PM PT)
Where: The Twitterverse
How to Enter:
Join Twitter (if you haven't already).
Follow @chelseagreen on Twitter.
Every Wednesday at 3pm EDT, go to https://www.chelseagreen.com
Browse to a book in our bookstore that you would like to win.
Click the Tweet This Book! link to send the pre-formatted tweet.
(Left side of page, underneath the book cover image.)
Send tweet!
Winners on 12/2/09:
The 10th person to tweet a book will win the book tweeted. Free books, free shipping.
RULES:
Tweets sent prior to 3pm will not count as an entry, so don't jump the gun.
Editing of the pre-formatted message IS allowed as long as: the book's title, a link to the book's page on chelseagreen.com, and "@chelseagreen" appear in the edited message.
One book is given away each week to the pre-determined number of Twitter-er. (For example: 10th, 15th, 20th)
Send questions to us via the feedback form on this site, or direct message us on Twitter.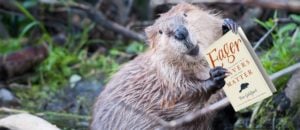 Eager: The Surprising, Secret Life of Beavers and Why They Matter has won the 2019 PEN America E.O. Wilson Prize for Literary Science Writing! A first book by journalist Ben Goldfarb, Eager has received several accolades since its release last year, including being named an Outside Magazine's "Best Book of 2018" and a "Notable Work of Nonfiction"…
Read More