All-Star-All-Sprout Salad
At this point in winter, if you haven't already exhausted your cellar of root vegetables, then you're probably exhausted with it. But just because the ground outside may still be frozen, doesn't mean you can't enjoy fresh greens.Without a greenhouse or expensive equipment, it's hard to imagine a reality in which you can have fresh and local greens every day.
One simple and healthy way to breathe life back into your winter diet is sprouting your own seeds. Just because the temperatures have dropped doesn't mean you have to live without fresh greens until Spring. Sprouts are easy to cultivate, mature very quickly, can be used in a variety of delicious dishes, and really pack a nutritional punch. Start today and you'll have fresh greens in 7 days!
Once you've mastered the skill of sprouting, you can incorporate sprouted seeds into nourishing and tasty dishes. Check out a couple of Peter Burke's recipes, adapted for the web, from Year-Round Indoor Salad Gardening.
Recipe: All-Star-All-Sprout Salad
Ingredients:
1 cup (236.8 ml) chopped sunflower greens
1 cup (236.8 ml) chopped pea shoots
1 cup (236.8 ml) chopped radish greens
1 cup (236.8 ml) chopped buckwheat lettuce
1/2 cup (118.4 ml) chopped broccoli greens
Dressing:
2 tablespoons (29.6 ml) sunflower oil
2 tablespoons (29.6 ml) balsamic vinegar
Herb salt to taste
Instructions:
Mix the chopped greens in a bowl with the herb salt. Add oil and vinegar and toss. I know it sounds too simple, but trust me this is one of the best; give it a try at least once. If you are not sure that you're going to finish the salad, just mix half greens with half the dressing because the salad won't keep that well if it has dressing on the greens.
Variation: Add 2 peeled and grated carrots to add a contrasting color and body to the salad. Any salad is enhanced with one ripe avocado, peeled and diced.
Yield: 4 servings
Recipe: Sam's Wilted Sunflower-Kale Salad
My stepdaughter Samantha and I enjoy trading recipes. is one is a jewel. I would normally say that it does not store well, but in fact that has never been a problem—the bowl is always empty by the end of a meal.
Ingredients:
2 cups (473.6 ml) chopped kale
2 cups (473.6 ml) (about 2 small trays) chopped sun ower greens
1⁄2 red onion, sliced extremely thin and chopped into 1-inch (2.5 cm) lengths
1⁄2 cup (118.4 ml) raw cashews, chopped 3⁄4 cup (177.6 ml) pineapple chunks in light syrup
3⁄4 cup (177.6 ml) manchego cheese, shaved
Dressing:
Juice of 1 lemon
2 cloves of garlic, pressed or diced
1⁄2 cup (118.4 ml) olive oil
Salt and pepper to taste (my suggestion is to go heavy on the pepper)
Instructions:
Mix the dressing first and let it set while you make the salad. Steam the kale until it's tender. (It takes a while to make kale tender! Could be 10 minutes.)
Chop the sun ower greens longer than usual, about 1 inch (2.5 cm).
Mix the onions, pineapple, and sun ower greens. Drain excess water o the kale and mix it into the other ingredients while it is still warm enough to wilt the sun ower greens. Just before serving add the dressing, cashews, and cheese, and toss.
Variations: Use pine nuts instead of cashews. Use fresh spinach instead of kale, and warm the salad dressing to pour over the salad and wilt the greens. Use asiago cheese in place of manchego cheese.
Yield: 4 Serving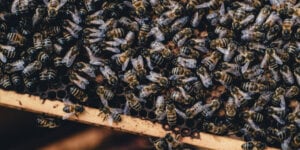 Spring is here and I don't know about you, but I can't wait to get started on all of the projects I mapped out during the cold winter months – including trying my hand at incorporating bees into my homesteading adventure! As a new-bee (get it?!), I need help to get started so I did…
Read More