Thursday, September 11th, 2014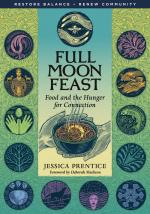 This month, we are highlighting Chelsea Green authors that are champions of locally grown, organic, nutrient-dense foods and traditional cooking methods.
Last week we featured certified holistic health counselor Hilary Boynton and whole-foods advocate Mary G. Brackett's new book, The Heal Your Gut Cookbook: Nutrient-Dense Recipes for Intestinal Health Using the GAPS Diet. For more information on this restorative diet and a sampling of nourishing, family-friendly recipes, click here.
Up next in our series is Full Moon Feast by chef and food activist Jessica Prentice. This book follows the thirteen lunar cycles of an agrarian year, from the midwinter Hunger Moon to the autumn bounty of the Moon When Salmon Return to Earth. Each chapter includes recipes that display the richly satisfying flavors of foods tied to the ancient rhythm of the seasons. Full Moon Feast will resonate with anyone interested in traditional food philosophies like the Paleo diet, the health benefits of fermentation, and the Weston A. Price approach to nutrition.
Like The Heal Your Gut Cookbook, Full Moon Feast inspires a more restorative way of eating, one that calls for a holistic approach to where our food comes from and how we prepare it.
In honor of the current change in seasons, the following is an adaptation from Full Moon Feast, The Corn Moon. This lunar cycle falls in that magical time when summer transitions to autumn.
The Corn Moon

The ancient Celts and many Native American peoples called the lunar phase that fell on the cusp of summer and fall—when the grains were ripe in the field and ready to be harvested— the Corn Moon. But translating the Celtic moon name and the Native American moon names as the Corn Moon creates some confusion. Corn in North America and corn in Europe are two different things.
In the United States, the word corn refers the species Zea mays, the tasseled plant that produces cobs of kernels in earthy hues of yellow, white, blue, and red. In Northern Europe the Germanic word corn means simply "grain." When Northern European colonists first encountered the plant Zea mays that had been cultivated and developed over many millennia by the indigenous peoples of this continent, they named it Indian corn, meaning Indian grain. Over the centuries the plant became known simply as corn in American English, while barley, wheat, rye, and other familiar cereal crops came to be referred to as grains. Early on, many colonial dishes that made use of Indian corn were given names like Indian pudding (a dessert made of cornmeal and sweetened with molasses) and rye'n'Injun bread, which was made of rye flour and cornmeal. In most other Englishspeaking countries, what we call corn here in America is called either maize or sweet corn, to distinguish it from grain.
For many of us who grew up in the United States, summertime evokes images of corn— the sweet, juicy variety that can be eaten right off the cob, dripping with butter, at a barbecue or a summer beach house. I can't seem to get enough of it once the season starts. But while our associations conjure feelings of carefree, lazy days, for the peoples that called this the Corn Moon, corn was a serious affair.
Many American Indian moon names reflected what was happening in the cornfields. You can find a Planting Corn Moon, a Green Corn Moon, a Moon When Women Weed Corn, and a Moon When the Corn Is in Silk in various languages. For both American Indians and the Celts, this time of year heralded the ripening of grain. So while the Corn Moon of the Celts and the Corn Moon of indigenous peoples referred to slightly different harvests, they came down to the same thing: The Corn Moon meant survival and sustenance. It meant that the sacred, staple grain, the agricultural foundation of the community, would soon be ready for harvest. The crops ensured that there would be food to last through the winter. A year's worth of planting and tending had been successful.
Suffer-free Succotash
Serves 3–4
The word succotash comes from a Narragansett word, m'sickquatash—with variants sukquttahash and msakwitash—which apparently meant "fragments" and referred to a stew of various ingredients, always including corn. This is my version.
Ingredients:
1 cup dry or fresh shelling beans, preferably white or pale green (lima beans, butter beans, or gigante beans are ideal)
1/2 dried ancho chile pepper (or other mild, dried chile), without stem or seeds
1/2 cup boiling water
2 tablespoons butter, olive oil, lard, tallow, or other traditional fat
1 medium leek or onion, chopped or diced
1 large (or 2 small) sweet pepper(s), red, orange, or yellow, diced (bell, gipsy, or other)
3 ears of corn, kernels cut off the cob
Salt and black pepper to taste
1/2 cup raw cream or crème fraîche
1 or 2 scallions, minced
Procedure:
1. Reconstitute the ancho chile pepper in the boiling water by pouring the water over the chile in a bowl and letting it soak while you begin the recipe.
2. Heat a large skillet or shallow pan over medium high heat and add the butter or oil.
3. When the butter or oil are hot, add the onion or leek, and sauté for about two minutes.
4. Add the bell pepper and continue to sauté for another couple of minutes.
5. Lift the ancho chile out of the hot water and mince it small. Add the chile mince to the sauté and stir. Allow to cook for a minute or so, then add the chile soaking water to the sauté (strain out seeds).
6. Drain the beans and reserve the cooking water. Add the beans to the sauté and bring mixture to a simmer. Add bean cooking water as needed to keep the mixture wet and saucy.
7. After about 5-10 minutes, when the mixture is soft, add the corn kernels and cook for another minute or two to heat through, and add salt and pepper to taste.
8. Remove from heat and stir in cream or crème fraiche.
9. Serve as a stew with chopped scallions on top, or as a side dish to fried chicken, pork chop, or other meat.