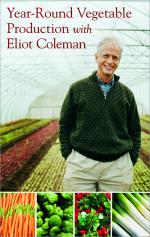 Like this book? Digg it!

Book Data
ISBN: 9781603582896
Year Added to Catalog: 2010
Book Format: DVD
Book Art: Filmed daylong workshop, one-on-one interview, and bonus features including climate maps, extra photos, and diagrams
Dimensions: 1 disc
Number of Pages: 192 minutes
Book Publisher: Chelsea Green Publishing
Release Date: September 30, 2010
Web Product ID: 542
Year-Round Vegetable Production with Eliot Coleman: DVD
Upcoming Author Events
AUSTIN, TX

LOUISVILLE, KY

November 10, 2014, 12:00 pm

Eliot Coleman at Slow Money National Gathering

Slow Money National Gathering, Louisville KY

Eliot Coleman will speak at the 2014 Slow Money National Gathering in Louisville, KY on November 10-12. More details to come...