Excerpt
Foreword
Who would have thought 22 years ago that one could peruse a local book store and find an Atlas of American-made farmstead and artisanal cheeses? We have travel guide books about unique foods by type and region. Whether we are seeking out the most esoteric craft beer or heritage breed of pigs, we can find it in a guide book. I am a person who loves to look at maps. I have spent hours pouring over French Cheeses by Kazuko Masui and Tomoko Yamada. Much of our own cheese R and D has come from that dog-eared book. Not only is the French Cheeses book a consumer guide but also a great service to the French Cheese industry.
Kudos to Jeff Roberts for creating such a guide for American cheesemakers and consumers. This book not only cuts to the chase by giving you the most salient information, it chronicles the evolution of our fledgling trade. The rate of growth of small scale producers and production of artisan cheeses by the well established cheesemakers is fueled both by the entrepreneurial spirit of cheesemakers and a response to an American population who is interested in eating well and getting to know the folks who make our food.
The Atlas captures the profound changes that have taken place in the last two decades of American cheesemaking. In 1984 when our company started making cheese, American chefs were not looking to the Americans for their cheese source, much less putting cheeses on the menu. At the time, artisan cheese was a luxury food enjoyed only in large metropolitan markets. Selling goat cheese locally in at a farmers market was daunting. Today there are many small producers in our rural state of Vermont selling high value cheeses to their neighbors at the farmers markets. The plethora of farmers markets nationwide make it possible for the more than 150 goat cheese makers in American to sell all of their production locally. Local chefs celebrate our cheesemakers by showcasing the local cheeses on their menus.
Two decades ago, the artisan cheese movement was pioneered by women and considered "alternative" in the larger dairy sector. Today we see many conventional dairy farm families diversifying their milk production into farmstead cheese. Artisan cheese was at one time considered a "farmstead" phenomenon. Today, well established cheese companies are developing artisan cheeses unique to their company to diversify their product offerings.
Thank you Jeff Roberts for capturing a piece of American heritage as American cheesemakers have quietly established a place in our modern American culture in terms of enjoying delicious food, public health and safety, communities, and of course sustaining the family farm and our working rural landscape.
By Allison Hooper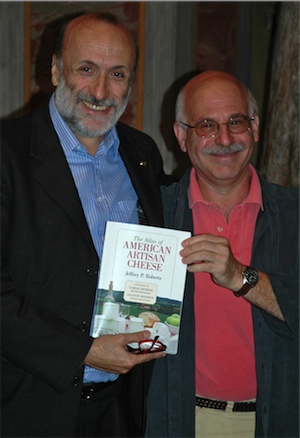 Jeff Roberts and Carlo Petrini share a moment at a press conference in Bra Italy on September 21, 2007.
The growing number of American raw milk cheeses is a perfect metaphor of the history of agrifood systems and gives us an inkling of what future scenarios might look like. This 'Renaissance' of cultural, productive and food diversity shows that nothing is lost, that an alternative does exist to the mass production and standardization that—for the moment at least—seem to dominate the world of food.
Nature teaches us that, luckily, every trend, be it good or bad, to some degree fosters its own opposite. This raises hopes for the future since man cannot continue to do violence to the Earth.
The United States, a boundless nation boasting incredible diversity and biodiversity, has proved as much by creating a great variety of raw milk cheeses in a relatively short period of time, and with the surprising proliferation of its microbreweries and small-scale producers of bread, oil, vegetables and so on. I've had to use the word 'surprising' since, according to stereotypes, the Unites States is, alas, the land where a system of hyper-concentrated, standardized, ultra-industrialized production systems has been devised and multiplies, causing damage to the whole world. This system needs to be scaled down and profoundly altered. But, of course, stereotypes offer a limited vision of life and reality.
In fact, it's precisely from the United States that we are receiving major signals of a possible change in direction or at least of resistance: suffice it to think of the farmers' market phenomenon, the work of Community Supported Agriculture and progressive experiences in the organic farming sector (at least until it too turns into an industry of monocultures, intercontinental transport and labor exploitation).
When I think that, if all cheesemakers in different parts of the world had been forced to pasteurize milk, the joyous, tasty, sustainable diversity so well described in this book would have risked disappearing, I get the shivers. All we can do is continue to 'fight' for the right to 'good, clean and fair' food. I believe that Slow Food's battles for the defense of raw milk cheeses—including a manifesto signed by thousands of people all over the world—have produced results. American artisan cheeses prove this, as does the huge number of raw milk cheeses that were saved or came into being in Europe after we managed to persuade the EU not to impose over-restrictive norms on pasteurization and workshop hygiene—norms that appeared tailor-made for a depersonalized industry, virtually devoid of any sense of taste.
You only have to take a walk round 'Cheese', the event starring the world's raw milk cheeses that Slow Food organizes in Bra (Italy) every two years, to realize that the battles I'm talking about are no mere utopia, and that mine aren't idealistic declarations that don't change the world one iota. The results are there to be seen with the creation of economic opportunities and new food systems by producers and consumers at a local level. More sustainable systems, more and tastier products.
Products should be 'good' in terms of flavor, 'clean' in terms of their sustainability and 'fair' insofar as they gratify the people who make them culturally, economically and physically. This is the new definition of food quality, this is the only possible future. The incredible thing is—though no one seems to notice it—is that such three-faceted quality is actually the result of a single intention: the defense of seasonal, local, traditional artisan food products. Moving in this direction, achieving 'good, clean and fair' food is virtually automatic.
It is only right therefore that my introduction should be a tribute to the flourishing production of American cheeses, attractive for their taste but also the symbol of a real hope for a better future, for a better quality of life—starting with the food we eat—to be shared by all.
To celebrate these cheeses, I'd like to quote the great Italian writer Italo Calvino who, in his book Palomar, poetically described the value of the diversity of artisan cheeses: 'Behind every cheese there is a pasture of a different green under a different sky: meadows caked with salt that the tides of Normandy deposit every evening; meadows scented with aromas in the windy sunlight of Provence; there are different flocks, with their stablings and their transhumances; there are secret processes handed down over the centuries'. From now on we can ideally add to these images the vast expanses of America with their 'different greens and different skies'.
By Carlo Petrini