Recipe: Salmon Cakes with Lemon Pesto
This salmon cake recipe makes for a simple and flavorful dinner. Delicious, golden-brown patties made with  salmon are a tasty alternative to crab cakes. Need a side dish? Check out our recipes for Summer Vegetable Tian and Ginger Carrots.
The following excerpt is from The Heal Your Gut Cookbook by Hilary Boynton and Mary G. Brackett. It has been adapted for the web.
---
Salmon Cakes with Lemon Pesto
Serves 4
Ingredients:
• 1 5 to 6 oz can boneless, skinless wild Alaskan salmon, 
or 
1 cup cooked wild salmon, flaked with a fork
• 1/3 cup squash puree
• 3 pastured eggs
• Sea salt and black pepper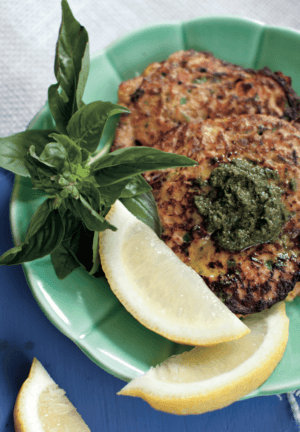 • 2 tbsp. minced red or white onion
• 1/2 bunch fresh parsley, chopped
• Fat for the pan, such as ghee or coconut oil
Instructions:
Mix the salmon and squash together with a fork. Stir in the eggs, salt, pepper, onion, and parsley. Make into patties about 3/4 inch thick.
Heat 2 tablespoons of fat in a skillet. Cook the Salmon Cakes in batches, 2 to 3 minutes per side. Add fat as needed for each new batch. Serve on a bed of fresh greens with Lemon Pesto (recipe follows).
Lemon Pesto
Makes approximately 1 pint
• 2 to 3 garlic cloves
• 1/4 cup toasted pine nuts or walnuts (a less expensive option)
• 2 cups loosely packed fresh basil leaves
• 1/2 cup loosely packed fresh flat-leaf parsley leaves
• 1/4 cup grated raw Parmigiano-Reggiano (optional)
• 1 teaspoon lemon zest
• 1 tablespoon fresh lemon juice
• 1 to 1-1/2 cups extra-virgin olive oil
• Sea salt and freshly ground pepper
Combine all of the ingredients in a food processor or Vitamix and blend well. While the machine is running, slowly drizzle in the olive oil until you reach your desired consistency. Season with salt and pepper. Put in a pint-sized mason jar, and store in the fridge.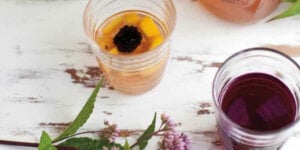 Looking to add another recipe to your fermenting repertoire? Try your hand at kvass. This nourishing beverage calls for just a few simple ingredients and only takes a couple of days to ferment. Use beets or get creative with various fruit combinations like Blueberry Lemon Mint or Ginger Apple Lime. The following recipes are from The Heal…
Read More