Raspberries: Foraging Sweet Memories
Do raspberries flood your thoughts with sweet memories of freedom like they do for Sara Bir? If you want to get out and forage some to unlock those memories, she has got all of the tips and tricks in the excerpt below. There are also two recipes at the end (one for dinner and one for dessert!)
The following excerpt is from The Fruit Forager's Companion by Sara Bir and has been adapted for the web.
---
Raspberries
Rubus spp.
Rosaceae family
Throughout the US and Canada
A little secret: Blackberries are fine, but raspberries are a million times better.
We lived for a while across the street from an elementary school where the PTO built a garden. It included a few thriving red raspberry bushes, but by the time the berries were ripe, it was high summer and school had been out for weeks. We took our daughter, then still a toddler, to the school playground almost every day, and descending on those berries was irresistible—no one else was picking them! I finally encountered someone filling a small plastic tub and asked her if she knew anything about the berries.
"Sure, I teach here," she replied. "Pick away!" We did. A compulsion overtakes me when I pick berries and I let it carry me away, half ignoring my small daughter as she darted in and out of the brambles like a rabbit. I pretended I was picking black raspberries with my dad at the old farmhouse where we used to camp; I pretended I was picking blackberries with my old boyfriend in a holler in West Virginia after a dip in a swimming hole; I pretended I was picking blueberries on a mountain trail in the Catskills with my husband. I was doing everything I'd ever loved at once, and felt free. When your first child is very young and you are not acclimated to the limitations it places on your comings and goings, sensations of freedom are as good as gold.
We had 2 pints (1 L) by the time we left. My daughter devoured handfuls of raspberries with dirty hands for dinner. The playground was wild and we were the happy family we wanted to be. Every time I figured we were done, a giant hidden raspberry would catch my eye and I'd be at it again. It's part of our instinct not to give up, even when giving up is what makes the most sense. Maybe that's why brambles have thorns. It's not to keep us away, but to keep us there.
Raspberries are caneberries, along with blackberries, boysenberries, loganberries, and other hybrids and variants. (Why are they called caneberries? They grow on thin woody canes, as opposed to vines.) Look closely at the fruit and you'll see raspberries have tiny hairs, remains from the pistils of their blossom days. Early European settlers of North America did not adore red raspberries (R. idaeus), and regarded them as weeds, but they got with the program soon enough.
Red raspberries are the touchstones, but there are others. Black raspberries (R. occidentalis) are sometimes called black caps. Every time I eat a blackberry, I wish it were a black raspberry instead. They are my all-time favorite Rubus, with a flavor more complex than reds. They are also somewhat seedier, too. In the midsummer I run into black raspberries here and there on some of my favorite walking routes where brush meets path. There are never enough for more than a passing snack, but I am thankful for that; they are always delicious. ddd
Raspberries have regional bramble cousins to find growing wild. Petite thimbleberries (R. parviflorus) are red, with a delicate, velvety texture. The intensity of their flavor can vary a lot. Of all the Rubus these turn to mush the fastest, particularly if you are shoving your fingers in them like they are real thimbles (it's fun, though). Thimbleberry leaves are broad, with soft hairs on the top and bottom, and are velvety like the berries. Salmonberries (R. spectabilis) grow in the Pacific Northwest (a berry lover's heaven) and don't look like salmon, per se, but they can be the orange color of salmon roe. Native American tribes would eat the shoots in the spring with salmon.
Wineberries (R. phoenicolasius), or Japanese wineberries, are from Asia and have naturalized, becoming invasive in some areas. All the more excuse to pick them! They grow in the eastern United States from Michigan down to Georgia. The developing berries have a thistly, sticky calyx that's equal parts neato and foreboding. The darkest berries are the sweetest.
Harvesting and Storage
It's easy to tell when raspberries are ripe—they taste great, and you will not want to stop popping them directly in your mouth as you pick them. Color isn't an indication, because black raspberries are red before they ripen. They should release with ease from their receptacles, giving them their trademark bowl-like hollow. This depression also makes them more delicate, so don't pile them on top of one another as you pick. If you don't have paper cartons handy, use old metal baking pans for collecting the berries, because they are nice and shallow, keeping the top layer of berries from impacting the bottommost ones.
Keep the berries out of direct light, if possible, as you pick, and then get those little guys in the fridge as soon as possible. Freeze them or make them into something within 24 hours of harvesting, unless you want to pitch a moldy pile of mush. I like to set aside a quart or so of fresh berries for nibbling and cereal topping, but even those don't last long.
Raspberries are ill suited for dehydrating, but they can be combined with applesauce for a crowd-pleasing fruit leather.
Culinary Possibilities
There's not much you can't do with raspberries. Eat them or freeze them or put them up. But most of all, find them and pick them and pick them again.
Raspberry-Glazed Salmon
Serves 3-4
This recipe came about during a visit to relatives in Oregon, which is a great state for berries and salmon. I really like to poke around in people's refrigerators when I stay with them and come up with dishes on the fly. They'd just gone on a fishing trip and then a U-pick farm, and the hunk of beautiful wild salmon and remaining handful of red raspberries spoke to me.
The bright zip of red raspberries in particular is what works here, while the chipotle powder adds an earthiness that keeps this from tasting dessert-y. It might overpower the glaze at first, but once it's on the fish all of the flavor elements play together harmoniously. You can either broil the fish or grill it; the time it takes to cook will depend on the heat of your grill or broiler, plus the thickness of the fillets.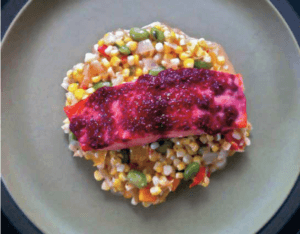 1 pound (455 g) skin-on wild salmon fillets, cut into 4 portions
Salt and freshly ground black pepper
1⁄2 cup (60 g) red raspberries
1 teaspoon honey
1 teaspoon apple cider vinegar
A nice pinch of chipotle powder (no more than 1⁄8 teaspoon)
Season the salmon generously with salt and pepper. Set aside.
Meanwhile, prepare the glaze: In a small saucepan, combine the berries, honey, vinegar, and chipotle powder. Set over medium heat and cook, stirring constantly, until the mixture thickens and the berries break down.
Spoon the glaze over the flesh of the salmon and spread around as evenly as you can.
To broil the salmon: Preheat the broiler. Line a rimmed baking sheet or broiler pan with foil, and lay the fillets on the foil. Slide under the broiler and cook until the salmon flakes apart, anywhere from 5 to 10 minutes (test the doneness by pressing on the fish gently with your fingertip). Remove the pan from the oven, let cool for a minute, and then use an offset metal spatula to slide between the skin and the flesh—the flesh should release from the skin effortlessly, while the skin remains on the foil. Serve immediately.
To grill the salmon: Prepare a grill for indirect grilling— that is, the heat is on one side of the grill, and the other has no flames or coals. Heat the grill to medium-high.
Arrange the salmon on a sheet of heavy-duty foil. Slide the foil onto the cooler side of the grill, close the lid, and cook until the salmon flakes apart, anywhere from 5 to 10 minutes (test the doneness by pressing on the fish gently with your fingertip). Serve immediately.
Summer Berry Fool
Serves 8
Berry fool is an old-fashioned English treat whose name derives from the French word fouler, to crush. There's no cooking or baking here, and the only way to screw this up is to overwhip the cream. Spoon it into pretty glasses, or serve it as an accompaniment to a thin slice of pound cake or angel food cake.
3 cups (360 g) red or black raspberries
1⁄4 cup (50 g) granulated sugar
3 tablespoons raspberry liqueur, orange liqueur, water, or orange juice
2 cups (480 ml) cold heavy cream
1⁄2 cup (60 g) confectioner's sugar
In a large bowl, stir together the raspberries, sugar, and liqueur (or water). Refrigerate for 10 to 15 minutes.
In a chilled bowl, whip the cream to firm but not stiff peaks.
Crush the macerated raspberries with a fork until they reach consistency of a loose jam. Spoon half of the fruit into the cream and fold once or twice with a rubber spatula; do not overmix. You want a rippled effect. Then add half of the remaining fruit and fold once or twice. Reserve the remaining fruit puree for garnish.
Divide among serving glasses and serve immediately, or refrigerate up to 24 hours. Just before serving, drizzle the remaining berry mixture over the fool.
Also try with: Currants, thimbleberries, blueberries, huckleberries, or any relatively sweet, juicy, and easily crushable berry.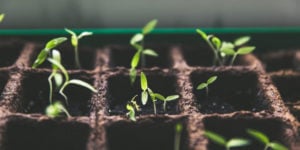 Gardens have long gone dormant but that doesn't mean you have to stop enjoying fresh food just because the ground is frozen. Sprouts are a quick, simple, and ridiculously healthy way to keep your localvore appetite satisfied during the winter. And we don't just mean tossing them in your salad or on top of a…
Read More