Chelsea Green embraces new vision
After 33 years in business, Chelsea Green Publishing has decided it's time to re-energize the company with a new mission and vision statement. In light of the current world situation, it seems like "the politics and practices of Viking living" is the way to go.
"We tested the water with Make Mead Like a Viking, and encouraged by its success, we now have several more Viking titles in production," says Director of New Product and Business Development, Kate Adams. "We really think this new direction is going to appeal to the Ragnarökers in our community and the whole team is excited about moving to our new Reykjavik office."
New titles include:
– No Rules for Vikings: How Big Swords Can Change Everything
– Boiled Sheep Heads and Barley Porridge: Mastering Open-Hearth Cooking
– Viking Economics: Forget Thinking, Just Pillage
– Viking Heart, Valhalla Heart
Do you have a viking book you'd like to pitch to the Chelsea Green team? Tweet us your best ideas or leave us a note on Facebook. We'll send the best three a copy of Make Mead Like a Viking.
---
Put down the longswords! We're not really changing our mission… Though we really do want to hear your Viking jokes!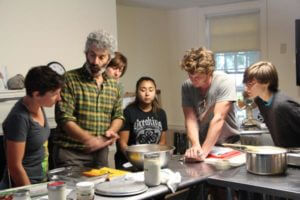 Article by Alex Green. Originally posted on Publishers Weekly. Follow them on Twitter @PublishersWkly and Facebook at @PubWeekly From the content of its books to the paper it prints on, Chelsea Green Publishing is known for its focus on sustainability. But if that word suggests that operations at the Vermont-based publishing house move at a modest…
Read More