In Remembrance: Toby Hemenway

It is with deep sadness that we announce the death of Toby Hemenway, a beloved teacher, author, and permaculturalist.
In October of 2015, Toby was diagnosed with pancreatic cancer. Despite treatment that seemed to be working, the cancer returned this fall, and eventually Toby signed up for home hospice on December 16, 2016. He died on the morning of December 20th, a day after announcing to his many fans, followers, and friends that he was in the last stages of life.
The outpouring of support and love for he and his wife Kiel was immediate, as donations and thank yous poured in at the donation site where—to date—people have raised more than $38,000 to help pay for Toby's health care and hospice expenses, as well as any burial and other costs incurred by Kiel.
Kiel wrote this just hours after Toby's death to thank people for their messages:
"We were both so very moved by the outpouring of love and support from all of you. Before we settled down for the night, Toby was looking at your messages and the notifications of donations. He was touched beyond belief. Those were the last moments that I saw him alive—bathed in your love and appreciation. I couldn't have wanted a better end for him," Kiel wrote. "Thank you all from the bottom of my heart. I will never forget your love. May Toby's legacy be carried forward by all you good people."
As with many authors at Chelsea Green, Toby was part of our eclectic, passionate family of thinkers and doers. His generosity of spirit and time was clearly reflected in the voices of those who sang his praises in those final hours, and continue to speak of his life and legacy.
There are many people who will carry forward Toby's legacy of making permaculture a living, breathing idea in the backyards and communities of the world. His book Gaia's Garden remains one of Chelsea Green's top-selling books every year – a testament to the timeliness of Toby's teachings.This award-winning book also remains the top-selling introductory book to backyard permaculture, period.
His last book with us, The Permaculture City, expands that vision of permaculture and uses its core principles to tackle bigger subjects at a bigger scale—from the backyard into whole communities.
To a life well lived, and loved.
To Toby.
Thank you.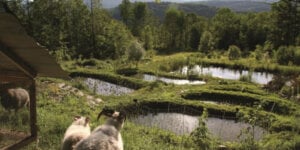 One of the most important skills to have in life is to be able to adapt to the changes that come your way. Being resilient sets you up to succeed with any challenges that may arise, but it's not always an easy task. However, if you follow a few simple guidelines you can better prepare…
Read More