Recipe: Sandor's Strawberry Kvass (from Wild Fermentation)
Since its publication in 2003, Wild Fermentation has inspired people to turn their kitchens into food labs: fermenting vegetables into sauerkraut, milk into cheese or yogurt, grains into sourdough bread, and much more.
This updated and revised edition, now with full color photos throughout, is sure to introduce a whole new generation to the flavors and health benefits of fermented foods. It features many brand-new recipes—including Strawberry Kvass (recipe below), African Sorghum Beer, and Infinite Buckwheat Bread—and updates and refines original recipes reflecting the author's ever-deepening knowledge of global food traditions that has influenced four-star chefs and home cooks alike.
Author Sandor Ellix Katz, winner of a James Beard Award and New York Times bestselling author, whom Michael Pollan calls the "Johnny Appleseed of Fermentation" returns to the iconic book that started it all, but with a fresh perspective, renewed enthusiasm, and expanded wisdom from his travels around the world. This self-described fermentation revivalist is perhaps best known simply as Sandorkraut, which describes his joyful and demystifying approach to making and eating fermented foods, the health benefits of which have helped launch a nutrition-based food revolution.
"My learning curve has been ongoing," he told Chelsea Green. "I know much more about fermentation than I did when I wrote the original book, and I have much more experience teaching people about it. As I looked back at the recipes in Wild Fermentation, and how I communicated concepts, I realized that Wild Fermentation could be a much better book, which felt important especially because it has become a classic."
Below is the recipe for Strawberry Kvass, but as Katz notes – you can try this out with other berries as well.
---
Strawberry Kvass
This is a fermented infusion of strawberries in water, with sugar. In a salty environment with vegetables, lactic acid bacteria dominate the fermentation, but in a sugary solution with fruit, yeasts thrive. Strawberry kvass is fruity and delicious, great as a soft drink or as a cocktail mixer. Try varying it with cherries, raspberries, blueberries, mulberries, or other berries.
Timeframe:

Vessel:

Ingredients (for 2 quarts/2 liters):

3 – 5 Days
1-gallon/4-liter (or larger) ceramic crock, bowl, wide-mouth jar, or food-grade plastic bucket with lid or cloth cover

2 pounds/1 kilogram (1 quart/1 liter) strawberries (or more if you have a great abundance!)
½ cup/125 grams sugar (any form)

Process

Clean the strawberries. Gently rinse the berries and pick over them to remove any that are unripe or decomposing. Place the berries in your vessel.
Mix the sugar solution. Measure about 6 cups/1.5 liters of dechlorinated water. Add the sugar to the water and stir well to dissolve. Taste and add more sugar if you like it sweet.
Pour the sugar solution over the berries. The vessel should only be about half full, with plenty of room to stir vigorously.
Cover the vessel.
Ferment.
Stir—as often as you think of it, at least two to three times per day. Stir vigorously around the sides and try to form a vortex in the middle. A vortex aerates the water, and the stirring distributes activity and gets floating fruit submerged. Without stirring, the fruit may mold and fermentation will develop more slowly.
Observe. After a few days, you will begin to notice bubbles. Keep stirring and they will get more active. By the time bubbling is vigorous the color has changed, the berries have shrunk, and the liquid has a strong fruity flavor and aroma.
Enjoy strawberry kvass either strained, with still-flavorful fruit on the side, or with the berries still in.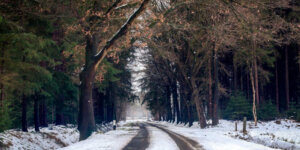 This time of year we always seem to get a hint of spring in the air for a moment, whether it's the snow storms starting to taper off or a glimpse of grass in your yard. The lure of sweetness calls from the maple trees and we begin daydreaming about all of the wonderous treats…
Read More