Vogue: Libation Is a Top Ten Gift Book

The next time you're invited to a fancy dinner at a friend's place, you could stick with the tried and true offering of a bottle of wine. Classy. Understated. And let's not forget: ordinary.
Or, you could pick up Libation: A Bitter Alchemy, Deirdre Heekin's book on rare and traditional Italian varietals picked up from her travels in Italy and imported to Osteria Pane e Salute, the nationally celebrated restaurant and wine bar she shares with her chef husband, Caleb Barber. But don't take my word for it: Vogue just named Libation a Top Ten Gift Book.
With weekends in the country in mind, Megan O'Grady rounds up the books most likely to please your hostess, whatever her taste.

…Deirdre Heekin's Libation: A Bitter Alchemy (Chelsea Green) provides a glimpse into the Osteria Pane e Salute co-proprietor's spirited education, from the pursuit of a rare Florentine liqueur to growing grapes on her Vermont farm.
Related Articles: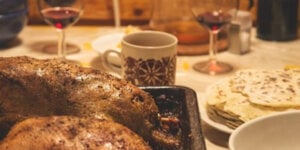 From gathering items from the woods during your morning walk to using homemade chevre in your risotto to fermenting your own bubbly, there's something about working for your supper that makes it so much more delicious when you finally get to tuck in. If you're looking to really earn your Thanksgiving dinner this year, then…
Read More