The Final Word on Earth Ponds by the World's Foremost Expert

For Immediate Release
May 4, 2006
Contact: Jessica Saturley, 802-295-6300 x 106
Landscaping Earth Ponds
The Complete Guide
by Tim Matson
Chelsea Green Publishing proudly announces the release of Landscaping Earth Ponds: The Complete Guide by renowned aquatic landscaping expert Tim Matson. Filled with eye-catching color photographs, practical techniques, and informative case studies to inspire readers, Landscaping Earth Ponds is an indispensable resource.
A pond adds value to any property, and in this day and age of gas prices going through the roof, it puts your next vacation right in your own backyard. A pond creates space for recreational activities, attracts wildlife, and is a beautiful addition to the landscape. In Landscaping Earth Ponds, Matson instructs readers on everything from choosing the best site for a new pond to restoring an existing pond to the fundamentals of construction and shaping and the selection of plants that help decorate and draw attention to the water's edge. His designs will inspire readers to make the pond of their dreams.
Concise, accessible discussions and practical guidelines are augmented by case studies from Tim's work as an aquaculture consultant in New England. These real-life examples include site-specific details and encourage readers to join thousands of satisfied landowners who have discovered the pleasure and practicality of earth ponds. Resources and recommended aquatic plants, perennials, shrubs, and trees are included.
Whether you're a homeowner interested in constructing a new aquatic ecosystem, a landowner looking for ways to improve an existing pond, a landscaping professional in search of design ideas, or someone who simply enjoys the tranquility and beauty of water, Landscaping Earth Ponds is sure to educate, fascinate, and inspire.
Tim Matson is the preeminent expert in the field of pond building. He has been advising, designing, restoring, and building ponds and wetlands for more than twenty-five years, and his classic, Earth Ponds, has sold over 100,000 copies. Tim lives and works as a writer, photographer, and aquaculture consultant in Thetford, Vermont. Please visit his website at www.earthponds.com.
---
Available May 2006 | Paperback | $30 | 1-933392-02-9 | 8 x 10 | 304 pagesFind out more about Landscaping Earth Ponds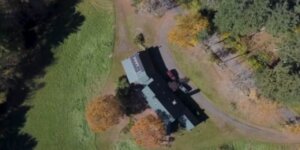 Not only are Chelsea Green authors experts in their fields, from organic farming to green building, but they're also part of our extended family. So it's always nice when we get an update on how things are going! The following note is from James Kachadorian, author of The Passive Solar House. To paraphrase Mark Twain,…
Read More