Monday, December 13th, 2010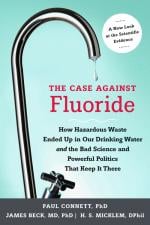 Davenport, Iowa's The River Cities' Reader interviewed Dr. Paul Connett on his new book, The Case Against Fluoride: How Hazardous Waste Ended Up in Our Drinking Water and the Bad Science and Powerful Politics That Keep It There, last week. Read the transcript of the interview below, or listen to the full audio file here.
Don't Drink the Water? Author Paul Connett Wants People to Take a Fresh (or First) Look at Fluoridation
Written by Jeff Ignatius
If you're approaching this article on water fluoridation with trepidation, Paul Connett knows how you feel.
"I didn't want this issue," said Connett, the co-author of the recently published book The Case Against Fluoride, in a phone interview last week.
"When my wife dumped a whole bunch of papers on my desk one afternoon in July 1996 and said, 'Dear, would you read these papers?'" he recalled, "I said, 'What is it? What's it about?' She says, 'Fluoridation.' I said, 'Take it away. These people are crazy.'"
Connett already had a full-time job as a professor of chemistry at St. Lawrence University in Canton, New York. And for a decade he had been a vocal opponent of waste incineration, a cause that sent him around the world presenting lectures."
I didn't want a third issue," Connett said. "I certainly didn't want this one, which was stigmatized … as the province of a bunch of Flat Earth Society crazy people. And I'd succumbed to that same notion without doing any research."
That night the Village of Canton was considering whether to continue fluoridation of the city's drinking water. Connett said: "When I started to read the papers that she put there, my intention was as quickly as possible to find out where these crazy anti-fluoridationists had made some fundamental scientific mistakes and [determine] that there was nothing to worry about. … It didn't take me long to realize that there were some very serious problems with that practice" of fluoridation.
He said he told his wife: "This is going to be easy. When they hear what I read this afternoon, there's no way they're going to continue fluoridation."
Connett was wrong. The crusade to stop fluoridation of Canton's drinking water took more than seven years after that first night. That initial meeting was what Connett called his "first shock. All the dentists and several doctors were lined up to give their complete, utter, confident assurance that this was the best thing since sliced bread. It was perfectly safe."
After the meeting, Connett said, he approached one doctor who had spoken in favor of fluoridation and asked him to read three papers; the doctor said he didn't have time. Connett replied, "You shouldn't let these people believe that you've read the literature – and it's your professional judgment that this is perfectly okay – when that's obviously not the case."
Yet that doctor was hardly alone in speaking without having reviewed the science behind fluoridation."
That discussion on that night was a microcosm of what I was to see for the next 14 years – that local, state, and federal officials will go onto public platforms and make these absolutely, 100-percent-, 150-percent-confident statements that fluoridation is perfectly safe and perfectly effective," Connett said. "And it's almost to the point that they get some kind of commission every time they use the words 'safe' and 'effective.' It's like a mantra – 'safe and effective,' 'safe and effective.' And they haven't read the literature; they haven't read it. And if they were to do so, they'd be utterly shocked at the way they've been corralled into supporting this nonsense."
Continue reading this article at the River Cities' Reader website.
The Case Against Fluoride by Paul Connett, James Beck, and Spedding Micklem, is available now.