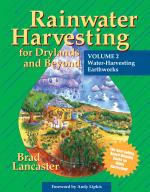 Like this book? Digg it!

Book Data
ISBN: 9780977246410
Year Added to Catalog: 2006
Book Format: Paperback
Book Art: Over 460 illustrations, Index, Bibliography, Appendices
Dimensions: 8 1/2 x 11
Number of Pages: 420 pages
Book Publisher: Rainsource Press
Old ISBN: 0977246418
Release Date: April 21, 2008
Web Product ID: 224
Rainwater Harvesting for Drylands and Beyond Vol. 2
Water-Harvesting Earthworks
Upcoming Author Events
DENVER, CO

May 28, 2015, 5:30 pmBrad Lancaster at the Denver Permaculture Guild

Green Spaces, 1368 26th Street, Denver CO 80205

On May 28, Brad Lancaster will give a lecture titled "Regenerative Watersheds: From Plumbing to Policy," which will be followed by a Q&A. Tickets are $15 until May 15, $20 after May 15, and $25 at the door.

SEDALIA, CO

May 29, 2015, 6:00 pmBrad Lancaster at Integrated Social and Ecological Design

2584 N. State Hwy 67, Sedalia CO 80135

From May 29th-June 7th, Brad Lancaster will teach a course on social and ecological design with Pandora Thomas, and Eric Toensmeier through the Woodbine Ecology Center in Colorado. Cost to attend is $1575, with an early bird rate of $1295 before May 1st.