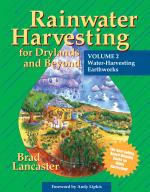 Like this book? Digg it!

Book Data
ISBN: 9780977246410
Year Added to Catalog: 2006
Book Format: Paperback
Book Art: Over 460 illustrations, Index, Bibliography, Appendices
Dimensions: 8 1/2 x 11
Number of Pages: 420 pages
Book Publisher: Rainsource Press
Old ISBN: 0977246418
Release Date: April 21, 2008
Web Product ID: 224
Rainwater Harvesting for Drylands and Beyond Vol. 2
Water-Harvesting Earthworks
Upcoming Author Events
TUCSON , AZ

November 1, 2014, 8:00 amBrad Lancaster at Food Conspiracy Coop

412 North 4th Ave, Tucson AZ 85705

Join Brad Lancaster in a workshop titled, "Water-Harvesting and Native-Tree Workshop" at Food Conspiracy Workshop in Tucson, AZ. Learn how to use simple water levels (called bunyips) in your yard or neighborhood and make earthworks—landscaping features that direct and capture the flow of water—for water harvesting. You'll also learn where to place trees to maximize summer shade and winter sun. After you're done learning, you'll get to put your newly acquired knowledge to work installing earthworks and planting trees in the Conspiracy Gardens. Bring pointed shovels and hard rakes, along with hats and work clothes. Please register by emailing Kelly Watters at [email protected] or calling (520) 624-4821.

November 17, 2014, 12:00 pmBrad Lancaster at Water Harvesting Certification Course

,

The WMG Water Harvesting Design Certification program is designed for professionals, educators, and community organizers seeking comprehensive instruction in water harvesting systems design and construction. The program offers a unique combination of hands-on and classroom instruction that provides participants with a thorough, on-the-ground understanding of the core practices in this increasingly popular field. WMG offers this intensive program at various times throughout the year primarily Tucson, Arizona and occasionally in other communities. The curriculum focuses on water harvesting planning, design, and installation for retrofitting urban areas. The Water Harvesting Certification program includes the following: Lectures on each major topic Hands-on assessments at the sites where projects will be implemented Training workshops where participants learn by constructing water harvesting systems at public, residential, or commercial sites Reading and homework assignments to solidify knowledge gained in the hands-on workshops Final exam to earn certification

BOSTON, MA

February 5, 2015, 2:00 pmBrad Lancaster at New England Grows

415 Summer Street, Boston MA 02210

Brad Lancaster will present a talk on water harvesting at New England Grows 2015, hosted at the Boston Convention & Exhibition Center.