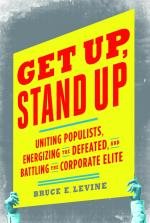 Like this book? Digg it!

Book Data
ISBN: 9781603582988
Year Added to Catalog: 2010
Book Format: Paperback
Dimensions: 6 x 9
Number of Pages: 256
Book Publisher: Chelsea Green
Release Date: March 28, 2011
Web Product ID: 623
Get Up, Stand Up
Uniting Populists, Energizing the Defeated, and Battling the Corporate Elite
Upcoming Author Events
WASHINGTON , DC

NEWTON, MA

October 10, 2015, 9:00 amBruce Levine at the 2015 ISEPP Annual Conference

Crowne Plaza Boston, 320 Washington Street, Newton MA 02458

From October 9-11, Bruce E. Levine will keynote at the 2015 International Society for Ethical Psychology and Psychiatry Annual Conference, titled "Understanding Trauma: Responding Beyond the Medical Model." The conference will take place at the Crowne Plaza in Newton, MA.