A Twist on the Traditional New England Thanksgiving Feast
If you're looking for something new and different to serve this Thanksgiving, Chef Evan Mallett of the Black Trumpet restaurant in Portsmouth, NH has some ideas.
From his book, Black Trumpet, Mallett has selected three traditional, New England-inspired dishes that are sure to add some new flavors to your Thanksgiving feast.
These recipes are adapted for the web.
---

Pheasant Two Ways: Roulade and Leg Stewed with Prunes
Serves 8
This is a great dish that can dress even a chicken in its fanciest garb, but there is something special about the richer taste of pheasant that works best, especially in the stewed leg portion of this recipe. For our menu, we bought pheasant roosters, which are significantly larger than hens. If you are only able to source hens, keep in mind that this recipe will yield a little more than half of the roosters' yield, so plan on serving half as many people.
Ingredients for the roulade
4 pheasant breasts (from 2 roosters), tenders removed
Salt
Black pepper
2 packed cups (100 g) fresh spinach
1 cup (115 g) grated cheddar cheese
10–12 thin slices Bavarian ham
¼ cup (60 ml) clarified butter/olive oil blend (page 13), divided
Ingredients for the stewed pheasant legs
4 legs (from 2 roosters)
Salt
Black pepper
2 tablespoons clarified butter/olive oil blend (page 13)
8 prunes (pitted dates may be substituted)
1 small onion, rough-chopped
1 tablespoon honey
½ cup (120 ml) port
1½ quarts (1.4 L) stock (from pheasant, duck, or other poultry)
Make the roulade
Preheat the oven to 400°F (200°C).
Blanch the spinach in salted boiling water for 30 seconds and remove to cool.
Pound the breasts under plastic with a meat mallet to ½ inch (1 cm) thick and sprinkle with salt and pepper. Spread each breast, skin side down, evenly with spinach, sprinkle with cheese, and layer the ham on top, covering the entire surface area of the pheasant breast.
Roll the breast into logs and tie with kitchen twine. Sprinkle the outside with salt and pepper. Add 2 tablespoons of the butter/oil blend to two different 10- to 12-inch (25 or 30 cm) pans over medium-high heat. Add the roulades, two to a pan, and brown on all sides for about 4 minutes total. Place the pans in the oven and roast 12 minutes.
Remove the roulades to a cutting board and rest 5 to 10 minutes. Remove the twine, and slice each breast crosswise into four ½-inch-thick (1 cm) slices (two per person). Reheat the slices briefly if necessary while preparing the rest of the dish components.
Make the stewed pheasant legs
Preheat the oven to 300°F (150°C).
Sprinkle the legs generously with salt and pepper.
Heat a large pan over medium-high heat.
Add the butter/oil blend and sear, skin side down, until golden brown, 4 to 5 minutes.
Flip and transfer to a roasting pan with the remaining ingredients. Bring to a boil, reduce to a simmer, cover, and slide into the oven.
Braise for 1¼ hours.
Remove and let cool slightly.
Separate the thighs from the drumsticks (eight pieces total) and serve one piece per person with two slices each of roulade.
---

Delicata Squash Terrine
Serves 8
One of Denise's favorites, this vegetarian "medium dish" is visually stunning and just the right meeting point between elegant and rustic. It is easier to make than it might seem.
Ingredients
3 delicata squash
½ teaspoon salt, plus more for sprinkling
Pepper, for sprinkling
Olive oil, for roasting
2 cups (300 g) bulgur wheat
3 cups (710 ml) water
1 red onion, minced
1 tablespoon minced garlic
2 quarts (240 g) packed chard, beet tops, turnip tops, or spinach
1 red chile pepper, minced
1 red sweet pepper, minced
1 cup (235 ml) goat ricotta (or substitute cow's milk ricotta)
2 ounces (55 g) feta, crumbled
¼ cup (15 g) loosely packed Italian parsley, chopped
1 teaspoon za'atar (a Middle Eastern spice blend)
1 teaspoon sumac (we forage the seedheads of this native plant locally whenever possible, but the Middle Eastern variety can be found online at stockandspice.com).
Procedure
Preheat the oven to 350°F (175°C).
Cut off the ends of the delicata squash, then cut them in half lengthwise. Remove the seeds.
Sprinkle on salt and pepper and place the squash halves on an oiled sheet tray in the hot oven for 20 minutes.
Flip over and bake another 5 to 10 minutes, removing each squash when it is perfectly tender. Let cool.
Bring the bulgur to a boil in 3 cups (710 ml) salted water. Turn off the heat, stir, and let sit on the stovetop over a pilot for 15 minutes. If you're cooking without a gas range, put a lid on the saucepan and leave it on the burner as it cools. After absorption, the bulgur should be tender and there should be no water remaining in the pot.
Meanwhile, sauté the onion and garlic with a little salt until soft.
Add the greens and continue to cook over a low flame until they're wilted and tender.
Turn off the heat and fold in the peppers, cheeses, parsley, and spices. Transfer to a sheet pan to cool.
In an oil-sprayed terrine mold, layer the roasted squash and the filling to the top.
Press down firmly, cover the terrine, and bake at 350°F (175°C) in a water bath for 45 minutes.
Remove the terrine from the water bath, empty the water, return the terrine without its lid to the pan, and place a press (we use plastic-wrapped bricks) on top.
When cooled to room temperature (about 2 hours later), remove the weight and refrigerate the terrine for 24 hours before unmolding and slicing, ensuring that it is completely firm and cohesive.
Slices can be reheated in a 350°F (175°C) oven until warm, and served on their own or, as we did, with a thin pool of Preserved Lemon Crème Fraîche (page 81) and a drizzle of tahini cinnamon honey.
---

Levant-Spiced Pumpkin Soup
Serves 8
Depending on what types of storage squashes we have on hand in the late fall from our heirloom garden, this soup may vary slightly in thickness and flavor. Red Kuri works as well as Small Sugar pumpkin, which is more readily available. For testing the recipe, we used Upper Ground Sweet Potato Squash, and it came out great, if a bit paler than the pumpkin version. The year we successfully grew Sweet Potato Squash, and we also trained a few other sweet heirlooms, including a bumper crop of Green Striped Cushaw (depicted in the photo), courtesy of Josh Jennings's and Jenna Darcy's brilliant innovation: In place of a trellis, they affixed a lengthy arcade of excess hog fencing. That was our best squash year ever. Coincidence? I don't think so!
Ingredients
One 4- to 5-pound (1.8–2.3 kg) Small Sugar pumpkin
2 tablespoons olive oil
Pinch plus 1 tablespoon salt
4 cloves garlic
3 tablespoons clarified butter/olive oil blend (page 13)
½ cup (115 g) medium-diced onion
½ cup (115 g) medium-diced carrot (about 1 medium)
½ cup (115 g) medium-diced celery (about 1 small stalk)
1½-inch (4 cm) thumb gingerroot, peeled and minced (2 tablespoons minced)
½ teaspoon allspice
¼ teaspoon ground nutmeg
¼ teaspoon ground cinnamon
¼ teaspoon ground turmeric
¼ teaspoon cayenne pepper
¼ teaspoon ground coriander
1½ quarts (1.4 L) vegetable stock
1 cup (235 ml) cider
Procedure
Preheat the oven to 350°F (175°C).
Cut the pumpkin down the middle, vertically from stem to bottom end, being careful to make a straight cut so the pumpkin will lie flat and create a seal when roasted cut side down.
Scoop out the seeds and fibers, rub the flesh with the olive oil, and sprinkle with a pinch of salt.
Place two cloves of garlic on a baking sheet under each dome of pumpkin and roast until the pumpkin flesh is soft, 1¼ to 1½ hours.
Scoop out the flesh when it's cool enough to handle, and set aside, along with the garlic cloves.
Meanwhile, place a large pot over medium heat.
Add the clarified butter/oil blend, the vegetables, ginger, and remaining tablespoon of salt; stir to combine. Cook until the vegetables begin to soften, about 5 minutes.
Add the spices and stir to combine.
Deglaze the pot with the stock and add the roasted pumpkin flesh, garlic, and cider.
Bring to a simmer over medium heat and cook a few minutes, until the flavors have combined.
Remove from the heat and let cool slightly.
Carefully transfer to the bowl of a blender and puree until smooth. Serve immediately or cool to room temperature and reheat slowly over low heat.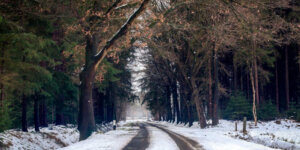 This time of year we always seem to get a hint of spring in the air for a moment, whether it's the snow storms starting to taper off or a glimpse of grass in your yard. The lure of sweetness calls from the maple trees and we begin daydreaming about all of the wonderous treats…
Read More