Show Stealing Desserts for Thanksgiving Celebrations
It may seem as though Thanksgiving dinner gets all the attention what with the turkey, stuffing, and mashed potatoes, but the reality is, dessert is where it's at. Warm apple pie with a slice of cheddar cheese (don't knock it till you try it!), perfectly moist cakes with delectable frostings, pumpkin cheesecake…we could go on and on about the joys of dessert.
If you're looking for some fresh ideas for your dessert table, look no more! We've combed through just a few of our food and drink books to help you find the perfect addition to your holiday feast.
---
Make ahead: The recipe calls for making cider jelly, which is done by boiling fresh apple cider to the jellying stage. The jelly may be made up to 5 days in advance, then covered and refrigerated. Alternatively, prepared cider jelly may be used.
Makes one 9-inch pie (8 servings)
Cider Jelly Ingredients
1/2 gallon fresh apple cider (see headnote; may substitute 1 cup store-bought cider jelly)
Filling Ingredients
Homemade or store-bought pastry for a two-crust 9-inch pie
2 medium apples, such as Honeycrisp or Granny Smith, peeled, cored, cut in half, then cut into very thin slices
3/4 cup sugar
3 tablespoons cornstarch
Pinch salt
1/2 cup boiling water
1 egg, lightly beaten
1 tablespoon unsalted butter, melted and cooled slightly
Cider Jelly Procedure
Pour the cider into a medium heavy, nonreactive pot.
Bring to a boil over high heat. Use a candy thermometer to measure the temperature, which should come up to 220 degrees (the jellying stage).
Boil until the cider has reduced to almost 1 cup, adjusting the heat and stirring as needed to avoid scorching. This can take from 75 to 90 minutes.
When the cider has reduced and thickened, remove it from the heat. Transfer to a heatproof container and cool to room temperature, then cover and refrigerate until ready to use.
Pie Procedure
Preheat the oven to 425 degrees.
Use the homemade or store-bought crust to line a 9-inch pie plate, folding under and pinching the edges to form a tidy rim.
Arrange the apple slices on the surface of the bottom pie crust dough in flat layers. Have the top round of pie dough ready.
Combine the sugar, cornstarch and salt in a medium mixing bowl. Add the cider jelly and just-boiled water; mix well.
Whisk together the egg and melted butter in a liquid measuring cup, then add the mixture to the sugar-cider jelly mixture, stirring to combine. Pour the mixture carefully over the apples in the pie plate.
Place the top crust on the pie; crimp the edges around the rim and use a knife to make several small cuts in the top (to allow steam to escape).
Place the pie on a rimmed baking sheet (to catch any drips); bake for 40 minutes or until the top crust is golden.
Transfer the pie to a wire rack to cool for at least 20 minutes before serving.
---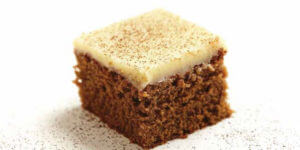 Cappuccino Cakes from Home Baked
Makes 25 to 28 pieces
Equipment: mixer, 8 x 12-inch baking pan
Cake Ingredients
240 g pastry flour
10 g (approx. 2 tsp) baking powder
4 g (approx. 1 tsp) pure cocoa powder
225 g soft, unsalted butter
220 g light cane sugar
4 large eggs, beaten
25 g (approx. 2 tbsp) very strong brewed organic coffee
Icing Ingredients
120 g white chocolate broken into pieces
60 g soft, unsalted butter
45 g (approx. 3½ tbsp) milk
230 g icing sugar
Decoration: a little pure cocoa powder for dusting
Cake Procedure
Preheat the oven to 360°F. Butter the baking pan, or line with parchment paper.
Sift the flour, baking powder, and pure cocoa powder into the bowl. Add the butter, sugar, beaten eggs, and coffee.
Stir or whip thoroughly using your electric mixer until the dough is fluffy and shiny.
Pour it into the pan, and smooth the surface.
Place the pan on a sheet pan in the center of the oven, and bake for 35 to 50 minutes.
When the cake is done, let it rest in the pan for 10 minutes, then transfer onto a wire rack. Remove the parchment paper and cool completely.
Icing Procedure
Melt the chocolate, butter, and milk in a water bath while stirring continuously.
Remove it from the heat, add the icing sugar, and let it cool before pouring it onto the cake.
Sprinkle the surface lightly with cocoa powder, and cut the cake into bite-size squares.
---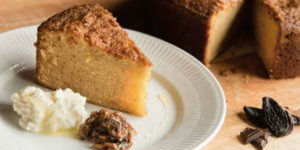 Olive Oil Cake with Prune Jam and Whipped Ricotta from Black Trumpet
Makes one 8-inch (20 cm) cake; Serves 12
This simple cake, created by Lauren Crosby, is one of my favorites from the Black Trumpet archives. And it is by far the best olive oil cake I have tried. I like to tell our guests that the use of olive oil in place of animal fat somehow makes this recipe healthier (ha!). I also love that this dessert can be enjoyed at any time of day, especially for breakfast, and always in the company of a shot of good espresso.
Cake Ingredients
½ cup (120 ml) freshly squeezed orange juice (from 3 or 4 oranges)
2½ cups (570 g) sugar, divided
2 cups (240 g) flour
½ teaspoon baking powder
½ teaspoon baking soda
3 eggs (150 g liquid egg)
1¼ cups (295 ml) whole milk
¼ cup (60 ml) brandy
1½ cups (355 ml) olive oil
Zest of 1 lemon
2 teaspoons ground anise seed
1 teaspoon salt
Jam Ingredients
8 prunes
4 dates, pitted
½ cup (115 g) sugar
¼ cup (60 ml) red wine
2 tablespoons apple brandy
2 tablespoons honey
Zest of ¼ orange
Ricotta Ingredients
2 cups (455 g) whole-milk ricotta
1 cup (115 g) powdered sugar
1 teaspoon vanilla extract
Cake Procedure
Preheat the oven to 325°F (165°C).
Spray the bottom and sides of an 8-inch (20 cm) springform pan.
Combine the orange juice and ½ cup (115 g) of the sugar in a small pan over medium heat and simmer until the sugar dissolves. Remove from the heat and set aside to cool.
Sift the flour, baking powder, and baking soda into a medium bowl and set aside.
Whip the eggs in a stand mixer (using the whisk attachment) on medium speed for 1 minute. Slowly add the remaining 2 cups (455 g) sugar and whip on medium speed until dissolved, about 3 minutes.
Pour ¼ cup (60 ml) of the cooled orange syrup, along with the milk, brandy, and olive oil, into the egg-and-sugar mixture; whip on low speed until incorporated.
Add the zest, anise seed, and salt, and mix just until combined.
Using a spatula, fold the dry ingredients into the batter, mixing just until combined.
Pour the batter into the prepared springform pan and bake on the middle shelf for about 1¼ hours, until the cake is dark golden brown, it's set in the middle, and a cake tester inserted in the middle comes out clean.
Let the cake cool to room temperature and brush with the remaining orange syrup before slicing into twelve pieces. Serve with Prune Jam and Whipped Ricotta (both recipes follow).
To serve the cake: Place a slice of cake on a dessert plate. Dollop some Whipped Ricotta on top, sprinkle with chocolate shavings, and serve with a spoonful of Prune Jam. Repeat with the remaining slices.
Jam Procedure
Makes 12 portions
We tested this recipe with plums dehydrated in-house, but you can use any prune or dried black plum
Combine all the ingredients in a small, heavy-bottomed pan.
Bring to a boil over medium-high heat, reduce the heat to low, and simmer 3 minutes.
Remove from the heat and let the mixture cool in the pan.
Transfer to the bowl of a food processor and pulse several times, stopping often to scrape down the bottom and sides.
Continue pulsing until the ingredients are fully incorporated and smooth.
Ricotta Procedure
Makes a little more than 1 pint (475 ml)
Whip the cheese on low speed in the bowl of a stand mixer fitted with the paddle attachment, about 2 minutes.
Add the sugar and vanilla and continue whipping until combined.
---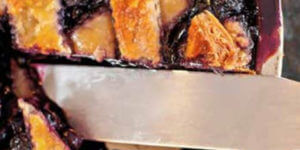 Serves 8–12
My mother clipped this recipe from the Columbus Dispatch "Reader's Exchange" column decades ago, and to me it is the ne plus ultra of berry pies. I've made it with frozen berries, foraged berries, U-pick berries—you name it. I love how the subtle spices give it a wine-y flavor, and the lemon zest perks up the dark juiciness of the berries. For this deep and dense pie to set correctly, the filling must come to a rapidly gurgling bubble. When in doubt, err on the side of baking longer.
Ingredients
1 or 2 unbaked Rye Pastry crusts, or your favorite piecrust recipe
5 cups (725 g) blackberries,  thawed if frozen
⅔–1 cup (130–200 g) granulated sugar
¼ cup (35 g) unbleached all-purpose flour, plus more for rolling
½ teaspoon cinnamon
¼ teaspoon nutmeg
Finely grated zest of 1 lemon
Pinch salt
1 egg yolk
1 tablespoon heavy cream
Turbinado or granulated sugar,  for sprinkling
Procedure
Preheat the oven to 425°F (220°C). Position racks in the upper and lower thirds of the oven.
Roll out the bottom crust on a floured surface, and lay it in a greased 9-inch (23 cm) deep-dish pie plate. If you're going to make a double-crusted pie, trim the excess crust so it overhangs about an inch (2.5 cm), but don't pleat it.
Roll out the top crust, if using, and slide it onto a cookie sheet.
Refrigerate both crusts while you prepare the filling.
Taste a few of the berries, and decide how much sugar you'd like to use. If the berries are quite tart, go for the full cup of sugar; if not, add as little as ⅔ cup.
Put it in the bowl with the flour, spices, zest, and salt, and stir to combine so there are no lumps of flour. Fold in the berries. Scrape the filling into the lined plate. Top with the top crust or build a lattice crust on top, and crimp or pleat the edges to seal.
Combine the egg yolk and cream in a small bowl, and brush carefully over the top crust.
Sprinkle with enough turbinado or granulated sugar so the crust sparkles.
Set the pie on a foil-lined rimmed pizza pan or baking sheet to catch any filling that bubbles over.
Set on the bottom rack, and bake 30 minutes. Move to the upper rack, reduce the temperature to 375°F (190°C), and bake 30 to 50 minutes more, until the filling is bubbling vigorously and the crust is prettily browned. (You may need to loosely tent the pie midway through baking to keep the top crust from getting too dark.)
Set the pie on a rack to cool. If you cut into the pie while it is still warm, the filling will be a wonderful gushy mess. It's easier to slice neatly the next day, when you should eat it for breakfast. Serving vanilla ice cream on top is mandatory.
Also try with: Raspberries, black raspberries, or mulberries. Also, you can substitute up to 2 cups of blueberries for some of the blackberries.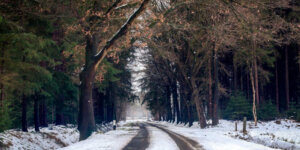 This time of year we always seem to get a hint of spring in the air for a moment, whether it's the snow storms starting to taper off or a glimpse of grass in your yard. The lure of sweetness calls from the maple trees and we begin daydreaming about all of the wonderous treats…
Read More