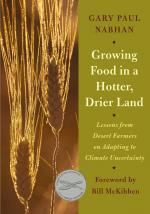 Like this book? Digg it!

Book Data
ISBN: 9781603584531
Year Added to Catalog: 2012
Book Format: Paperback
Book Art: Full-Color Throughout
Dimensions: 7 x 10
Number of Pages: 272
Book Publisher: Chelsea Green
Release Date: May 29, 2013
Web Product ID: 726
Growing Food in a Hotter, Drier Land
Lessons from Desert Farmers on Adapting to Climate Uncertainty
Foreword by Bill McKibben
"All of Gary Nabhan's books carry us on deep, enchanting journeys to the hearts of people, plants, and cultures across the world. Growing Food in a Hotter, Drier Land offers the rich stories and cultural insights we've come to expect, but now, when we badly need it, Gary also tells us explicitly how to use the dryland wisdom he's assembled over a lifetime. Heaped with practical principles, techniques, plant lists, parables, and more, his new book offers important tools for preserving our food and water security on a warmer, stormier planet. I'm inspired and heartened by this timely and important offering from a true desert sage."

—Toby Hemenway, author of Gaia's Garden: A Guide to Home-Scale Permaculture
Silver Award for Achievement - 2014 Garden Writers Association Media Awards
With climatic uncertainty now "the new normal," many farmers, gardeners, and orchardists in North America are desperately seeking ways to adapt how they grow food in the face of climate change. The solutions may be at our back door.
In Growing Food in a Hotter, Drier Land, Nabhan, one of the world's experts on the agricultural traditions of arid lands, draws from the knowledge of traditional farmers in the Gobi Desert, the Arabian Peninsula, the Sahara Desert, and Andalusia, as well as the Sonoran, Chihuahuan, and Painted deserts of North America to offer time-tried strategies, including:
Building greater moisture-holding capacity and nutrients in soils;
Protecting fields from damaging winds, drought, and floods;
Reducing heat stress on crops and livestock;
Harvesting water from uplands to use in rain gardens and terraces filled with perennial crops;
Selecting fruits, nuts, succulents, and herbaceous perennials that are best suited to warmer, drier climates; and,
Keeping pollinators in pace and in place with arid-adapted crop plants.
"Emulating and refining these adaptations may help us secure food in the face of climate change," writes Nabhan.
A certain type of agricultural history was made in 2011 when more than 500 food-producing counties in the continental United States were declared parts of disaster areas because they suffered weather-related crop failures. The searing heat waves and dry conditions suffered across seven-tenths of the United States during the summer of 2012 proved even more devastating: 2,228 counties were designated as federal disaster areas, where crops and livestock were either severely affected or lost to drought.
This practical book is replete with detailed descriptions and diagrams showing how to implement desert-adapted practices in your own backyard, orchard, or farm to mitigate the impact of these rapid changes. It also includes colorful "parables from the field" that exemplify how desert farmers think about increasing the carrying capacity and resilience of the lands and waters they steward.
This unique book is useful not only for farmers and permaculturists in the arid reaches of the Southwest or other desert regions. Its techniques and prophetic vision for achieving food security in the face of climate change may well need to be implemented across most of North America over the next half-century, and are already applicable in most of the semiarid West, Great Plains, and Southwest and adjacent regions of Mexico.