Gary Paul Nabhan is an internationally celebrated nature writer, food and farming activist, and proponent of conserving the links between biodiversity and cultural diversity. He holds the W.K. Kellogg Endowed Chair in Sustainable Food Systems at the University of Arizona Southwest Center, where he works with students, faculty, and non-profits to build a more just, nutritious, sustainable, and climate-resilient foodshed spanning the US/Mexico border. He's also the author of numerous books, including Growing Food in a Hotter, Drier Land, Renewing America's Food Traditions, and Chasing Chiles. He lives in southern Arizona.
Books By Gary Paul Nabhan
$

19.95
Add to basket
Chasing Chiles
Hot Spots along the Pepper Trail
Chasing Chiles looks at both the future of place-based foods and the effects of climate change on agriculture through the lens of the chile pepper-from the farmers who cultivate this iconic crop to the cuisines and cultural traditions in which peppers play a huge role.
Why chile peppers? Both a spice and a vegetable, chile peppers have captivated imaginations and taste buds for thousands of years. Native to Mesoamerica and the New World, chiles are currently grown on every continent, since their relatively recent introduction to Europe (in the early 1500s via Christopher Columbus). Chiles are delicious, dynamic, and very diverse-they have been rapidly adopted, adapted, and assimilated into numerous world cuisines, and while malleable to a degree, certain heirloom varieties are deeply tied to place and culture-but now accelerating climate change may be scrambling their terroir.
Over a year-long journey, three pepper-loving gastronauts-an agroecologist, a chef, and an ethnobotanist-set out to find the real stories of America's rarest heirloom chile varieties, and learn about the changing climate from farmers and other people who live by the pepper, and who, lately, have been adapting to shifting growing conditions and weather patterns. They put a face on an issue that has been made far too abstract for our own good.
Chasing Chiles is not your archetypal book about climate change, with facts and computer models delivered by a distant narrator. On the contrary, these three dedicated chileheads look and listen, sit down to eat, and get stories and recipes from on the ground-in farmers' fields, local cafes, and the desert-scrub hillsides across North America. From the Sonoran Desert to Santa Fe and St. Augustine (the two oldest cities in the U.S.), from the marshes of Avery Island in Cajun Louisiana to the thin limestone soils of the Yucatan, this book looks at how and why climate change will continue to affect our palates and our producers, and how it already has.
Read More...
$

19.95
Add to basket
$

29.95
Add to basket
Growing Food in a Hotter, Drier Land
Lessons from Desert Farmers on Adapting to Climate Uncertainty
How to harvest water and nutrients, select drought-tolerant plants, and create natural diversity
Because climatic uncertainty has now become "the new normal," many farmers, gardeners and orchard-keepers in North America are desperately seeking ways to adapt their food production to become more resilient in the face of such "global weirding." This book draws upon the wisdom and technical knowledge from desert farming traditions all around the world to offer time-tried strategies for:
Building greater moisture-holding capacity and nutrients in soils
Protecting fields from damaging winds, drought, and floods
Harvesting water from uplands to use in rain gardens and terraces filled with perennial crops
Delecting fruits, nuts, succulents, and herbaceous perennials that are best suited to warmer, drier climates
Gary Paul Nabhan is one of the world's experts on the agricultural traditions of arid lands. For this book he has visited indigenous and traditional farmers in the Gobi Desert, the Arabian Peninsula, the Sahara Desert, and Andalusia, as well as the Sonoran, Chihuahuan, and Painted deserts of North America, to learn firsthand their techniques and designs aimed at reducing heat and drought stress on orchards, fields, and dooryard gardens. This practical book also includes colorful "parables from the field" that exemplify how desert farmers think about increasing the carrying capacity and resilience of the lands and waters they steward. It is replete with detailed descriptions and diagrams of how to implement these desert-adapted practices in your own backyard, orchard, or farm.
This unique book is useful not only for farmers and permaculturists in the arid reaches of the Southwest or other desert regions. Its techniques and prophetic vision for achieving food security in the face of climate change may well need to be implemented across most of North America over the next half-century, and are already applicable in most of the semiarid West, Great Plains, and the U.S. Southwest and adjacent regions of Mexico.
Read More...
$

29.95
Add to basket
$

22.50
Add to basket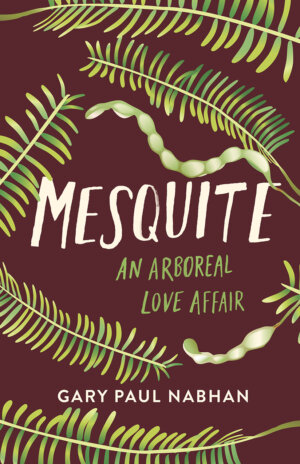 Mesquite
In his latest book, Mesquite, Gary Paul Nabhan employs humor and contemplative reflection to convince readers that they have never really glimpsed the essence of what he calls "arboreality."
As a Franciscan brother and ethnobotanist who has often mixed mirth with earth, laughter with landscape, food with frolic, Nabhan now takes on a large, many-branched question: What does it means to be a tree, or, accordingly, to be in a deep and intimate relationship with one?
To answer this question, Nabhan does not disappear into a forest but exposes himself to some of the most austere hyper-arid terrain on the planet—the Sonoran and Chihuahuan deserts along the US/Mexico border—where even the most ancient perennial plants are not tall and thin, but stunted and squat.
There, in desert regions that cover more than a third of our continent, mesquite trees have become the staff of life, not just for indigenous cultures, but for myriad creatures, many of which respond to these "nurse plants" in wildly intelligent and symbiotic ways.
In this landscape, where Nabhan claims that nearly every surviving being either sticks, stinks, stings, or sings, he finds more lives thriving than you could ever shake a stick at. As he weaves his arid yarns, we suddenly realize that our normal view of the world has been turned on its head: where we once saw scarcity, there is abundance; where we once perceived severity, there is whimsy. Desert cultures that we once assumed lived in "food deserts" are secretly savoring a most delicious world.
Drawing on his half-century of immersion in desert ethnobotany, ecology, linguistics, agroforestry, and eco-gastronomy, Nabhan opens up for us a hidden world that we had never glimpsed before. Along the way, he explores the sensuous reality surrounding this most useful and generous tree.
Mesquite is a book that will delight mystics and foresters, naturalists and foodies. It combines cutting-edge science with a generous sprinkling of humor and folk wisdom, even including traditional recipes for cooking with mesquite.
Read More...
$

22.50
Add to basket