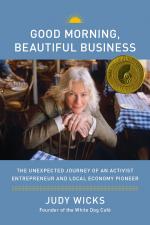 Like this book? Digg it!

Book Data
ISBN: 9781933392240
Year Added to Catalog: 2012
Book Format: Paperback
Book Art: Color Insert
Dimensions: 6 x 9
Number of Pages: 320
Book Publisher: Chelsea Green
Release Date: March 6, 2013
Web Product ID: 694
Also in Socially Responsible Business
Good Morning, Beautiful Business
The Unexpected Journey of an Activist Entrepreneur and Local Economy Pioneer
Upcoming Author Events
TBD, MA

October 9, 2014, 12:00 pm

Judy Wicks at E.F. Schumacher Lecture

, TBD MA

Judy Wicks is a leader, writer, and speaker in the localization movement. She began buying from local farmers in 1986 for her restaurant White Dog Café, which she started on the first floor of her Philadelphia row house in 1983. Realizing that helping other restaurants connect with local farmers would strengthen the regional food system, she founded Fair Food Philly in 2000. The following year she co-founded the nationwide Business Alliance for Local Living Economies (BALLE), now a network of over 20,000 local independent businesses in the U.S. and Canada, and founded the local affiliate Sustainable Business Network of Greater Philadelphia, currently with over 400 members. In 2009 Judy sold the White Dog with a unique agreement that preserves local, independent ownership and maintains sustainable business practices, including buying from local farmers, composting, and using renewable energy. She is the recipient of many local and national awards, including the James Beard Foundation's Humanitarian of the Year Award and the Philadelphia Sustainability Award for Lifetime Achievement. She continues to serve on the board of directors of BALLE. Her memoir, "Good Morning, Beautiful Business: the Unexpected Journey of an Activist Entrepreneur and Local Economy Pioneer," was published in 2013.

SAN FRANCISCO, CA

January 24, 2015, 12:00 pmJudy Wicks at Presidio Graduate School

36 Lincoln Blvd., San Francisco CA

Judy will visit Presidio Graduate School to speak about her latest work, "Good Morning, Beautiful Business" on January 24. Details to come.