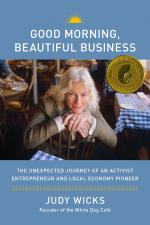 Like this book? Digg it!

Book Data
ISBN: 9781603585057
Year Added to Catalog: 2012
Book Format: Hardcover
Book Art: Color Insert
Dimensions: 6 x 9
Number of Pages: 320
Book Publisher: Chelsea Green
Release Date: March 6, 2013
Web Product ID: 742
Good Morning, Beautiful Business
The Unexpected Journey of an Activist Entrepreneur and Local Economy Pioneer
Upcoming Author Events
RADNOR, PA

October 22, 2014, 6:00 pmJudy Wicks at the Junior League of Philidelphia

Montrose Mansion, Villanova University Conference Center, 629 County Line Rd.,, Radnor PA 19087

On October 22nd, Judy Wicks will speak at the Junior League of Philadelphia. Her new book, "Good Morning, Beautiful Business," will be available for purchase. Following the presentation there will also be a book signing, as well as a dinner- attendance by reservation only.

NEW YORK, NY

November 8, 2014, 10:00 am

Judy Wicks at Voices of Hope in a Time of Crisis

The Cooper Union, New York NY

SAN FRANCISCO, CA

January 24, 2015, 12:00 pmJudy Wicks at Presidio Graduate School

36 Lincoln Blvd., San Francisco CA

Judy will visit Presidio Graduate School to speak about her latest work, "Good Morning, Beautiful Business" on January 24. Details to come.

Online for US Orders Only
International orders can be placed by phone (802-295-6300) or email
Additional Information
Judy Wicks's Upcoming Events
Judy Wicks at the Junior League of Philidelphia


Montrose Mansion, Villanova University Conference Center, 629 County Line Rd.,, Radnor PA 19087

October 22, 2014, 6:00 pm

Judy Wicks at Voices of Hope in a Time of Crisis


The Cooper Union, New York NY

November 8, 2014, 10:00 am

Judy Wicks at Presidio Graduate School


36 Lincoln Blvd., San Francisco CA

January 24, 2015, 12:00 pm