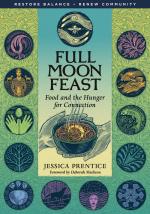 Like this book? Digg it!

Book Data
ISBN: 9781933392004
Year Added to Catalog: 2006
Book Format: Paperback
Book Art: 75 Recipes, Resources, Index
Number of Pages: 376 pages
Book Publisher: Chelsea Green Publishing
Old ISBN: 1933392002
Release Date: March 8, 2006
Web Product ID: 225
Also in Food & Health
Full Moon Feast
Food and the Hunger for Connection
Foreword by Deborah Madison
Recipes
Golden Vegetable Bisque
This Recipe comes from Chapter One of Full Moon Feast, Hunger Moon.
"In the deep of winter, when the Earth in the North has been covered with snow and ice for many moons already, comes the Hunger Moon. This late-winter lunar cycle was called the Hunger Moon by many peoples in various languages, but always for the same reason--the frozen land yielded little to eat, and game was often scarce..."

2 tablespoons butter or olive oil
2-3 leeks, sliced into rounds and well rinsed
1 small celerey root (aka celeriac), peeled into chunks
1 parsnip, cut into chunks
1 rutabaga, cut into chunks, and/or 1 golden turnip, cut into chunks
1 carrot, cut into chunks
1 bouquet garni
Chicken stock (preferably a light-colored, not dark stock) or filtered water to cover, probably about a quart
3/4 cup raw cream, creme fraiche, yogurt, buttermilk, raw whole milk, or half-and-half (or more as needed)
Salt and pepper to taste

Garnish
A dollop of creme fraiche, and/or
Finely minced rosemary, thyme, sage, or parsely leaves (or a combination of these herbs), or
A grating of nutmeg, or
A grind of black pepper

1. Heat the butter or oil in a medium-sized soup pot. Add the leeks and saute until soft.
2. Add the vegetables one by one, sauteing each for a moment.
3. Add the stock or water to cover the vegetables by about 1/2 inch. Add the bouquet garni, cover, and bring the pot to a boil.
4. Reduce the heat and simmer, covered, until all is soft, about 15 minutes.
5. Turn off the heat. At this point you can let the soup cool a little by letting it sit uncovered or transferring it to a serving bowl. If you are using raw or cultured dairy, this will help to preserve the enzymes.
6. Remove the bouquet garni.
7. Puree the soup with an immersion blender (or in a blender), adding the cream or other dairy until the soup is the consistency you like, and a big pinch of salt and pepper as you blend. Taste the soup and adjust the seasonings.
Serve with any of the garnishes above