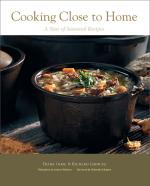 Like this book? Digg it!

Book Data
ISBN: 9781603583343
Year Added to Catalog: 2011
Book Format: Hardcover
Book Art: Color images
Dimensions: 8 x 10
Number of Pages: 240
Book Publisher: Chelsea Green Publishing
Release Date: February 4, 2011
Web Product ID: 596
Also in Food & Health
Cooking Close To Home
A Year of Seasonal Recipes
"In this reprint of a 2009 self-published book, registered dietitian Imrie and professional chef Jarmusz combine their professional talents and passion for sustainability to present recipes with local ingredients for deliciously fresh meals. They advocate growing produce in backyard gardens, participating in community gardens, and purchasing from local farmers' markets or farm shares. Fresh, seasonable vegetables and fruits are key ingredients, as are whole-grain flours. The book is organized by meal course and then by season. The complete index includes meal courses and ingredients, making the recipes exceedingly accessible. Nearly every dish receives a full-page color photo, and tips include recommendations for selecting and preserving produce and meats as well as shortcuts and cooking methods. Although the authors live in the Northeast, the recipes and hints pertain to locations throughout North America. Most of the recipes are easy enough for weekday dinners yet colorful enough for company. Verdict: Imrie and Jarmusz's beautiful, simple recipes that use local sustainable ingredients will please any cook looking for delicious guilt-free meals."

—Library Journal
Inspirational Recipes to Guide You Through Each Season's Harvest
Eating locally is becoming a priority to people everywhere, but preparing local food throughout the four seasons can be a culinary challenge. Common questions like, "how can I eat locally in January?" or "how do I prepare what my CSA provides?" can confront even the most committed locavore.
Award-winning chef Richard Jarmusz and registered dietitian Diane Imrie answer these questions and more in the beautifully illustrated Cooking Close to Home, a collection of more than 150 original recipes designed to follow the seasons, helping you prepare savory meals throughout the year while supporting a sustainable, local food system.
Cooking Close to Home is a seasonal guide that will inspire you to create delicious and nutritious meals with ingredients produced in your own community. A chef and a dietitian make the ideal partners to stimulate your creativity in the kitchen, teaching you how to prepare fabulous local foods without ever sacrificing flavor for nutrition.
Imrie and Jarmusz met at Vermont's largest hospital, Fletcher Allen, and immediately recognized in each other a passion for preparing nutritious, fresh and flavorful foods. There they created an award-winning, nationally recognized food service program. Each recipe also includes useful "Harvest Hints" that explain how to find and preserve seasonal ingredients to help you enjoy the delectable pleasure that local foods provide all year long.
No matter where you live, if you want to cook locally throughout the four seasons, this book is a must-read.
Braised Turkey Thighs with Currants

1/3 cup all-purpose flour
1 teaspoon salt
1 teaspoon freshly ground black pepper
4 turkey thighs, about 1 pound each,rinsed, drained and patted dry
2 tablespoons olive or canola oil
1 cup onion, finely chopped
1 tablespoon fresh garlic, chopped
5 cups turkey or Basic Chicken Stock (see page 61 for recipe)
2 tablespoons tomato paste
1 cup dried red currants
¼ cup honey
¼ cup fresh parsley, finely chopped
1 teaspoon fresh sage, finely chopped

Serves six

Combine flour, salt and pepper in a bowl, and mix well.
Place turkey thighs in a bowl and pour the flour mixture over the turkey. Toss until the turkey is well coated with flour. Reserve the remaining flour for later use in the recipe.
Heat a skillet over medium heat, add oil and brown the turkey thighs.
Remove the turkey and set aside. Add the onions and garlic and sauté until tender. Add the reserved flour and cook, stirring until light brown, about 2 minutes.
In a medium bowl combine the stock and tomato paste, and mix well. Add this to the pan and stir in. Return the turkey to the pan, bring to a boil, and then reduce the heat to low. Cover and simmer for 45 to 55 minutes depending on size of the thighs. Cook until the turkey reaches 165 ºF.
Add the currants, honey, parsley and sage, and quickly bring to a boil. Reduce heat and simmer for 10 minutes. Serve turkey thighs with sauce.