Luscious Lemons: Classic Lemon Bar Recipe
Everyone loves homemade lemon squares! These refreshing sweet and lightly tart lemon squares are the best. This lemon bar is the ideal, with a buttery crust that is sturdy but tender enough to bite through and a thick and luscious filling with a balance of sweetness and tangy lemon brightness.
The following is an excerpt from The Fruit Forager's Companion by Sara Bir. It has been adapted for the web.
---
Lemon bars always have too much crust and not enough filling for my liking. I fixed that by scaling up the filling for my favorite lemon bar recipe by 2.5, and now this is my favorite lemon bar recipe.
Ingredients
For the crust
2 cups (260 g) unbleached all-purpose flour
½ cup (100 g) granulated sugar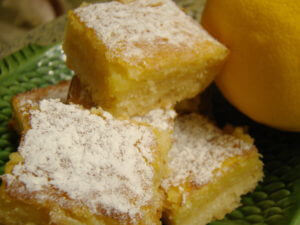 ½ teaspoon table salt
¾ cup (1½ sticks) cold butter, cut into ½-inch (1.3 cm) cubes
For the filling
6 tablespoons unbleached all-purpose flour
1½ cups (300 g) granulated sugar
7 large eggs
6 tablespoons heavy cream
2½ teaspoons finely grated lemon zest
¾ cup (180 ml) fresh lemon juice
¼ teaspoon table salt
Confectioner's sugar, for dusting
Preheat the oven to 350°F (175°C).
Line a 13 × 9-inch (33 × 23 cm) baking pan with parchment paper, leaving an overhang of several inches along the long sides.
To make the crust, pulse the flour, sugar, and salt in the bowl of a food processor until combined. Add the butter cubes, and pulse until the mixture resembles coarse cornmeal.
Press evenly into the prepared pan.
Bake until golden brown, 20 to 25 minutes.
Meanwhile, make the filling. In a large bowl, whisk together the flour and sugar until combined. Whisk in the eggs, then the cream, zest, juice, and salt until well combined.
Scrape over the hot baked crust, and bake until set, about 30 minutes.
Set on a wire rack to cool completely.
Refrigerate the bars in the pan until cold (this makes them easier to cut). To cut the bars, place a large cutting board over the top of the baking pan. Invert, remove the pan, and peel off the parchment paper.
Set another cutting board gently over the bars and invert again so the bars are filling side up. Cut into the bars with a long, sharp knife.
Before serving, dust the bars with powdered sugar. They will keep, tightly covered in a container and separated with waxed paper between layers, for 3 days.
Also try:  Sometimes I use a mix of citrus: lemons and limes, or lemons and oranges. I even used a grapefruit in there once.
---
Recommended Reads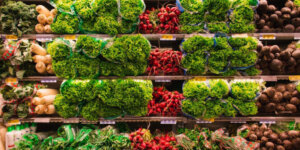 There's been a lot of talk about stocking your fridge and pantry, but what exactly does that mean? What foods store well? What foods provide the most nutritional value? How much toilet paper do you really need? In his lifetime, Matthew Stein wrote extensively about being prepared for the worst, including how to properly stock your…
Read More