One of the great things about a northeastern winter is the strong sense of community the harsh weather inspires. A great way to feel that sense of community is to check out your local organic farming organizations.
Hang out with small farmers, sample delicious local foods, attend workshops by renowned experts, and learn a thing or two to improve your farm, garden, or home.
Many of our authors are leading these workshops. Take a look at the current list of who will be where and when: 
http://ow.ly/8Bb9S
[1]
Happy reading from the folks at Chelsea Green Publishing. P.S. In case you missed it our bestsellers from 2011 are on sale until January 31. Take a look here:
http://www.chelseagreen.com/blogs/sale-bestseller-of-2011/
[2]
The
Holistic Orchard: Tree Fruits and Berries the Biological Way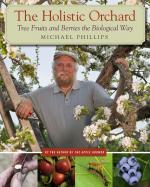 [3]"Honeybees are like bankers," orchard guru Michael Phillips recently told The New York Times. "They work 9 to 5, and only when it's 60 degrees. Bumblebees and mason bees work from first light until dark, and pollinate all the female parts of a flower, so all the seeds take."Native bees, Phillips explained, are more efficient at pollinating than the disappearing European bees. To encourage those bees to stay and pollinate his trees and berry bushes, Phillips uses pieces of septic pipe as inviting spots for the bees to nest.This simple technique is one of many you can find in his new book, The Holistic Orchard, out this month.Phillips takes readers "beyond organic" and into the universe of holistic growing practices for the backyard orchardist looking to grow pome fruits (apples and pears), stone fruits (cherries, peaches and plums), and berries.In the Times article, Phillips explains many of the tried-and-true techniques he puts into practice on his northern New Hampshire orchard, and talks about some of his favorite apple varieties, too. Michael is leading workshops throughout the winter. See if he'll be near you and find out why he's such an inspiration to orchards large and small. Take a look at where Michael Phillips will be. [4] Read the full NYTimes article. [5] Wild Flavors: One Chef's Transformative Year Cooking from Eva's Farm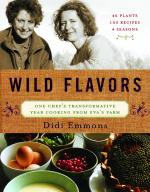 [6]

Wild Flavors [6] follows a year at Eva's Garden through the seasons. It showcases Emmons' creative talents, featuring herbs (African basil, calaminth, lovage) and wild foods (autumn olives, wild roses, Japanese knotweed). The author provides growing or foraging information for each of the forty-six uncommon garden plants profiled, as well as details on prepping, storing, preserving, and health benefits. The wide-ranging recipes reflect the shifting seasonal harvest and are easy to follow, but best of all, Emmons shows us how these herbs, greens and wild foods improve and transform the flavors in our food.
"Didi Emmons has long been a hero to me. She teaches, tempts and transforms all of our senses, even our common sense. Let her artistry open our eyes and taste buds to the wild flavors all around us. Enjoy!"—Frances Moore Lappe, author of EcoMind: Changing the Way We Think, to Create the World We Want
You can get a taste by checking out Living on Earth, who visited Eva's Garden with Didi Emmons. [7] See Didi's upcoming events. [8] The Small-Scale Poultry Flock: An All-Natural Approach to Raising Chickens and Other Fowl for Home and Market Growers The most comprehensive and definitive guide to date on raising all-natural poultry. For homesteaders or farmers seeking to close their loop, The Small-Scale Poultry Flock offers a practical and integrative model for working with chickens and other domestic fowl, based entirely on natural systems. No other book on raising poultry takes an entirely whole-systems approach, or discusses producing homegrown feed and breeding in such detail—it is truly an invaluable and groundbreaking guide that will lead farmers and homesteaders into a new world of self-reliance and enjoyment.
"Here's the ultimate book for those who want to know everything there is to know about raising poultry. And every detail is backed up by the author's own (and often entertaining) experiences. I could not find—in this encyclopedic array of chicken knowhow—one detail that I would quibble with."—Gene Logsdon, author of Holy Shit and The Contrary Farmer
Check out Harvey's upcoming events. [9]  Holy Shit: Managing Manure To Save Mankind Contrary farmer Gene Logsdon provides the inside story of manure—our greatest, yet most misunderstood, natural resource. He begins by lamenting a modern society that not only throws away both animal and human manure—worth billions of dollars in fertilizer value—but that spends a staggering amount of money to do so. Don't miss out on his upcoming book, A Sanctuary of Trees: Beechnuts, Birdsongs, Baseball Bats, and Benedictions, due out in March. You can pre-order it now by clicking here. [10] Take a look at Gene Logsdon's upcoming events. [11] Chanterelle Dreams, Amanita Nightmares Throughout history, people have had a complex and confusing relationship with mushrooms. Are fungi food or medicine, beneficial decomposers or deadly "toadstools" ready to kill anyone foolhardy enough to eat them? In fact, there is truth in all these statements.

In Chanterelle Dreams, Amanita Nightmares [12], author Greg Marley reveals some of the wonders and mysteries of mushrooms, and our conflicting human reactions to them. This fascinating and fresh look at mushrooms—their natural history, their uses and abuses, their pleasures and dangers—is a splendid introduction to both fungi and our human fascination with them.
"This book is an enticing invitation into the fungal realm, accessible and a pleasure to read." — Sandor Ellix Katz, Author of Wild Fermentation and The Revolution Will Not be Microwaved
See where Greg Marley will be this winter. [13]  Inquiries into the Nature of Slow Money: Investing as if Food, Farms, and Fertility Mattered Inquiries into the Nature of Slow Money presents an essential new strategy for investing in local food systems and introduces a group of fiduciary activists who are exploring what should come after industrial finance and industrial agriculture. Theirs is a vision for investing that puts soil fertility into return-on-investment calculations and serves people and place as much at it serves industry sectors and markets.
"Once in a while, a book comes along that has the potential to change things. This is one such book. It has the potential to unleash a major movement in this country."—Steve Costa, Owner, Point Reyes Books.
See Woody Tasch's event schedule. [14] Radical Homemakers: Reclaiming Domesticity from a Consumer Culture Mother Nature has shown her hand. Faced with climate change, dwindling resources, and species extinctions, most Americans understand the fundamental steps necessary to solve our global crises—drive less, consume less, increase self-reliance, buy locally, eat locally, rebuild our local communities.  In essence, the great work we face requires rekindling the home fires.Radical Homemakers is about men and women across the U.S. who focus on home and hearth as a political and ecological act, and who have centered their lives around family and community for personal fulfillment and cultural change.
"Brilliant, visionary, and practical. This is a mind-bending book that will forever change your view of human possibility and compel you to rethink your life. My highest recommendation."—David Korten, author of Agenda for a New Economy and The Great Turning, and board chair of YES! magazine
Take a look at Shannon Hayes' upcoming events. [15] Natural Beekeeing: Organic Approaches to Modern Apiculture

Ross Conrad brings together the best organic and natural approaches to keeping honeybees healthy and productive. Readers will learn about nontoxic methods of controlling mites, eliminating American foulbrood disease (without the use of antibiotics), breeding strategies, and many other tips and techniques for maintaining healthy hives. Specific concepts and detailed management techniques are covered in a matter-of-fact, easy-to-implement way.

Natural Beekeeping describes opportunities for the seasoned professional to modify existing operations, increase profits, and eliminate the use of chemical treatments. Beginners will need no other book to guide them. Whether you are an experienced apiculturist looking for ideas to develop an integrated pest management approach or someone who wants to sell honey at a premium price, this is the book you've been waiting for. Take a look at Ross Conrad's event schedule. [16] The Soul of Soil: A Soil-Building Guide for Master Gardeners and Farmers, 4th Edition Soil is the basis not only for all gardening, but for all terrestrial life. No aspect of agriculture is more fundamental and important, yet we have been losing vast quantities of our finite soil resources to erosion, pollution, and development. This eminently sensible and wonderfully well-focused book provides essential information about one of the most significant challenges for those attempting to grow delicious organic vegetables: the creation and maintenance of healthy soil. See co-author Gracy Gershuny's event schedule. [17] Genetic Roulette: The Documented Health Risks of Genetically Engineered Foods The biotech industry's claim that genetically modified (GM) foods are safe is shattered in this groundbreaking book. Nearly forty health risks of the foods that Americans eat every day are presented in easy-to-read two-page spreads. The left page is designed for the quick scanning reader; it includes bullets, illustrations, and quotes. The right side offers fully referenced text, describing both research studies and theoretical risks. Genetic Roulette explores why children are most at risk, how to avoid GM foods, false claims by biotech advocates, how industry research is rigged to avoid finding problems, why GM crops are not needed to feed the world, the economic losses associated with these crops, and more. Take a look at Jeffrey Smith's event schedule [18]. The Organic Farmer's Business Handbook: A Complete Guide to Managing Finances, Crops, and Staff—and Making a Profit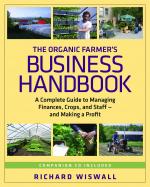 [19]

Contrary to popular belief, a good living can be made on an organic farm. What's required is farming smarter, not harder. In The Organic Farmer's Business Handbook, Richard Wiswall shares advice on how to make your vegetable production more efficient, better manage your employees and finances, and turn a profit. From his twenty-seven years of experience at Cate Farm in Vermont, Wiswall knows firsthand the joys of starting and operating an organic farm—as well as the challenges of making a living from one. Farming offers fundamental satisfaction from producing food, working outdoors, being one's own boss, and working intimately with nature. Take a look at Richard Wiswall's upcoming events. [20] Edible Forest Gardens (Two volume set)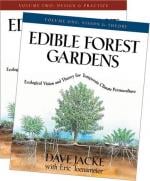 [21]

Edible Forest Gardens is a groundbreaking two-volume work that spells out and explores the key concepts of forest ecology and applies them to the needs of natural gardeners in temperate climates. Taken together, the two volumes of Edible Forest Gardens offer an advanced course in ecological gardening-one that will forever change the way you look at plants and your environment. Take a look at co-author Dave Jake's upcoming schedule [22] Take a look at co-author Eric Toensmeier's upcoming schedule [23] Organic Dairy Production
[24]

Part of the guide series from Northeast Organic Farming Association, on organic principles and practices for both the beginner farmer as well as established farmers looking to convert to organic, or deepen their practices. Organic Dairy Production uses a strong whole-systems farming theory behind practical advice, as well as offer historical information, further resources, detailed appendices, and profiles of various organic farms across the Northeast. Take a look at Sarah Flack's upcoming events. [25]