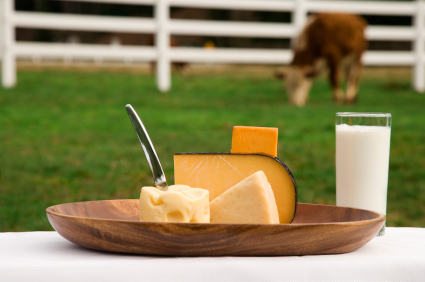 June is National Dairy Month, first started in the 1930s to promote dairy products during the time of year when production is at its peak. Here at Chelsea Green we publish the leading books on milk and cheese.
Our entire collection of milk and cheese books are now on sale for 25% off.
Cheesemonger: A Life on the Wedge

Gordon Edgar's funny and thoughtful story of life as a cheesemonger in San Francisco's worker-owned Rainbow Grocery Cooperative. It's a memoir of life with cheese, touching on everything from the politics of dairy farming to the art of creating some of the world's finest cheeses.

The Raw Milk Revolution: Behind America's Emerging Battle Over Food Rights

From the other end of the dairy industry, David Gumpert digs into the controversy over raw milk, and the government's strict crackdown on producers, in TThe Raw Milk Revolution: Behind America's Emerging Battle Over Food Rights. This in-depth investigation questions the government's rationale for banning the sale of raw milk, and the tactics regulators have used to drive the raw milk trade underground.

Italian Cheese

Starting with illustrated descriptions of traditional and industrial cheesemaking, Italian Cheese: A Guide to Its Discovery and Appreciation takes us through the processes of buying, tasting, and storing cheeses. Dictionaries of tasting terms and the language of cheeses and cheesemaking provide essential preludes for the heart of this book

The Farmstead Creamery Advisor

More than ever before, the people who choose to become farmer-cheesemakers need access to the knowledge of established cheese artisans who can help them build their dream. The Farmstead Creamery Advisor brings to life the story of creating a successful cheesemaking business in a practical, organized manner. It will also appeal to the many small and hobby-farm owners who already have milking animals and who wish to improve their home dairy practices and facilities.

American Farmstead Cheese: The Complete Guide to Making and Selling Artisan Cheeses

American Farmstead Cheese: The Complete Guide to Making and Selling Artisan Cheeses explains the diversity of cheeses in terms of historical animal husbandry, pastures, climate, preservation, and transport—-all of which still contribute to the uniqueness of farm cheeses today. Discover the composition of milk (and its seasonal variations), starter cultures, and the chemistry of cheese.

Devil in the Milk: Illness, Health, and the Politics of A1 and A2 Milk

This groundbreaking work is the first internationally published book to examine the link between a protein in the milk we drink and a range of serious illnesses. Devil in the Milk: Illness, Health, and the Politics of A1 and A2 Milk brings together the evidence published in more than 100 scientific papers. The evidence is compelling: We should be switching to A2 milk.This is an mazing story, one that is not just about the health issues surrounding A1 milk, but also about how scientific evidence can be molded and withheld by vested interests, and how consumer choices are influenced by the interests of corporate business.

The Atlas of American Artisan Cheese

The Atlas of American Artisan Cheese is the first reference book of its kind and a must-have for every foodie's library. Jeffrey P. Roberts lavishes loving attention on the growing local food and farmstead movement in what is fast becoming a national trend. This fully illustrated atlas of contemporary artisan cheeses and cheese makers will not only be a mainstay in any cookery and cuisine library-guiding consumers, retailers, restaurateurs, and food professionals to the full breadth and unparalleled quality of American artisan foods-it will be the source of many a fabulous food adventure.

Organic Dairy Production

Organic Dairy Production is part of a series on organic principles and practices for both the beginner farmer as well as established farmers looking to convert to organic, or deepen their practices. You'll get the information for manure management, crop production, grazing management, livestock selection, marketing and regulations of milk and much more.
Hopefully they will help you better understand where your food comes from, and make more informed dairy choices, whether it's which pecorino romano to grate over your next pasta dinner, or making the leap to trying raw milk from the small farm down the road.
For more on the raw milk debate read the blog post, "10 Things You Should Know About Raw Milk," and check out the trailer for Farmageddon, a new documentary. Farmageddon is a behind-the-scenes look at what harsh governmental regulation is doing to small family dairy farms, and how agricultural policies disproportionately benefit huge agribusiness over local organic farms. We hope you find it as inspiring and revolutionary as we did.
---