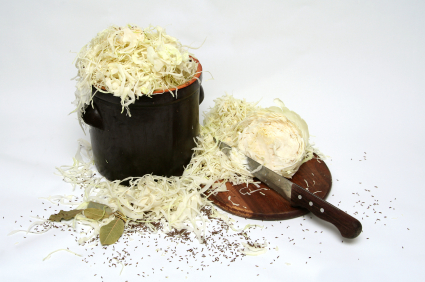 Some of us here at Chelsea Green have recently dived into pickling and fermenting, namely me, Makenna, and Jonathan. We ooh and aah over new glass pickling jars (it's 2 frakking gallons!), enjoy the occasional treat of Jonathan's sauerkraut, and design the still-too-fictional office fermenting shelving. All of this, of course, has been inspired by Sandor Katz and his book Wild Fermentation. Well, it appears that Sandor's inspiration is not limited to within the walls of Chelsea Green's colorful offices. Last Exit Magazine has a great article today by Anne Dailey about Sandor's role in the shifting of America's food consciousness, and the unexpected benefits thereof—namely, sauerkraut!
Here is an excerpt from the article:
In the food world, revolutions tend to come in the same few forms: newer, bigger, and faster. There was the advent of McDonald's drive-thru, the invention of the microwave oven, Earl Butz's suggestion that farmers "Get Big or Get Out", the arrival of GMO seed and farm machines the size of houses. These phenomena have changed the face of food and farming over the past few decades, with little pushback from the public. Yet deep in souls of folks out there, in the soil on new farms popping up around the country, and old farms finding new life, something is shifting. Perhaps a paradigm. To give credit where it's due, there have always been people fighting back in thought, action and word. The hope now is that we're reaching some kind of crescendo. Sit quietly, preferably in a field on an organic farm, and you can feel it. Bite in a heirloom tomato in July and you can taste it. Step into a bustling greenmarket and you can hear it. There's a faint throbbing in the hearts of sustainable farms and conscious consumers that's growing louder by the day. It's the stirrings of a new kind of revolution, the admirable throwing-off-of-the-yoke kind, of folks stepping out and doing things a little differently. […] We're actually getting close. From California to North Carolina, Texas to Maine, small companies, both new and old, are creating their own signature vegetable ferments, packaging them with care and sending them out to the tables of American foodies, many of whom have gotten into the fermentation game themselves. The de-facto leader of the movement is Sandor Katz, aka Sandorkraut, a self-proclaimed "fermentation fetishist" who has written the bible on real fermented foods: Wild Fermentation. He has a website too, and he'll tell you how to get started, ease your fears, and answer your questions (really, he responds.) Thousands have read his books joined in the fermentation adventure. As Travins casually points out, "It's pretty trendy right now."
Read the full article here.
Related Posts:
---