If there's one thing we're thankful for, it's you, our dedicated readers. You're curious about the world, and how to make it a better place. You're dedicated to the planet you call home, and to finding new and fun ways to keep it (and yourself) healthy and happy.
One of the best ways to do this is through food, and as we approach the holiday season, we want to share a feast of recipes and tips with you! From how to cook a heritage-breed turkey or use wildcrafted herbs, hints on how to care for your own backyard flock, or ideas for preserving last season's harvest, our books are full of ways to say thank you to the earth for all she provides.
Take a look at the recipes below and have yourself one of the most sustainable (and unusual) Thanksgiving dinner's of all time.
And to help you spread the gratitude, all of these featured books are 25% off! Got any organic farmers or gardeners on your gift list?
Thanks for being part of our community!
Happy reading (and eating) from the folks at Chelsea Green.
P.S. We'd like to give an extra special thank you to everyone who 'liked' our
Facebook page last week! It's a great way to stay connected to the world of green and progressive news, so if you haven't yet, click on over and let us know how much you 'like' us!
Libation 
A Bitter Alchemy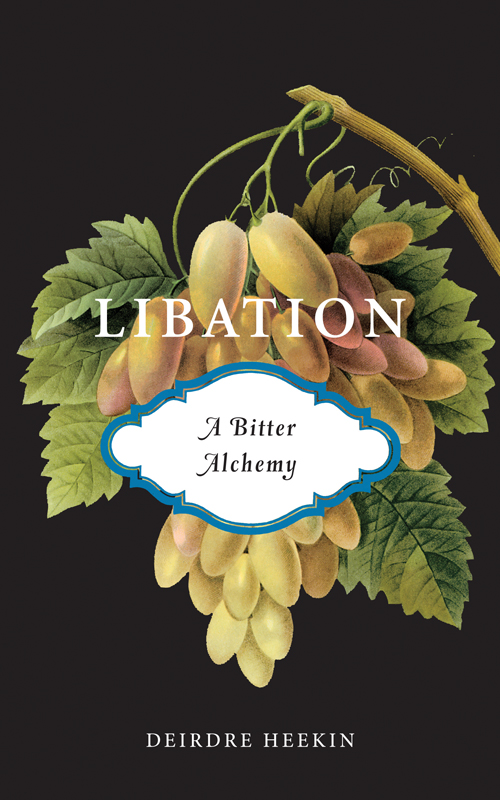 Start off your sustainable turkey day dinner with a delightful and unique cocktail: Sazerac!
For many years, Deirdre Heekin has been creating an unusual, revitalist wine archive of rare and traditional Italian varietals at Osteria Pane e Salute, the nationally celebrated restaurant and wine bar she shares with her chef husband, Caleb Barber. Self-taught in the world of Italian wines, she is known for her fine-tuned work with scent and taste and her ability to pair wines and food in unexpected yet terroir-driven ways. This drink is no exception.
"The key to a true Sazerac is in the provenance of the ingredients: the rye, the anise, and the bitters. While many substitutes are available, an authentic drink is made with Old Overholt rye whiskey distilled in Clermont, Kentucky; Herbsaint anise liqueur; and Peychaud's bitters, the last two ingredients hailing from New Orleans. This recipe is adapted from the dry and spicy version prepared for us at Arnaud's in the Crescent City."
Get the full recipe, and find out about Deirdre's special connection to New Orleans, where the drink was born!
Cooking Close to Home
A Year of Seasonal Recipes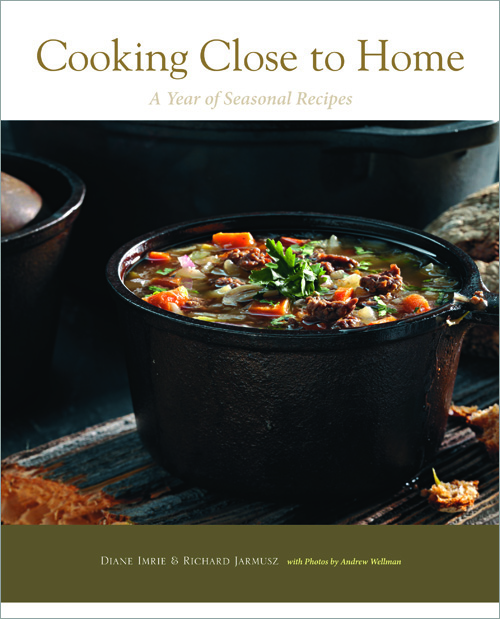 Cooking Close to Home is a collection of over 150 original recipes designed to follow the seasons. Whether you are a home gardener, a farmers' market regular, or a member of a community-supported agriculture program, this cookbook will serve as a seasonal guide to using the foods available in your region. Within each chapter you will find information about sustainable food, small family farms, and how to reduce your carbon footprint by buying local foods.  
The book contains ample recipes for cooking fresh vegetables in their proper season. Here's a tasty appetizer to start your Thanksgiving meal off right:   
 Simmered Mushroom Trio with Garlic Crostini
"Mushrooms are actually not a vegetable, but are fungi. Mushrooms have a lot to offer nutritionally — they are low in calories, and rich in selenium and ergothionine (both antioxidants). Once exposed to sunlight, mushrooms are also an unexpected source of vitamin D. Store mushrooms in the refrigerator in a paper bag, and rinse only when ready to use. Local producers are now growing mushrooms throughout the year, so indulge in whatever varieties are available."
Get the full recipe for this delectable and healthy Thanksgiving appetizer!  
The Resilient Gardener
Food Production and Self-Reliance in Uncertain Times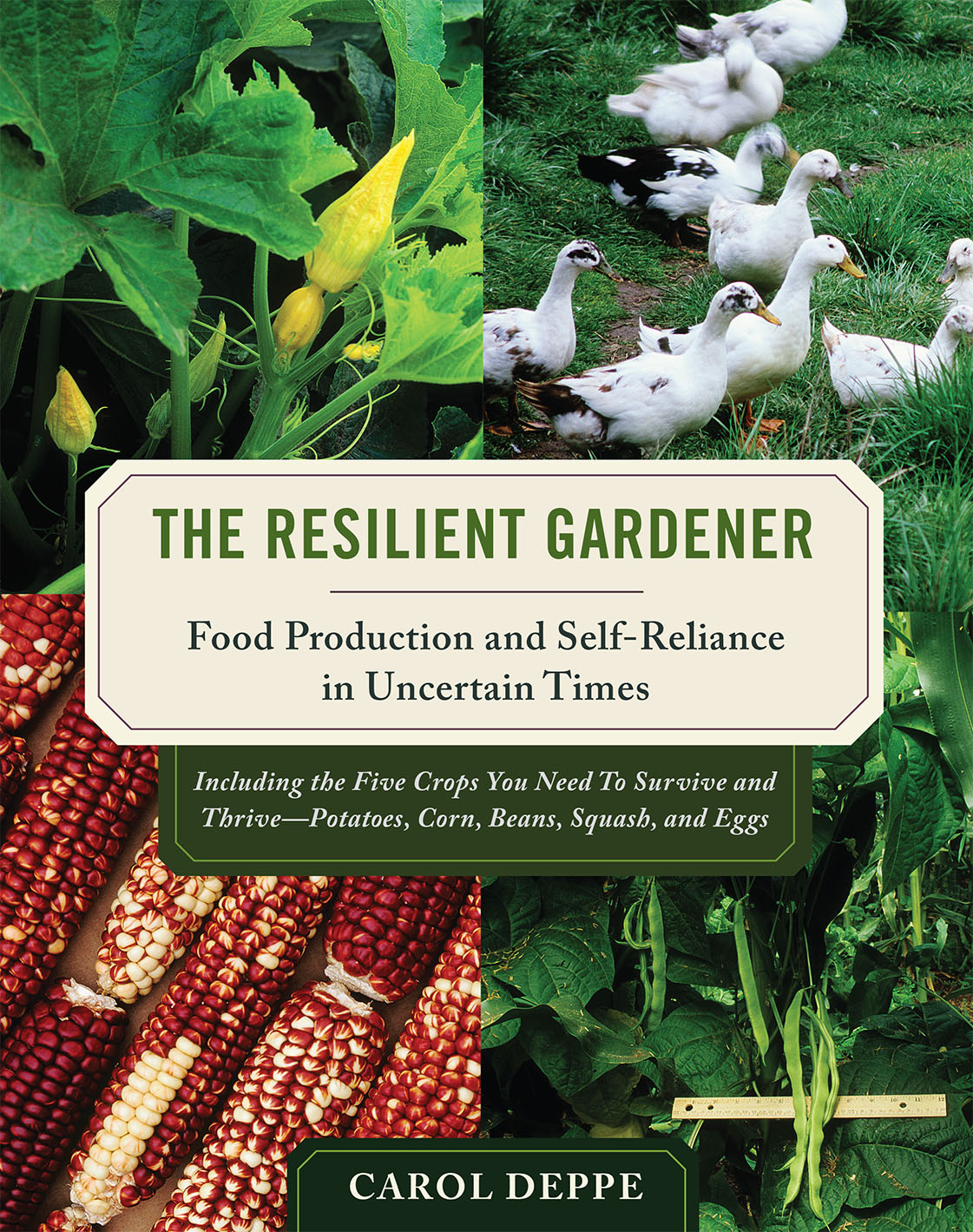 Scientist/gardener Carol Deppe combines her passion for gardening with newly emerging scientific information from many fields – resilience science, climatology, climate change, ecology, anthropology, paleontology, sustainable agriculture, nutrition, health, and medicine. In the last half of The Resilient Gardener, Deppe extends and illustrates these principles with detailed information about growing and using five key crops: potatoes, corn, beans, squash, and eggs.
Be sure to balance the richness of your Thanksgiving turkey, stuffing, and dessert with a fresh salad. If you follow Carol Deppe's advice, you won't even need dressing! 
Recipe: Why the Best Salads Don't Need Dressing
"The modern paradigm for a salad is a bowl of relatively bland vegetables to which we add the flavor via salad dressing…However, if we include substantial amounts of highly flavorful greens in a salad and dress it with a standard salad dressing, we end up with overwhelming flavor. Many people respond by sticking to salads based mostly upon lettuce. I opt for biodiversity in the salad bowl, the diet, and the garden. What I eliminate is the salad dressing. I challenge the entire concept of salad dressing. Here's my approach…"
Take that, salad dressing! Read on to find out how tasty a "naked" salad can be!
The Small-Scale Poultry Flock
An All-Natural Approach to Raising Chickens and Other Fowl for Home and Market Growers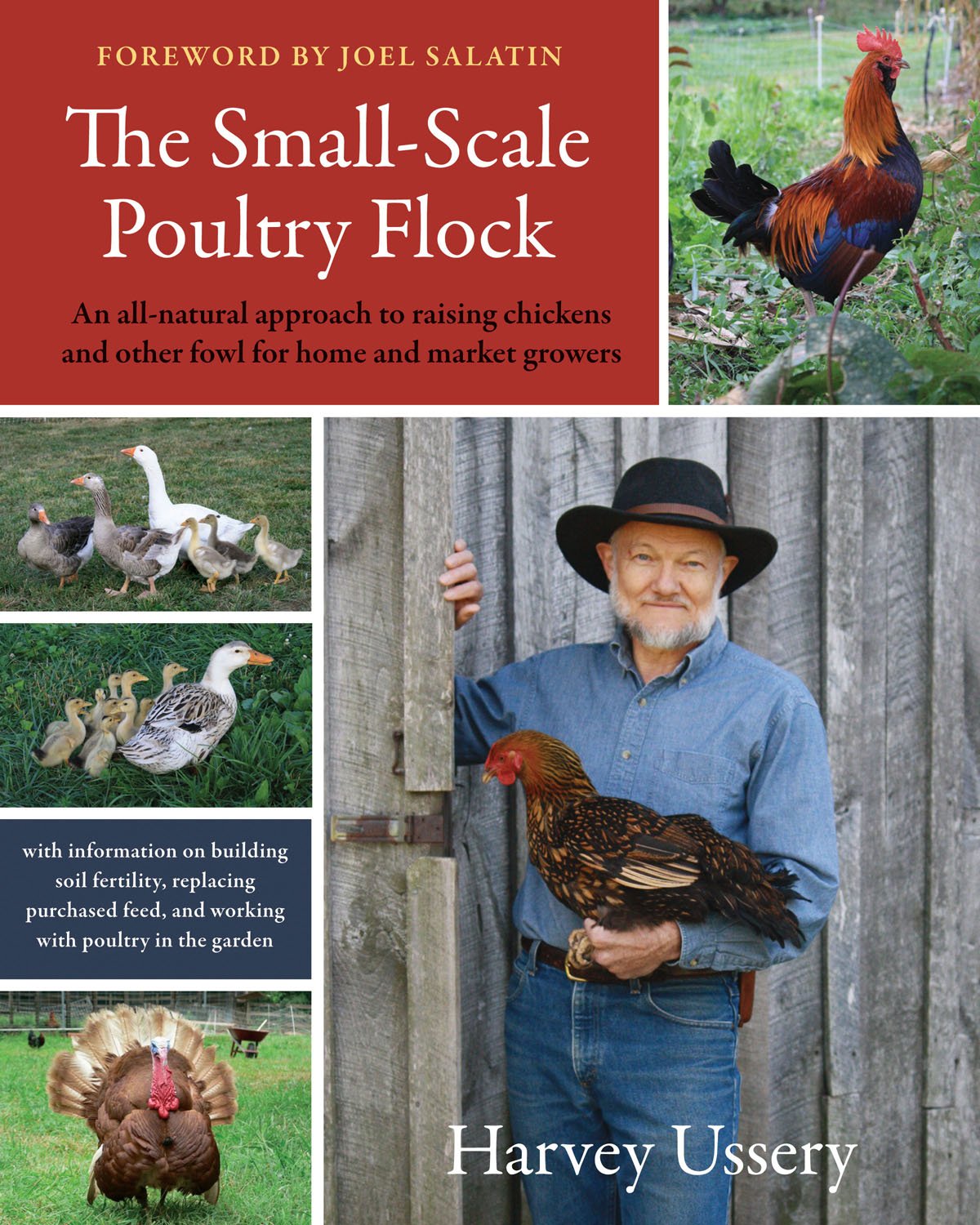 Follow Harvey Ussery's advice, and next Thanksgiving you could be feasting on your very own holistically-raised turkey (or chicken, or duck)!
No other book on raising poultry takes an entirely whole-systems approach, nor discusses producing homegrown feed and breeding in such detail. The Small-Scale Poultry Flock is a truly invaluable and groundbreaking guide that will lead farmers and homesteaders into a new world of self-reliance and enjoyment.
Broth is Beautiful – Ellen Ussery's Recipe for Chicken Broth
"Chicken broth is not only a delicious base upon which to build a flavorful soup or sauce — it is an extremely nourishing food in its own right. Properly prepared, it is an excellent source of minerals, including calcium, magnesium, and potassium. It is rich in gelatin, an extraordinary digestive aid that, although not a complete protein, helps the body more fully utilize protein from other foods — in effect, you do not need to eat as much protein. And modern research has confrmed traditional wisdom: Chicken broth does indeed help prevent and moderate colds and flu."
Read on to find out all the health benefits of making your own delicious broth at home!
Renewing America's Food Traditions
Saving and Savoring the Continent's Most Endangered Foods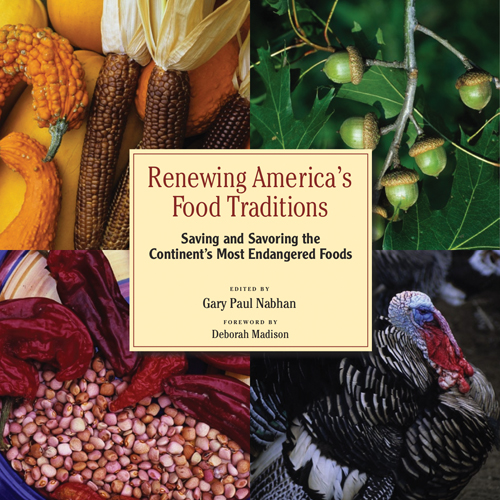 Renewing America's Food Traditions is a beautifully illustrated, dramatic call to recognize, celebrate, and conserve the great diversity of foods that gives North America a distinctive culinary identity that reflects our multicultural heritage. It offers us rich natural and cultural histories as well as recipes and folk traditions associated with the rarest food plants and animals in North America.
Is anyone raising heritage breeds of livestock or localized heirloom veggies in your neck of the woods? If so, support them by including their products in your holiday meals, and help sustain their efforts to preserve these important parts of our nation's biological legacy. Here's a recipe for a heritage turkey to get you started: 
Roast Narragansett Turkey with Jerusalem Artichokes
"Named for Narragansett Bay in Rhode Island, where it was first developed by early colonists, this rare standard breed of heritage turkey emerged from crosses between the wild turkeys of eastern America and already domesticated turkey breeds such as the Norfolk Black…The Narragansett breed is legendary for its stunning beauty, with black metallic plumage on its breast and back, banded black and gray tail feathers tipped with white, and toes and shanks that turn a deep salmon." 
Read more, and get the recipe for this heritage breed of turkey, with a traditional native starch!
Wild Flavors
One Chef's Transformative Year Cooking from Eva's Farm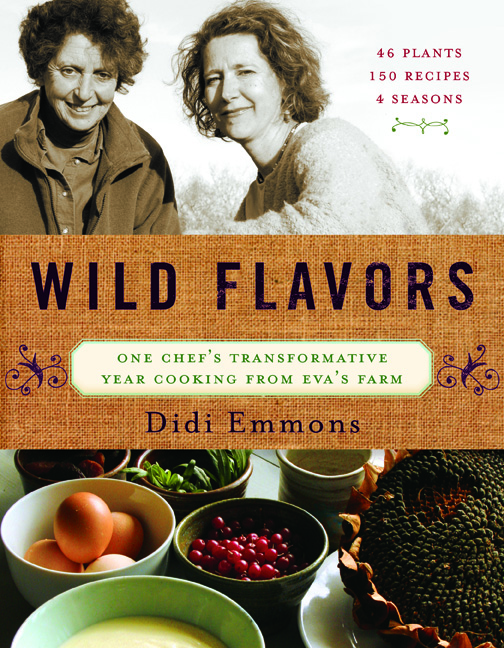 Get now for 25% off
Curiosity sparked chef Didi Emmons's initial venture down the Massachusetts coast to meet the celebrated farmer Eva Sommaripa, where she experienced a flavorful epiphany. She discovered a whole repertoire of wild flavors that transformed her connection to the food she creates — and, in the process, made a lifelong friend. 
Wild Flavors is the fruit of that friendship. Alongside the unique seasonal offerings, Didi provides profiles and tips on forty-six uncommon plants, and shares Eva's wisdom about staying connected and maintaining a sane and healthy lifestyle in an increasingly hectic world.
Featured Excerpt and Recipes – Cod Potato Leek Gratin and Smashed Leeky Potatoes 
"Leeks are long, slim, and glamorous-the ultimate in the "layered" look (a term popularized by the movie Annie Hall). Cut straight through a leek and you can see the layers of white and green rings, like concentric growth rings of a baby sapling. Leeks are a pet vegetable of Eva's. She quips, "I don't mean to disrespect the onion, but leeks are far better. They are sweeter, milder, prettier."
Read more about this sweet, delicious vegetable and get your pick of two recipes for your Turkey Day feast. 
In Late Winter We Ate Pears
A Year of Hunger and Love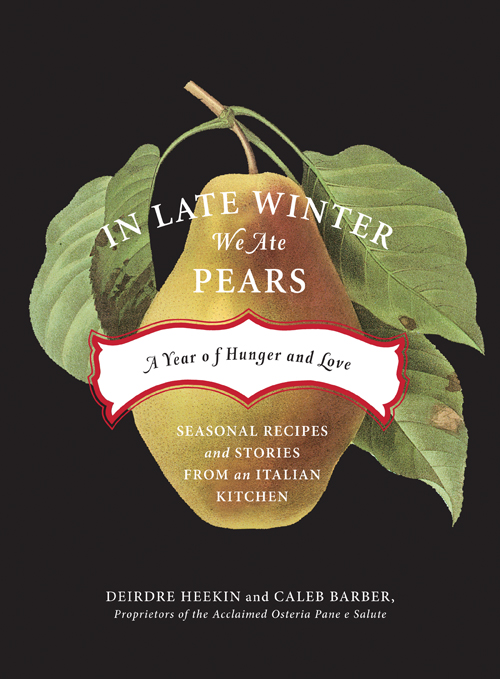 Get now for 25% off
More than a cookbook, In Late Winter We Ate Pears is a love affair with a culture and a way of life. In vignettes taken from their year in Italy, husband and wife Caleb Barber and Deirdre Heekin offer glimpses of a young, vibrant Italy: of rolling out pizza dough in an ancient hilltown at midnight while wild dogs bay in the abandoned streets; of the fogged car windows of an ancient lovers' lane amid the olive groves outside Prato.
For a simple vegetable side dish to serve with your heritage turkey, try this recipe for sauteed radicchio, and daydream yourself right into the Italian countryside!
Sauteed Radicchio
"A versatile dish, suitable as an antipasti or as a contorno alongside roasted chicken or sausages. Serves 4." 
Get the full recipe, one of the simplest ever!
Full Moon Feast   
Food and the Hunger for Connection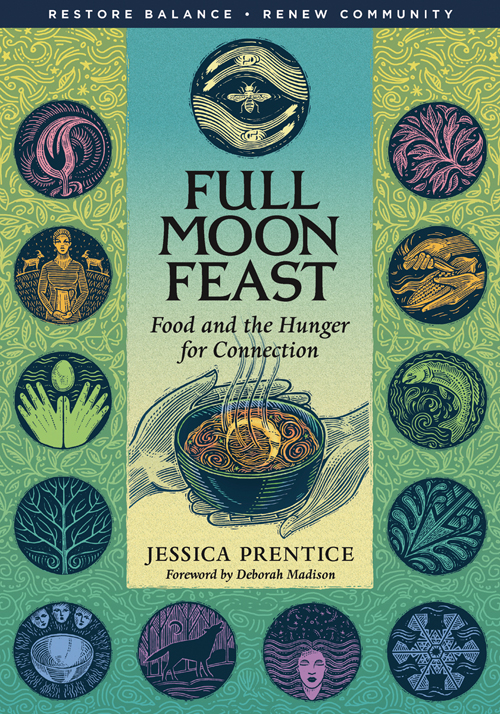 Full Moon Feast invites us to a table brimming with locally grown foods, radical wisdom, and communal nourishment. 
Accomplished chef and passionate food activist Jessica Prentice champions locally grown, humanely raised, nutrient-rich foods and traditional cooking methods. The book follows the thirteen lunar cycles of an agrarian year, from the midwinter Hunger Moon and the springtime sweetness of the Sap Moon to the bounty of the Moon When Salmon Return to Earth in autumn. Each chapter includes recipes that display the richly satisfying flavors of foods tied to the ancient rhythm of the seasons.Have you planned your Thanksgiving dessert yet? Why not give this creamy delight a try:

Featured Dessert: Maple-Vanilla Panna Cruda    

 

"An Iroquois legend explains how the secret of maple sugaring was discovered. A chief named Woksis threw his tomahawk into a tree before leaving on a hunt. As the weather warmed, the sap began to flow from the gash into a container that happened to be sitting by the tree. The woman of the house found the container full of liquid, assumed her thoughtful husband had already been to the stream to fetch it full of water, and used it to boil the evening's meat. As the meat stewed, the sap cooked down into syrup, and thus the secret of maple sugaring was revealed."
Thanks again, and don't forget: all these
featured books are on sale right now for 25% off! 
---