Simple Recipes Using Homegrown Sprouts
Gardens have long gone dormant but that doesn't mean you have to stop enjoying fresh food just because the ground is frozen. Sprouts are a quick, simple, and ridiculously healthy way to keep your localvore appetite satisfied during the winter. And we don't just mean tossing them in your salad or on top of a sandwich. No, we've got some better ideas for how to incorporate fresh sprouts into your winter meals.
The following is an excerpt from Fresh Food from Small Spaces by R.J. Ruppenthal. It has been adapted for the web.
---

Vietnamese Sprouted Spring Rolls
Serves 2–3 as an appetizer course
This is a great appetizer. You can customize the ingredients depending on availability and preference. Dip the rolls in your favorite sauce, such as Thai hot sauce, hoisin sauce, sweet-and-sour sauce, or salad dressing. For a simple Asian-inspired dipping sauce, combine 1 T cider vinegar or lime juice, 1 T sesame oil, 1 tsp soy sauce, and a few freshly chopped chives. For a peanutty version, substitute salad oil for the sesame oil and then stir in 1 T peanut butter.
Ingredients
6 large egg roll wrappers (These are available in Asian grocery stores and many supermarkets. Alternately, you can use large iceberg lettuce or cabbage leaves. The cabbage leaves can be boiled first to make them more flexible.)
2 oz. vermicelli or thin rice noodles, cooked according to label directions and drained
1 cup alfalfa sprouts, clover sprouts, or baby lettuce leaves
1/2 cup mung bean sprouts (raw or lightly stir-fried, per your preference)
1 medium-sized cucumber, grated
1 carrot, grated
1 bunch cilantro
1 handful of fresh mint
Some different options: 1/2 avocado, thinly sliced or 1/2 cup stir-fried tofu, thinly sliced or 1/2 cup stir-fried shiitake mushrooms or 1/2 cup coarsely grated red bell pepper
Procedure
To make the rolls, take out the first egg roll wrapper and dip it in warm water for 30 seconds or until softened.
Then lay it out flat on a plate or cookie sheet. Fill it as you would a burrito, leaving a little wrapper space on each end.
Place cooked noodles into the wrapper lengthwise from end to end.
Then add an equal part of each of the other ingredients, saving a few leaves of mint for a garnish.
When it looks full, fold over the two ends of the wrapper. Then fold up the bottom, which should stick to each end, and roll it up to the top of the wrapper. Make sure that it all sticks well.
Eat raw with dipping sauce (see instructions above). May also be pan-fried or deep-fried like an egg roll.
Garnish with remaining mint leaves or extra cilantro.
---

Sprouted Lentil Burgers
Makes 12 burgers.
Ingredients
1 cup sprouted lentils (or your favorite sprouted beans), sprouted for 3 days.
1/2 cup chopped walnuts
1/2 cup cooked brown rice
1 onion, chopped
1 celery stalk, chopped
1/2 cup red bell pepper, finely chopped
1/2 cup mung bean sprouts, finely chopped
1 egg or equivalent amount of egg substitute (can be omitted, but burgers may be crumbly)
2 T olive oil, plus additional oil to cook the burgers
2 T barbecue sauce
1 tsp herbs (whatever you have on hand: parsley, thyme, oregano, marjoram, or rosemary)
Salt and pepper to taste
Other Options: 1/4 cup crumbled feta cheese or shredded hard cheese (Asiago, Parmesan, or Romano), 1/4 cup chopped olives, 1 tsp chili peppers, finely chopped, or a few shakes of hot sauce
Procedure
Stir-fry onions, celery, red bell pepper, and mung bean sprouts in oil until onion is cooked. If any liquid remains, pour out and discard.
Add herbs and a sprinkle of salt.
In a bowl, combine lentils, chopped walnuts, and cooked brown rice.
Add stir-fried vegetables and stir.
Add optional ingredients (cheese, olives, and/or chili peppers) and stir. Taste mixture and adjust seasoning to your preference by adding more salt, pepper, herbs, or barbecue sauce as desired.
Add egg and mix thoroughly.
Heat oiled skillet to medium-high heat.
Form mixture into small burgers, flatten as much as possible, and cook on medium high heat until bottom side is browned (about 5 minutes). You may cover pan for part of this time if you want to cook by steaming.
Then flip over and cook other side equally, adding more oil to pan if needed.
---

Korean Soybean Sprout–Miso Soup
Serves 4–6
This is a hybrid version of two traditional Korean soup recipes, using miso and soybean sprouts for the soup base. It goes very well with steamed brown rice. You could also add meat or seafood to the broth if you wish. Miso is a very salty fermented soybean paste that makes a terrific soup base; it is available in Asian grocery stores, health food stores, and many supermarkets. For a thin, mild soup start with 1 T of miso and add more as needed; 3T makes a thicker, saltier stew.
Ingredients
8 ounces soybean sprouts, washed and with bean pod skins removed.
1–3 T miso
7–10 cups water
1 zucchini squash, chopped into small cubes
1 potato, chopped into small cubes
1/2 package tofu, cut into small cubes
1–2 cups chopped napa cabbage, or mustard, turnip or radish greens
1 cup sliced mushrooms
1 onion, chopped
2 scallions, chopped
3 cloves garlic, crushed or finely chopped
Optional: 1 small chili pepper, sliced, or a few shakes of hot sauce
Procedure
Wash and cut the vegetables, mushrooms, and tofu.
Put 5 cups water in a soup pot on high heat. Add the bean sprouts, cover, and bring to a boil.
Turn it down and let this simmer for about 15–20 minutes to create a bean sprout broth.
Stir in the miso.
Add the onion, potato, and mushrooms. Turn the heat up to high again. Let the soup boil for a few minutes.
Add the chopped zucchini, greens, and optional chili pepper. Let it boil a few minutes more, then turn down the heat to a simmer.
Stir the soup and taste it. If it is too thin and bland, add more miso. If it is too strong and salty, add more water.
Add in the chopped scallions and tofu. Cook about three more minutes.
Add the crushed garlic. Stir well, cover, turn off the heat, and let it sit for a few minutes before serving.
---

Preparing Soybean Sprouts for Stir-fries
Soybean sprouts are tough and need to be cooked before eating. They are delicious in stir-fried side dishes or main courses, but they may take more cooking time to make them soft enough to be edible and digestible. This blanching method both softens the sprouts and removes any bitterness, while the cooked sprouts still taste fresh. If you precook them as directed here, then you can stir-fry the soybean sprouts with anything you wish, including vegetables, noodles, mushrooms, tofu, or the meat of your choice.
Ingredients
8 ounces soybean sprouts, washed and with bean pod skins removed
Medium-sized pot of hot water with 2–3 T salt added
Procedure
Bring the water to a boil.
Add salt and stir.
Add the bean sprouts to boiling water.
Let the water boil for another minute and turn it off.
Place pasta strainer in the sink.
Pour out the boiling water and sprouts over the strainer.
Cool down the sprouts by running cold water over them.
These blanched sprouts can now be added to any stir-fry dish. They are a great addition to Asian noodle recipes and vegetable side dishes. For a very simple, plain side dish, stirfry the blanched sprouts with 1 clove crushed garlic, 1 finely chopped scallion, 2 tsp soy sauce, 1 tsp cooking oil, ½ tsp roasted sesame oil, and a handful of sesame seeds. Optional: pinch of crushed red pepper. Withhold the sesame oil and seeds until the end. Cook other ingredients quickly, and add the sesame oil just as you turn off the heat. Sprinkle sesame seeds on top.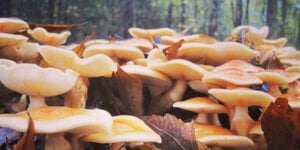 Add oyster mushrooms to the list of food that can be grown indoors! This fungus can grow almost anywhere from a log to a straw. Plus, you can pick the size of your oyster mushrooms from a wide variety, both big and small. The following is an excerpt from Fresh Food from Small Spaces by…
Read More