Books to Curl up with this Winter!
William Wordsworth was right when he said,
"Nature never did betray the heart that loved her."
Nevertheless, the cold, dark days of winter can still get the best of even Nature's most tenderhearted admirer. What's one to do?
We here at Chelsea Green have concocted the perfect cabin fever remedy with our suggested winter reading list. With ranging topics, these books are sure to lighten up your days and keep your mind active long after the first signs of spring.
So throw another log on the fire, grab a blanket, and tuck in for the long haul with these new and classic favorites from Chelsea Green.
As always, we offer FREE shipping on orders of $100 or more.
Happy reading from the employee-owners at Chelsea Green Publishing.
Discount codes do not combine with other offers—our books already on sale for example. Free shipping for orders $100 or more is applied after the discount is applied. (U.S. Orders Only). On Sale until 02/23/2018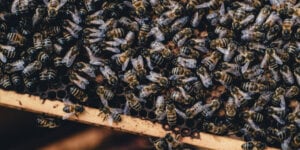 Spring is here and I don't know about you, but I can't wait to get started on all of the projects I mapped out during the cold winter months – including trying my hand at incorporating bees into my homesteading adventure! As a new-bee (get it?!), I need help to get started so I did…
Read More