Acres U.S.A.: Food Rights Under Fire with David Gumpert
Increasingly, consumers are turning away from mass-produced and excessively processed foods, and seeking out local farmers and neighbors for antibiotic- and hormone-free milks, meats, and organic produce they can trust.
Meanwhile, as food-borne illnesses continue to appear in the industrialized U.S. food supply, regulators are cracking down on small-scale farmers.
In his new book, Life, Liberty, and the Pursuit of Food Rights: The Escalating Battle Over Who Decides What We Eat, author David Gumpert tracks the increasing tension between consumers and regulators, industrial agriculture and small farmers, and what it means for access to, and the distribution of, raw, whole foods in the United States.
Chris Walters of Acres U.S.A. sat down with Gumpert and talked about some of the recent farmers who have gone on trial, and the significance of this emergent battle over access to food. In the interview, Gumpert comments on the growth of the movement, "We have a lot more awareness about food safety. Some might call it fearmongering about food safety, but certainly there's been a lot more attention given to food safety beginning in the mid- to late 1990s, and it has grown in importance and attention. It has become a big issue in the legal arena."
In this wide-ranging interview, Walters and Gumpert offer salient details of some of the larger trials and incidences of government attacks and retaliation on farmers and private food clubs, but also examine the fragile future of our right to buy private food; a right that earlier generations never thought could be jeopardized.
"We have a long tradition in this country of people being able to obtain food privately. Until the supermarkets sprang up after World War II, that's how people obtained a lot of their food, direct from farmers or other food producers or small stores that obtained it directly from farmers. I grew up in Chicago and we always had food people coming around. In fact, even in suburban Boston through the 1970s we had a chicken man, an egg man and a milk man," notes Gumpert.
Acres U.S.A. is giving Chelsea Green readers exclusive pre-release access to the interview. If you haven't already, take a look at Acres U.S.A. – A Voice for Eco-Agriculture and consider a subscription – support another remarkable independent publisher with a focus on sustainable agriculture.
Read the full interview below.
Acres U.S.A. Interview with David Gumpert: Food Rights Under Fire by Chelsea Green Publishing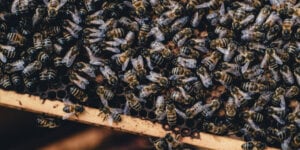 Spring is here and I don't know about you, but I can't wait to get started on all of the projects I mapped out during the cold winter months – including trying my hand at incorporating bees into my homesteading adventure! As a new-bee (get it?!), I need help to get started so I did…
Read More