Food and Prison: Grass-Fed Behind Bars?
It's said you can judge a country based on how it treats its prisoners. So knowing that the U.S. has more incarcerated people than any other nation in the history of the industrialized world, yet claims to be the freest–how should we be judged? Considering there are more than 2.5 million people incarcerated in this country, many of whom are regularly denied human rights, forced to eat rotten food, and suffer abuses unimaginable to most…I'd say we should be judged pretty harshly.
But there are some programs that attempt to turn back these clocks of dehumanization. Take this one in Virgina, for example, who embrace the grass-fed model and are bringing the pasture to the prison.
From Hartke Is Online:
In an Open Letter to President-Elect Barack Obama, Sally Fallon Morrell, president of the Weston A. Price Foundation, challenged our country's chief executive to focus attention on the cruel and unusual punishment that is taking place in Illinois state prisons. Many inmates have developed digestive disorders, and large numbers suffer from symptoms of low thyroid function (acne, hair loss, heart arrhythmias, frequent infections, depression, allergies, brain fog, fatigue, and constantly feeling cold).
The Open Letter recounts several cases of inmates receiving surgery for removal of a portion of the digestive tract to relieve severe pain, and one who received a pacemaker because he passes out every time he eats. These conditions are a result of the inmates' new diet, which was implemented about 5 years ago. In case these symptoms don't sound familiar to you, they are problems documented in the scientific literature from a diet high in soy. Vegetarians, beware!

That's right, the Illinois Department of Corrections is now feeding a diet extremely high in soy to inmates of Illinois prisons. The reason? It's more "cost-effective."

So, let's see, money saved on cheaper food equals lots more money spent on medical bills. I'm sorry, where's the savings?

Contrast this with a Memorandum of Agreement between the White Post Facility of the Virginia Department of Corrections, and Sky Meadows State Park. Inmates at White Post are enlisted in animal husbandry at Sky Meadow to raise cattle for beef production. The program is a collaboration of several entities: USDA Farm Services (which implements a Conservation Plan), local Soil and Water Conservation Services (implementing a Nutrient Management Plan), and Virginia Tech (which performs studies on the health and nutrient content of the soil).

"My job is  monitoring and managing the natural resources according to these programs," says Park Manager, Tim Skinner. I make sure that when the grass gets down to about three inches, the herd is rotated to another pasture. We want to maintain the right ratio of cattle to acres based on the type and amount of forage and soil that exists here."

Livestock raised by the prisoners is used as a staple on their menu at the prison. This saves the prison money on its food bill, and keeps the prisoners healthy. Furthermore, when they make the transition to life outside the prison, they have a skill that they can use in the real world. In addition, the inmates are fulfilling the park's mission – to preserve the pasture. […]
Read the entire article here.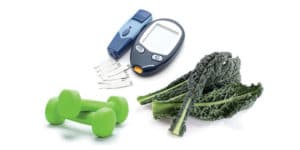 The evidence is clear: We are in the midst of a worldwide diabetes epidemic. In the United States alone, one in three Americans is either diabetic (29 million patients) or prediabetic (87 million patients), costing an annual $242 billion in medical treatments. An integrative approach based on the "eight essentials" of treatment and prevention will…
Read More