It's been a few days since the Democratic National Convention in Denver, but we judged this story interesting enough to share with you nonetheless.
The Democratic party went out of their way to make this the greenest convention in history (the 1835 convention notwithstanding). They took a number of steps toward sustainability, from creating a recyclable stage and adopting more energy efficient lighting systems, to awarding the choicest parking spots to hybrid cars and installing 52 solar panels.
But (unsurprisingly?) my favorite part is the beer.
The Democratic National Convention is going to be fueled by more than high spirits and the drama of the upcoming Presidential election in November. It's going to be powered by real spirits, in the form of beer.

Host city Denver is also home to the Molson Coors Brewing Company (TAP), which happens to be the first domestic brewery to convert waste beer to ethanol. This spring, Molson Coors donated enough clean burning ethanol fuel for 400 General Motors (GM) flex-fuel vehicles (FFVs) that will transport DNC officials, U.S. House and Senate members, state party chairs, delegates, staff and media.

The company can afford the donation. Coors produces about three million gallons of waste beer—suds of substandard quality, or brew lost during packaging—a year. The company says their ethanol helps reduce the emission of volatile organic compounds (VOCs) by about seven tons annually.

Now the future looks good for bad beer: General Motors has pledged half of its production line will convert to FFV's by 2012, a substantial increase from the 11 models it currently produces. And General Motors isn't the only manufacturer hopping on the ethanol bandwagon. The Ford Taurus (F), Ford Explorer, Chrysler Voyager Minivan, Dodge Ram pickups and Mercedes-Benz C-Class C300 (DAI) are all powered by ethanol, meaning luxury car lovers and minivan mamas can both opt for a greener way to get around.

This different way of energizing your ride can save you money, too. Nationwide, ethanol fueling stations remain less expensive per gallon than gasoline. Visit the National Vehicle Ethanol Coalition to find out if your car qualifies and where to find fuel.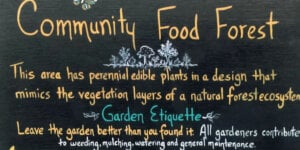 More than 80 percent of the US population now resides in urban areas. This number is projected to rise in the next few decades. Finding ways to maximize use of existing open space is imperative, and increasing access to food through sustainable management of edible landscaping is one important approach among many that are underway.…
Read More