Featured Release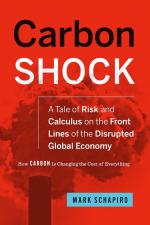 A Tale of Risk and Calculus on the Front Lines of the Disrupted Global Economy
by
Mark Schapiro
In Carbon Shock, veteran journalist Mark Schapiro takes readers on a journey into a world where the same chaotic forces reshaping our natural world are also transforming the economy, playing havoc with corporate calculations, shifting economic and political power, and upending our understanding of the real risks, costs, and possibilities of what lies ahead.
Journalist Mark Schapiro explores the intersection of the environment, economics, and political power. His work has been published in Harper's, The Atlantic, and other publications. He has reported stories for the PBS newsmagazine Frontline/World, NOW with Bill Moyers, and public radio's Marketplace, and is the author of Exposed: The Toxic Chemistry of Everyday Products and What's at Stake for American Power. He lives in San Francisco, California.
"With his skill as a writer and long experience as an investigative reporter, Mark Schapiro brings alive some unexpected angles of the most important story of our time. I thought I knew the basics of carbon and climate change, but reading this lively and intriguing book made me aware of much I didn't know—both fascinating and disturbing."