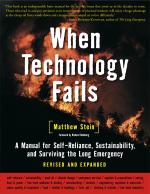 Like this book? Digg it!

Book Data
ISBN: 9781933392455
Year Added to Catalog: 2008
Book Format: Paperback
Book Art: Black and White Illustrations throughout
Dimensions: 8 1/2 x 11
Number of Pages: 516
Book Publisher: Chelsea Green Publishing
Release Date: August 18, 2008
Web Product ID: 352
When Technology Fails, Revised and Expanded
A Manual for Self-Reliance, Sustainability, and Surviving the Long Emergency
Foreword by Richard Heinberg
Praise
"You don't need to be a survivalist to appreciate this book. If you are thoughtful. If you seek a simpler, more sustainable life or if you feel as though technology has already failed us in the ways that matter, this is book you want in your personal library."

—Kathy Harrison, author of Just In Case: How to Be Self-Sufficient When the Unexpected Happens
"We imagine that we live in the age of information, but this engrossing book reminds us of how comparatively little we know. Most human communities used to know how to provide water and food and energy for themselves, but most of the tips in this comprehensive account will come as news to most Americans. You may never need to put them into practice (or you may need them this winter when home heating prices soar) but at the very least they illuminate the state of our comparative ignorance."

—Bill McKibben, author of Deep Economy
"If you've been wondering about how to respond to the twin dangers of peak oil and global warming, one of your best choices would be to read this book."

—Greg Pahl, author of The Citizen-Powered Energy Handbook: Community Solutions to a Global Crisis
"I have no children because I read M. King Hubbert's analyses on the future of oil and other fossil fuels in 1969, and Limits to Growth shortly thereafter. It was clear to me then and in every year since that our whole economy, and all of our economic principles, were based on cheap oil that would not last. The reason that economists could get away with criticizing Hubbert and LTG as well as promoting their basically absurd theories that often disregarded and even belittled natural resources was that, in fact, more oil could be pulled out of the ground to make ANY economic theory or policy work, no matter how stupid. Now that the oil spigot is sputtering the economists' theories and policies are increasingly shown to be failures. We need a whole new way to think about how we do our economies. In the spirit of the old Whole Earth Catalogues Mat Stein does a marvelous and diverse job of helping us to think about how we might go about generating an approach to our economies that can make sense. This is a great book to have on your bookshelf as we enter the post-peak second half of the age of oil."

—Professor Charles A.S. Hall, SUNY College of Environmental Science and Forestry
"Matthew Stein gives us a readable, updated wake-up call for sustainability practices in the best tradition of Paul Ehrlich, Lester Brown, and Jared Diamond."

—Stephen Schneider, PhD, Melvin and Joan Lane Professor for Interdisciplinary Environmental Studies at Stanford University and coordinating lead author in IPCC summary papers on climate change
"When Technology Fails. . . Like that's some sort of unlikely future possibility! Technology is always failing while people stand around befuddled about what to do. With Mat Stein's book, when push comes to shove, you can be your own veritable MacGyver. Not only does it provide us with the information we need to plan for, and deal with, potential emergencies and disasters, it also shows us how we can live more sustainably and self-reliantly in today's world of climate change and gas prices that are going through the ceiling. This is the sort of ingenuity for which Americans have been famous. When Technology Fails is to the mechanical world what Joy of Cooking is to the world of cooking. In other words, the encyclopedia every home should have on hand. Keep it right next to the emergency flashlight and your Swiss Army knife."

—David Blume, permaculturist and author of Alcohol Can Be A Gas!
"A fascinating collection of concepts and skills that will satisfy everyone from the casual do-it-yourself enthusiast to someone who wants to attempt self-reliance and the ultimate emergency preparedness."

—Howard Backer, MD, author of Wilderness First Aid: Emergency Care for Wilderness Locations and past president of the Wilderness Medical Society
"In this age of over-consumption, truth is lost in a myriad of commercialized details. Matthew Stein picks up and assembles these shattered shards, and by examining each in the meticulous manner of a crime scene investigator, offers valuable insight and practical tools to survive in a world at the brink of chaos. In doing so, he helps maintain sanity in a time of hardening denial about the state of the world--and helps throw open the door to Plato's Cave where so many of us remain uncomfortably shackled."

—Peter Droege, author of The Renewable City and Urban Energy Transition
"I liked this book. It's carefully researched, comprehensive, well illustrated, and readable. It presents much needed alternate information, for, in my opinion, technology has already 'failed' ... So replacement of polluting 'high' technologies with non-polluting 'low' ones is urgent, and Matthew Stein's handbook systematically and accurately surveys a wide array of possible low-tech options. Much hard work, time, and talent went into the building of this basic reference survey of low-tech options."

—Carla Emery, author of The Encyclopedia of Country Living: An Old-Fashioned Recipe Book (from review of the first edition)
"This book is an indispensable basic manual for the real-life issues that await us in the decades to come. Those who read it, and pay attention to its treasure trove of practical wisdom, will enjoy a huge advantage as the cheap oil fiesta winds down and circumstances compel us to live differently."

—James Howard Kunstler, author of The Long Emergency
Matthew Stein has done us all a tremendous favor by searching far and wide for useful knowledge. In this era of specialization, personal and social viability depend on expansive thinking. When Technology Fails is itself a powerful expression of the technology of sustainable living. It teaches more skills than I thought possible in just one book and rightly combines the immediacy of an emergency escape plan with the urgency for long-term thinking.

—Mathis Wackernagel, Executive Director of the Global Footprint Network
"When Technology Fails is a comprehensive guide and compendium of the tools society will require as it reaches the convergence of hyper-inflation, oil depletion, and environmental limitations; in other words, at the point where technology fails."

—William Kemp, author of The Renewable Energy Handbook
"When the grid goes down having this book with you could be the difference between life and death."

—Matt Savinar, author of Life After the Oil Crash
"Stein's excellent guide to simplifying your life, reducing your environmental impact, and pulling yourself out of a jam is sure to gather no dust on your bookshelf... This book is a personal and planetary empowerment tool."

—Richard Heede, PhD, author of Homemade Money: How to Save Energy and Dollars in Your Home (from review of the first edition)
"When Technology Fails is the roadmap that you want and need to navigate whatever may lie ahead."

—John L. Chunta, PeakOilResources.com
"A marvelous guidebook for helping us through the worst of times, and even improving on the best of times."

—Thom Hartmann, syndicated radio host and author of The Last Hours of Ancient Sunlight (from review of the first edition)
"Whether you are seeking self-reliance and a simpler life or fear the collapse of social services, this compendium of practical information for sustainable living belongs on your bookshelf."

—Fred C. Walters, Editor of Acres U.S.A. magazine (from review of first edition)
"Matthew Stein has written a clear, concise book on the subject of survival that, while educating, also does what few others have managed to do--entertain and engage the reader."

—John Egan, proprietor of SurvivalistBooks.com (from review of the first edition)
"When Technology Fails is a massive project done well. First the book gives a superb presentation of WHY one should be more aware and prepared--and then HOW one should go about this. The scope of this book... is thorough. Not only is the information presented well, but a solid bibliography can carry the student as far as he desires in any particular area of interest."

—John McPherson, author of Primitive Wilderness Living and Survival Skills (from review of the first edition)
"The depth of this book, covering everything from building materials to spiritual healing, is astounding. It is a one-stop source... to create a self-sufficient, earth-friendly lifestyle. I highly recommend it for anyone interested in preserving the health of themselves and the planet--and moving toward a sustainable, sane way of living."

—Robyn Griggs Lawrence, Editor-in-Chief of Natural Home magazine (from review of first edition)
"We may all need a survival reference when technology fails. Matthew provides one--fact-filled, with useful tips on all aspects of survival, clothing, food, shelter, water, etc., including such vital subjects as grazing and the green pharmacy."

—James A. Duke, economic botanist, USDA (ret.), and author of The Green Pharmacy (from review of the first edition)