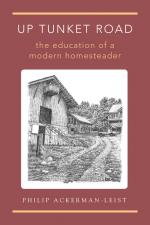 Like this book? Digg it!

Book Data
ISBN: 9781603580335
Year Added to Catalog: 2009
Book Format: Paperback
Book Art: Line drawings & photos
Dimensions: 6 x 9
Number of Pages: 312
Book Publisher: Chelsea Green Publishing
Release Date: May 2, 2010
Web Product ID: 497
Up Tunket Road
The Education of a Modern Homesteader
"Anyone seeking a life characterized by noble intent will find this elegantly portrayed journey up Tunket Road both challenging and heartwarming. Philip Ackerman-Leist masterfully wrestles with homesteading tensions like independence versus community and ecological economy versus efficiency. I couldn't put it down."

—Joel Salatin, founder of Polyface Farm and author of Everything I Want to Do Is Illegal
Ever since Thoreau's Walden, the image of the American homesteader has been of someone getting away from civilization, of forging an independent life in the country. Yet if this were ever true, what is the nature and reality of homesteading in the media-saturated, hyper-connected 21st century?
For seven years Philip Ackerman-Leist and his wife, Erin, lived without electricity or running water in an old cabin in the beautiful but remote hills of western New England. Slowly forging their own farm and homestead, they took inspiration from their experiences among the mountain farmers of the Tirolean Alps and were guided by their Vermont neighbors, who taught them about what it truly means to live sustainably in the postmodern homestead--not only to survive, but to thrive in a fragmented landscape and a fractured economy.
Up Tunket Road is the inspiring true story of a young couple who embraced the joys of simple living while also acknowledging its frustrations and complexities. Ackerman-Leist writes with humor about the inevitable foibles of setting up life off the grid--from hauling frozen laundry uphill to getting locked in the henhouse by their ox. But he also weaves an instructive narrative that contemplates the future of simple living. His is not a how-to guide, but something much richer and more important--a tale of discovery that will resonate with readers who yearn for a better, more meaningful life, whether they live in the city, country, or somewhere in between.

US Orders Only.
International Orders: Click here.
Additional Information
Philip Ackerman-Leist's Upcoming Events
Philip Ackerman-Leist at Culinary Insitute of America


Culinary Institute of America, Hyde Park NY

December 11, 2013, 2:00 pm

Philip Ackerman-Leist at the Culinary Institute of America


1946 Campus Drive, Hyde Park NY

December 11, 2013, 3:30 pm

Philip Ackerman-Leist at the 2014 Public Interest Environmental Conference


309 Village Drive , Gainesville FL 32611

February 22, 2014, 12:00 pm

Philip Ackerman-Leist at 2014 United States Agriculture Information Network (USAIN) Conference


UVM, Burlington VT

May 6, 2014, 10:00 am