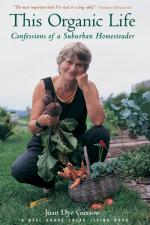 Like this book? Digg it!

Book Data
ISBN: 9781931498241
Year Added to Catalog: 2001
Book Format: Paperback
Book Art: recipes, bibliography, index
Dimensions: 6 x9
Number of Pages: 288
Book Publisher: Chelsea Green Publishing
Old ISBN: 1931498245
Release Date: September 1, 2002
Web Product ID: 272
This Organic Life
Confessions of a Suburban Homesteader
Excerpt #2
excerpt from "Giving Things Up"

I had my most provocative experience with losing a food from the list of not-locally-producibles during an organic farming meeting in Vermont. Some of the best organic farmers around were in that workshop, people who knew so much more than I did that I just stood back and let things happen. What happened was that someone listed artichokes as a vegetable they didn't want to give up.

Almost all the artichokes Americans eat are grown in California, around Castroville, a town on California's Monterey coast that bills itself as "the artichoke capital of the world." A field of artichokes is a beautiful sight because they look like giant thistle plants with the artichokes thrusting out at the top as giant buds. I said "like" giant thistle plants because, although they share the vast flowering family Acteraceae with thistles, artichokes are no more closely related to thistles than radishes are to broccoli. On the other hand, I said "as giant buds" because, of course, they are giant buds. Left unpicked, artichoke buds become oversized thistle-like flowers. In the United States, artichokes are grown on a commercial scale almost exclusively in California because they are a tender perennial. That means they come up in succeeding years where the climate is mild, but really cold weather will kill them.

But at the Vermont workshop, one of the participants shouted, "You can take artichokes off the list -- I grow them." In icy Vermont? It turned out that Alan LePage, who like his grandfather before him farms in Barre, Vermont, grows artichokes (different from the California variety as it turns out) from seed each year; his prowess is acknowledged in my Fedco seed catalogue next to the picture of the Imperial Star Globe Artichoke. Later that winter, Alan LePage sent me some artichoke seeds, which I planted the following spring -- too late. The seedlings weren't big enough when I set them out in the garden, and although I grew some handsome plants, they produced no artichokes.

The next year, however, I started the seeds early and set out some lusty young artichoke plants in May. They grew into enormous rosettes of spiky gray-green leaves (the catalogue said to space them three feet apart, but mine demanded more room than that) and in the fall I got artichokes! A big one for each plant and then, when the central bud had been cut off, a lot of little side buds of the kind they sell for a dollar a bag in Castroville. These are the kind you can eat whole because they haven't developed that bristly center appropriately named "the choke." Gourmets find artichokes grown from seed more watery and less flavorful than the California ones grown from cuttings, but I suspect the idea of having a homegrown artichoke in New York overcame my taste discrimination.

Artichokes are a pretty specialized food, even in California, so I'll resist the temptation to put my favorite recipe here. I'd like to say, however, that if you eat artichokes, you need to overcome whatever saturated fat fear my nutrition colleagues have implanted, and serve them with butter; not margarine, but melted butter (okay, warm olive oil if you're really worried about saturated fats). Artichokes are too insistent to tolerate synthetics.

Moreover, I can't comfortably recommend margarine, since the only thing in the world I'm really famous for is a remark I once made to a reporter from the New York Times. I said that I ate butter rather than margarine because I trusted the cows more than the chemists, a comment that has turned up on British menus, in books of quotations, and even as the slogan at the head of an October page on a 1997 weekly planner -- always attributed to me. I'm not embarrassed. I really do trust the cows more, and more-recent discoveries regarding the hazards of trans-fatty acids in margarine have made my incautious remark to The New York Times seem prescient.