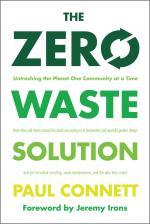 Like this book? Digg it!

Book Data
ISBN: 9781603584890
Year Added to Catalog: 2013
Book Format: Paperback
Book Art: B&W Images
Dimensions: 6 x 9
Number of Pages: 400
Book Publisher: Chelsea Green
Release Date: October 11, 2013
Web Product ID: 756
The Zero Waste Solution
Untrashing the Planet One Community at a Time
Foreword by Jeremy Irons
Upcoming Author Events
OSHAWA, TORONTO

January 9, 2014, 7:00 pm

Paul Connett at Fluoride Free Toronto

Unifor Local 222 Union Hall, 1425 Phillip Murray Ave.,, Oshawa Toronto

Paul Connett will speak at an event for Fluoride on January 9, 2014 at 7:00 PM. Learn about the hazardous health effects of water fluoridation in Durham Region! Free info night, bring your loved ones to this important information night and become informed about the issues surrounding water fluoridation! Brought to you by Free Durham from Fluoride and Unifor Durham Regional Environment Council - Unifor DREC

ROCKPORT, ME

April 28, 2014, 12:00 pm

Paul Connett at Maine Resource Recovery Association

Samoset Resort, Rockport ME

Paul Connett will keynote at the Maine Resource Recovery Association's annual conference on April 28-29 in Rockport, Maine.

ORILLIA, ONTARIO, CANADA

August 22, 2014, 12:00 pm

(tentative) Paul Connett at Ontario's 1st Zero Waste Conference

, Orillia Ontario, Canada

Details to come.

US Orders Only.
International Orders: Click here.
Additional Information
Paul Connett's Upcoming Events
Paul Connett at Fluoride Free Toronto


Unifor Local 222 Union Hall, 1425 Phillip Murray Ave.,, Oshawa Toronto

January 9, 2014, 7:00 pm

Paul Connett at Maine Resource Recovery Association


Samoset Resort, Rockport ME

April 28, 2014, 12:00 pm

(tentative) Paul Connett at Ontario's 1st Zero Waste Conference


, Orillia Ontario, Canada

August 22, 2014, 12:00 pm