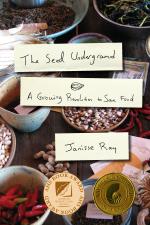 Like this book? Digg it!

Book Data
ISBN: 9781603583060
Year Added to Catalog: 2011
Book Format: Paperback
Dimensions: 6 x 9
Number of Pages: 240
Book Publisher: Chelsea Green
Release Date: June 29, 2012
Web Product ID: 665
The Seed Underground
A Growing Revolution to Save Food
Upcoming Author Events
CONCORD, NH

January 31, 2015, 1:15 pmJanisse Ray at NOFA-NH Winter Conference

144 South Street, Concord NH 03301

Janisse Ray will keynote at this year's NOFA-NH Winter conference on January 31st. Janisse's presentation, entitled, "A Field Guide to Hope" will begin at 1:15 PM and last half an hour. This year's winter conference will take place at the Rundlett Middle School in Concord, NH.

ADA, OH

February 9, 2015, 11:30 amJanisse Ray at Ohio Northern University

525 S. Main Street , Ada OH 45810

Janisse Ray will speak at Ohio Northern University from Feb. 9-13 as a Woodrow Wilson Visiting Fellow. Janisse's visit will include a writing workshop, two campus discussions on sustainability, and a public reading.

OXFORD, OH

February 17, 2015, 4:00 pmJanisse Ray at Miami University

501 East High Street, Oxford OH 45056

Janisse Ray will give a lecture at Miami University on Tuesday, February 17th titled, "Being Human in Wild Times." This lecture will begin at 4:00 PM in the MacMillan Hall Great Room and will be followed by a reception.

MACON , GA

February 22, 2015, 8:30 amJanisse Ray at Spring Garden Symposium

100 College Station Drive , Macon GA 31206

Janisse Ray will speak at the Spring Garden Symposium at the Macon campus of Middle Georgia State College on February 22nd. More information to come.

COLUMBUS , GA

March 5, 2015, 12:00 pm

Janisse Ray at Spencer Environmental Lecture Series

Columbus Museum, Columbus GA

Janisse Ray will speak as part of the Spencer Environmental Lecture Series at the Columbus Museum on March 5, 2015. The talk is sponsored by The Nature Conservancy Georgia.

STATESBORO, GA

March 19, 2015, 12:00 pm

Janisse Ray at Statesboro Area Garden Clubs

First Baptist Church, Statesboro GA

Janisse Ray will speak to the Statesboro Area Garden Clubs at the First Baptist Church on March 19. More details to come...

EATONON, GA

March 20, 2015, 12:00 pmJanisse Ray at Environmental Educators of Georgia

350 Rock Eagle Road , Eatonon GA 31024

Janisse Ray will speak at the 2015 Environmental Educators Alliance of Georgia's Annual Conference at Rock Eagle 4 H Center in Eatonon, GA. More information to come!

SHEPHERDSTOWN, WV

June 21, 2015, 12:00 pm

Janisse Ray at 6th Annual Climate and Conservation Congress

6th Annual Student Climate and Conservation Congress , Shepherdstown WV

REIDSVILLE, GA

October 9, 2015, 12:00 am

Janisse Ray at Forest and Field Writing Workshop

895 Catherine T. Sanders Road, Reidsville GA 30453

A long weekend with Janisse Ray. Held in October at Red Earth Farm, near Reidsville, Ga. Here's a chance to write and study writing on a beautiful and authentic farm. Days begin with a country breakfast and proceed into classes on literary nonfiction, metaphor, scenes, and publishing. Includes field trips and all food. $275-350, sliding scale.

Online for US Orders Only
International orders can be placed by phone (802-295-6300) or email
Additional Information
Janisse Ray's Upcoming Events
Janisse Ray at NOFA-NH Winter Conference


144 South Street, Concord NH 03301

January 31, 2015, 1:15 pm

Janisse Ray at Ohio Northern University


525 S. Main Street , Ada OH 45810

February 9, 2015, 11:30 am

Janisse Ray at Miami University


501 East High Street, Oxford OH 45056

February 17, 2015, 4:00 pm

Janisse Ray at Spring Garden Symposium


100 College Station Drive , Macon GA 31206

February 22, 2015, 8:30 am

Janisse Ray at Spencer Environmental Lecture Series


Columbus Museum, Columbus GA

March 5, 2015, 12:00 pm