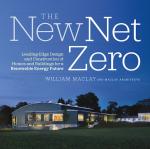 Like this book? Digg it!

Book Data
ISBN: 9781603584487
Year Added to Catalog: 2014
Book Format: Hardcover
Book Art: Full-Color Throughout
Dimensions: 10 x 10
Number of Pages: 576
Book Publisher: Chelsea Green
Release Date: June 23, 2014
Web Product ID: 700
The New Net Zero
Leading-Edge Design and Construction of Homes and Buildings for a Renewable Energy Future
Upcoming Author Events
WAITSFIELD, VT

April 26, 2015, 5:00 pmBill Maclay at Yestermorrow Design/Build School

7865 Main Street , Waitsfield VT 05673

From April 26th-May 1st, Bill Maclay will teach a five-day course with Laura Cavin Bailey and Megan Nedzinski on home design for net zero energy at Yestermorrow. This course will focus on examining and applying performance-based design principles, process, and strategies to each student's project, whether new construction or renovation. Cost to register is $875, with an additional material fee of $60.

BURLINGTON, VT

May 20, 2015, 12:00 pmBill Maclay at ACX 2015 Conference

60 Battery St. , Burlington VT 05401

Bill Maclay will present with Megan Nedzinski at the 2015 Vermont's Architecture and Construction Expo. This expo will take place at the Hilton Burlington Hotel on May 20-21.

June 5, 2015, 12:00 am

Bill Maclay at AIA COTE Leadership Summit

, ME

Bill and Megan will be at the AIA COTE Leadership Summit in Maine from June 5-6.

SCRANTON , PA

July 23, 2015, 8:30 amBill Maclay at Energypath 2015

800 Linden St. , Scranton PA 18510

Bill Maclay will be the Thursday lunch Plenary Speaker at the 2015 Energypath. Energypath will take place at the University of Scranton on July 23rd-24th and Bill's presentation will be at 1:00 PM.

November 10, 2015, 3:00 pmBill Maclay at 2015 DESIGNrealized Continuing Education Program

DESIGNrealized Webinar,

Bill Maclay will present a webinar as part of the 2015 DESIGNrealized Continuing Education Program. This webinar will focus on why and how net zero is the least cost option for green and sustainable builders. Bill's webinar will take place on Tuesday, November 10 at 3:00 PM (EST)

BOSTON, MA

November 17, 2015, 12:00 amBill Maclay at ABX 2015

415 Summer St. , Boston MA 02210

Bill Maclay will be at this year's Architectural Boston Expo from November 17-19.

Online for US Orders Only
International orders can be placed by phone (802-295-6300) or email
William Maclay's Upcoming Events
Bill Maclay at Yestermorrow Design/Build School


7865 Main Street , Waitsfield VT 05673

April 26, 2015, 5:00 pm

Bill Maclay at ACX 2015 Conference


60 Battery St. , Burlington VT 05401

May 20, 2015, 12:00 pm

Bill Maclay at AIA COTE Leadership Summit


, ME

June 5, 2015, 12:00 am

Bill Maclay at Energypath 2015


800 Linden St. , Scranton PA 18510

July 23, 2015, 8:30 am

Bill Maclay at 2015 DESIGNrealized Continuing Education Program


DESIGNrealized Webinar,

November 10, 2015, 3:00 pm