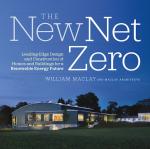 Like this book? Digg it!

Book Data
ISBN: 9781603584487
Year Added to Catalog: 2014
Book Format: Hardcover
Book Art: Full-Color Throughout
Dimensions: 10 x 10
Number of Pages: 576
Book Publisher: Chelsea Green
Release Date: June 23, 2014
Web Product ID: 700
Also in Green Building
The New Net Zero
Leading-Edge Design and Construction of Homes and Buildings for a Renewable Energy Future
Upcoming Author Events
SCRANTON , PA

July 23, 2015, 8:30 amBill Maclay at Energypath 2015

800 Linden St. , Scranton PA 18510

Bill Maclay will be the Thursday lunch Plenary Speaker at the 2015 Energypath. Energypath will take place at the University of Scranton on July 23rd-24th and Bill's presentation will be at 1:00 PM.

November 10, 2015, 3:00 pmBill Maclay at 2015 DESIGNrealized Continuing Education Program

DESIGNrealized Webinar,

Bill Maclay will present a webinar as part of the 2015 DESIGNrealized Continuing Education Program. This webinar will focus on why and how net zero is the least cost option for green and sustainable builders. Bill's webinar will take place on Tuesday, November 10 at 3:00 PM (EST)

BOSTON, MA

November 17, 2015, 12:00 amBill Maclay at ABX 2015

415 Summer St. , Boston MA 02210

Bill Maclay will be at this year's Architectural Boston Expo from November 17-19.