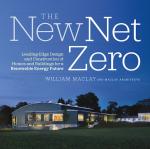 Like this book? Digg it!

Book Data
ISBN: 9781603584487
Year Added to Catalog: 2014
Book Format: Hardcover
Book Art: Full-Color Throughout
Dimensions: 10 x 10
Number of Pages: 576
Book Publisher: Chelsea Green
Release Date: June 23, 2014
Web Product ID: 700
Also in Green Building
The New Net Zero
Leading-Edge Design and Construction of Homes and Buildings for a Renewable Energy Future
Upcoming Author Events
BURLINGTON , VT

January 29, 2015, 6:00 pmBill Maclay at VGBN Gala

60 Lake Street, Burlington VT 05401

Bill Maclay will be the Keynote Speaker at the Vermont Green Building Network Gala on Thursday, January 29th, 2015. The presentation will be from 7:45 to 8:30 PM in the Great Room at Main Street Landing in Burlington, VT. Bill will also be available for book signing before and after his address.

BOSTON , MA

BOSTON , MA

March 3, 2015, 12:00 pmBill Maclay at Building Energy 15

200 Seaport Blvd, Boston MA 02210

Bill Maclay will co-present two sessions at the Building Energy 15 Conference at the Seaport World Trade Center in Boston, MA on March 3-5. One three hour workshop at 10:00 AM on Tuesday, March 3rd will focus on the design process for analyzing and constructing a building envelope to meet aggressive air-sealing goals for new and renovated commercial and institutional projects in cold climates. Another session on Wednesday, March 4th at 4:00 PM will illustrate the financial prudence of net zero buildings today. More registration info here: http://nesea.org/conference-details/register-buildingenergy-15

SEATTLE, WA

April 1, 2015, 12:00 pm

Bill Maclay at Living Futures Unconference

Living Futures Unconference, Seattle WA

Bill Maclay will participate in a discussion on Strategic Planning for Community Net Zero energy: Fromt he local scale to Vermont's statewide initiative. Speakers include Bill Maclay, Laura Cavin Bailey, Randy Smith (The Putney School), Alison Hollingsworth (Efficiency Vermont)

November 10, 2015, 4:00 pm

Bill Maclay at 2015 DESIGNrealized Continuing Education Program

DESIGNrealized Webinar,

Bill Maclay will participate in the 2015 DESIGNrealized Continuing Education Program, which is an online event, on Tuesday, November 10 at 4:00 PM ET.

Online for US Orders Only
International orders can be placed by phone (802-295-6300) or email
William Maclay's Upcoming Events
Bill Maclay at VGBN Gala


60 Lake Street, Burlington VT 05401

January 29, 2015, 6:00 pm

Bill Maclay at Net-Zero North American Leadership Summit


1 Seaport Lane , Boston MA 02210

March 3, 2015, 9:00 am

Bill Maclay at Building Energy 15


200 Seaport Blvd, Boston MA 02210

March 3, 2015, 12:00 pm

Bill Maclay at Living Futures Unconference


Living Futures Unconference, Seattle WA

April 1, 2015, 12:00 pm

Bill Maclay at 2015 DESIGNrealized Continuing Education Program


DESIGNrealized Webinar,

November 10, 2015, 4:00 pm