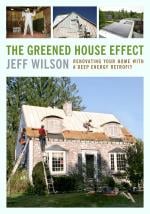 Like this book? Digg it!

Book Data
ISBN: 9781603584500
Year Added to Catalog: 2012
Book Format: Paperback
Book Art: Full-Color Throughout
Dimensions: 7 x 10
Number of Pages: 280
Book Publisher: Chelsea Green
Release Date: May 24, 2013
Web Product ID: 723
Also in Green Building
The Greened House Effect
Renovating Your Home with a Deep Energy Retrofit
"Jeff Wilson has provided an extraordinary service to all of us who are struggling to make our homes more energy efficient. I know of no other book that takes the reader on such a thoroughly entertaining but equally fact-filled tour of all the options and challenges in making an older home equal to, or better than, new. For anyone who is serious about making their existing home a better custodian of our planet's resources, The Greened House Effect is a must read. If I could add an addendum to my own book, Not So Big Remodeling, I'd tell my readers, 'To really understand how to do a Deep Energy Retrofit right, read The Greened House Effect.'"

—Sarah Susanka, architect; author of The Not So Big House series
It's said that the greenest building is the one that's already built, because so much energy is embodied in the existing structure.
With greater public awareness of the need for energy independence, the issue of how we can make our existing homes more resource-efficient is becoming ever more critical. Residential buildings make up a large fraction of our energy needs, largely due to heating and air-conditioning. So it's no longer enough to simply do the small stuff, like switching to compact fluorescent bulbs, or turning down the thermostat at night.
In The Greened House Effect, author Jeff Wilson brings his twenty-five years of construction experience and hands-on knowledge of home building to bear on making our current houses cleaner, greener, more comfortable, and healthier. Think of a deep energy retrofit (DER) as a "whole home makeover"—one that represents a significant investment, but that saves money from the get-go by capturing the energy you "drop on the ground" every month, every year, through inefficiency, poor design, or simply living in a typical older home. This isn't a book about freezing in the dark, but a solution that allows us to live more comfortably while making a positive impact in the world.
"We can't buy our way out of the current and impending crises with the latest and greatest high-tech. We can't buy our way out of it by simply replacing our old stuff with newer, "greener" stuff. That approach only assures that we will continue to experience the vicious circle of energy waste and dependence. I would argue, though, that we can save our way out of these problems," writes Wilson.
Using his own family's retrofit of their 1942 home as a prime example, Wilson weaves a readable narrative at a practical, hammer-and-nail level. He presents the solutions to our building and energy problems, making them seem possible for average homeowners and small contractors by offering the right balance of information, skills, financing strategies, and materials.
Technical information is presented in sidebars and graphs, and numerous color photos illustrate the process, including:
Testing the energy efficiency of your home and learning where improvements need to be made;
Dealing with local building codes and regulations;
Financing and paying for a DER;
Major components of the DER, such as roofs, exterior walls, basements, and whole house systems; and
Details of home-scale renewable energy options to complement the DER, including passive and active solar systems.
Wilson's building experience, along with his lifelong passion for energy issues, all come together to form an inspirational, can-do approach to making our community, our nation, and our world a better place—one home at a time.

US Orders Only.
International Orders: Click here.
Jeff Wilson's Upcoming Events
Jeff Wilson at Tattered Cover Bookstore


Tattered Cover Bookstore, 1628 16th St, Denver CO

June 17, 2013, 7:30 pm

Jeff Wilson at Boulder Bookstore


Boulder Bookstore, 1107 Pearl St , Boulder CO 80302

June 18, 2013, 7:30 pm

Jeff Wilson at Weller Book Works


607 Trolley Square, Salt Lake City UT 84102

June 20, 2013, 7:00 pm

Jeff Wilson at the Ecology Center in Berkeley


2530 San Pablo Avenue, Berkeley CA 94702

June 28, 2013, 7:00 pm

Jeff Wilson at Oregon Solwest Renewable Energy Fair


, John Day Oregon

July 26, 2013, 12:00 pm